Vet Returns To Chad For Antelope Conservation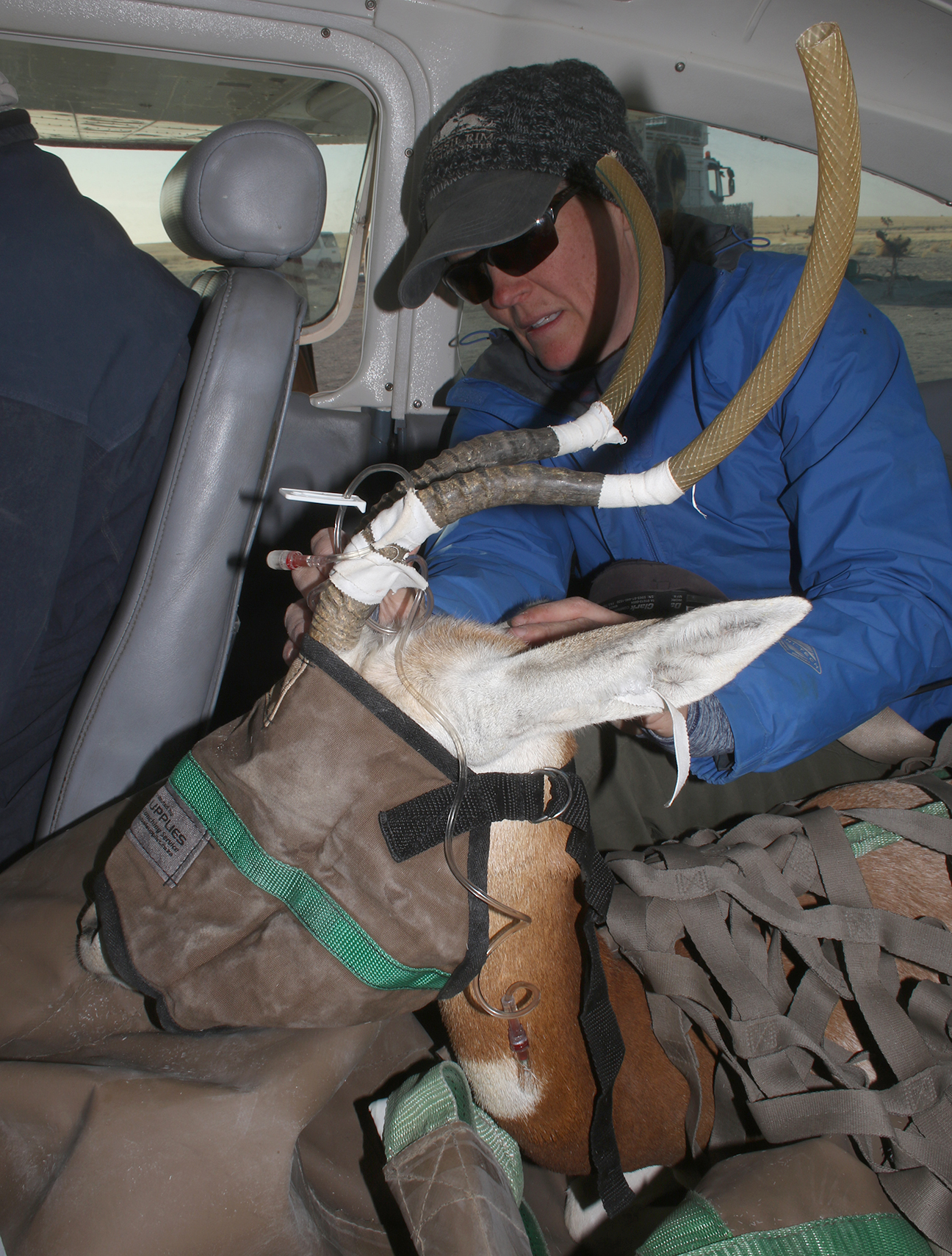 My name is Julie Swenson and I am the Associate Veterinarian at Fossil Rim Wildlife Center. In July of 2018, a group of people from Fossil Rim were given the opportunity to travel to the Republic of Chad to assist with placing GPS collars on a group of scimitar-horned oryx that were set to be released into the wild after having been considered extinct.
I was lucky enough to be a part of this group and had an amazing experience. So, when asked if I would be willing to come again in 2020, I jumped at the chance.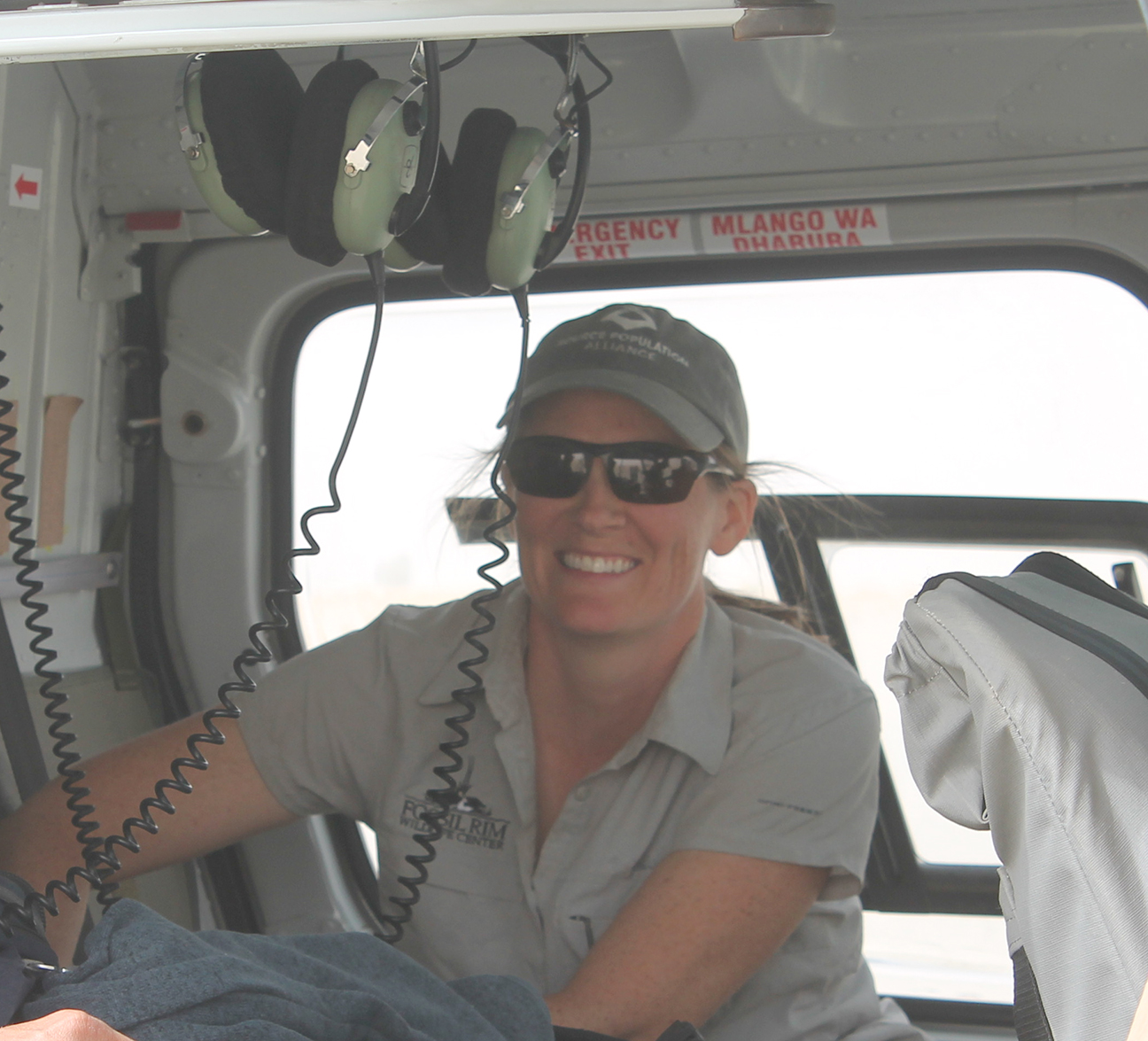 My travel partner for this trip was Adam Eyres, the Director of Animal Care at Fossil Rim Wildlife Center. Along the way, we met up with a phenomenal team of specialists from all across the world. The purpose of this trip was conservation with three main focuses: releasing addax to the wild, checking in on the wild scimitar-horned oryx population, and capturing wild dama gazelles of distinct genetic lineage for release into the protected reserve at Ouadi Rimé – Ouadi Achim.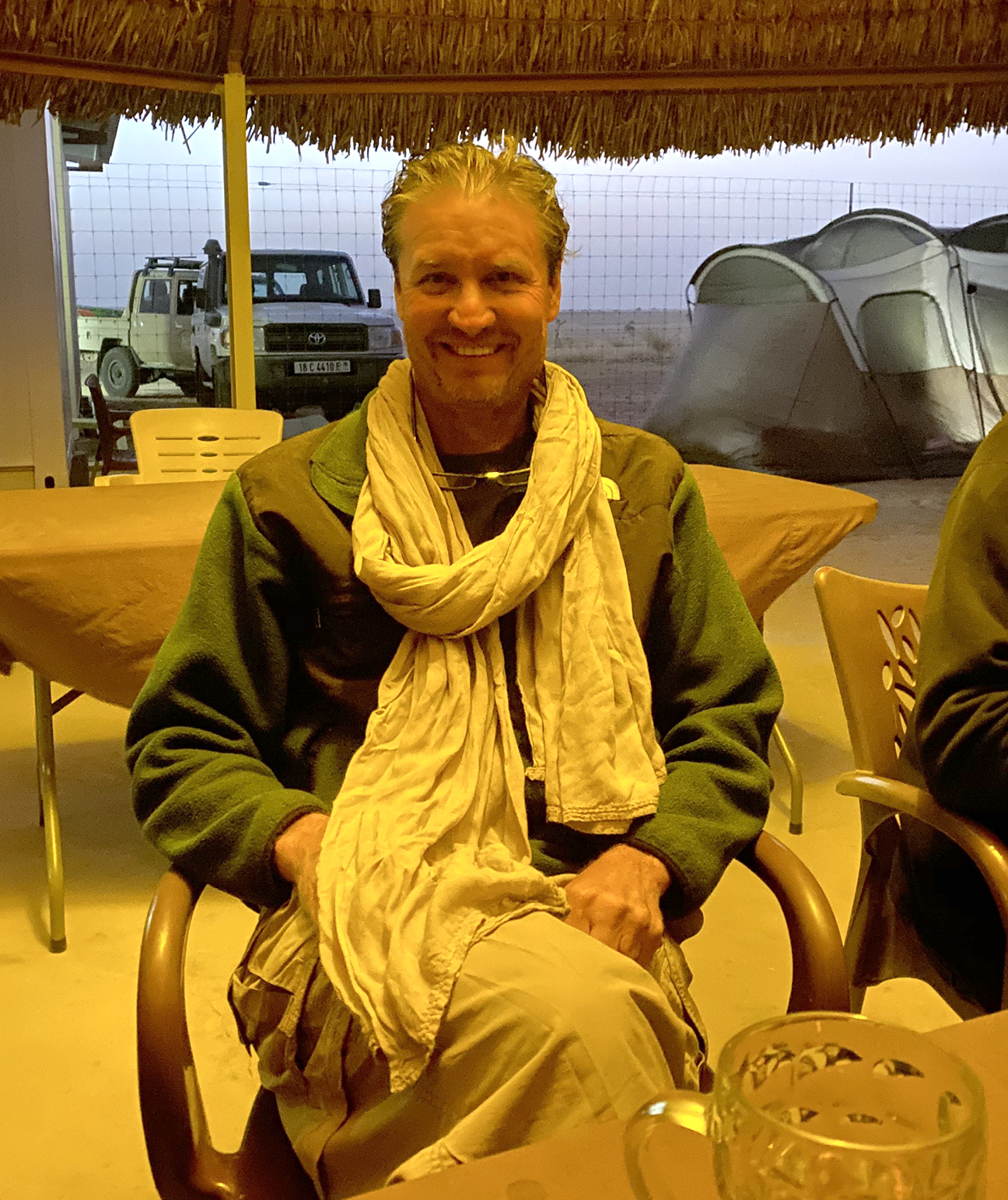 We saw many incredible things on this trip and participated in some astonishing projects. Now, we'll take you along with us as we travel through this amazing countryside to see things few people ever get to see…
Part Three: Dama Rescue
The final part of our trip was the most complicated. The Manga is a region of Chad near the northwestern border and is home to one of the last remaining populations of dama gazelles in the wild. This population is of particular importance to the conservation of the species due to its unique genetic diversity.
Unfortunately, the population has become fragmented with the remaining animals being so few and covering such a large area of land that breeding is becoming increasingly rare, as these antelopes have difficulty finding one another across the huge expanses.
A separate population of dama gazelles exists already at OROA in the center of Chad. Although this population is also small, it is not nearly as fragmented as the Manga population. However, the genetics seen in this OROA population are not nearly as diverse as the genetics found in the Manga.
Because of this, the decision was made to try to capture some of the remaining animals in the Manga and transport them to OROA, where they would be able to add their genetic diversity to the herd that currently calls OROA home. The importance of this project for the survival of this species can't be understated.
Dama gazelles number less than one hundred individuals in the wild, split between four distinct populations in Chad and Niger. With so few individuals remaining in the Manga and so few still existing in the wild, each individual animal is of great importance.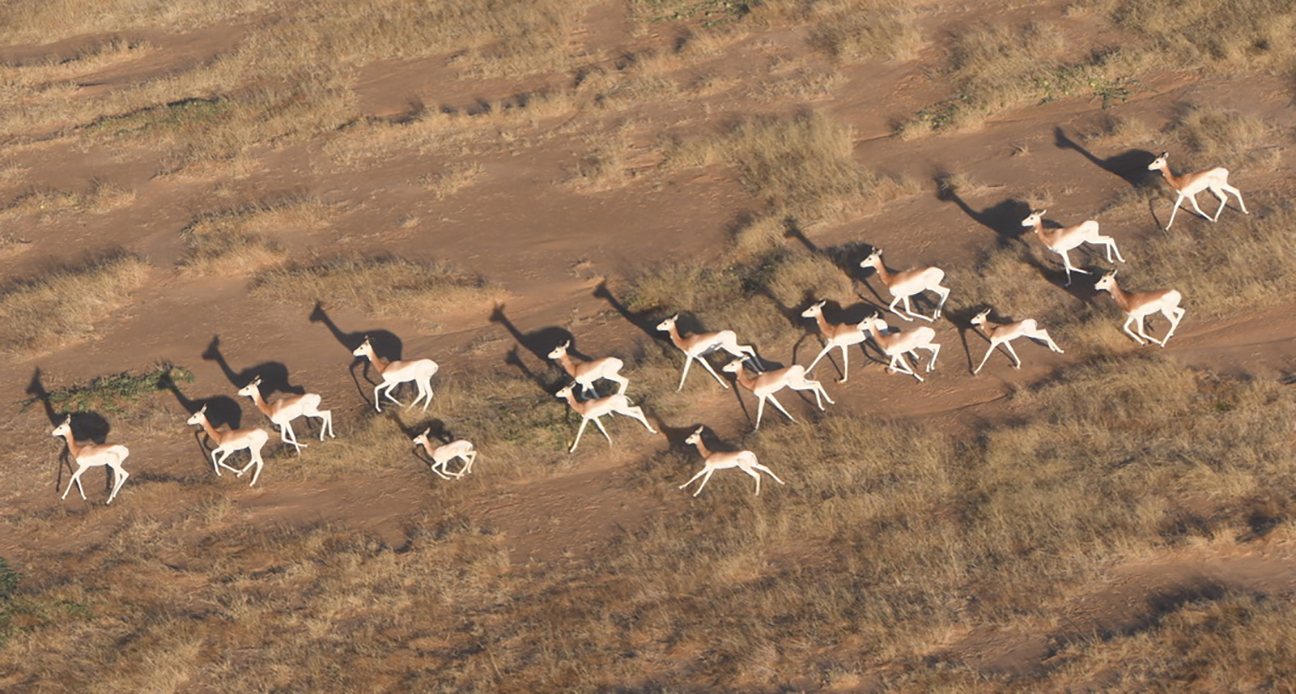 Transporting these fragile gazelles the 250 miles to their new home required an immense amount of preplanning. A capture of this magnitude with this species had never been attempted before, so planning had to start from scratch.
Prior to going to Chad, a team was assembled to assess the options and come up with the best way to transport these animals. Dr. Pete Morkel, a renowned wildlife capture veterinarian from Africa, led this team. He received input from several veterinarians, including myself and Dr. Holly Haefele (Fossil Rim Wildlife Center), Dr. Pat O'Neil (Pedernales Veterinary Center), Dr. Scott Citino (White Oak Conservation), and Dr. Charlotte Moueix (C Vet Wildlife Veterinary Services).
Our team determined what we believed to be the best anesthetic protocol and sedation options for these animals given the conditions that captures would likely occur under. A related husbandry team consisting of many of the team members that would eventually join us in Chad (John Newby, Adam Eyres, Gavin Livingston, Ric Pusey, and Justin Chuven) determined the best methods for housing these animals while they were awaiting transport from the Manga to OROA.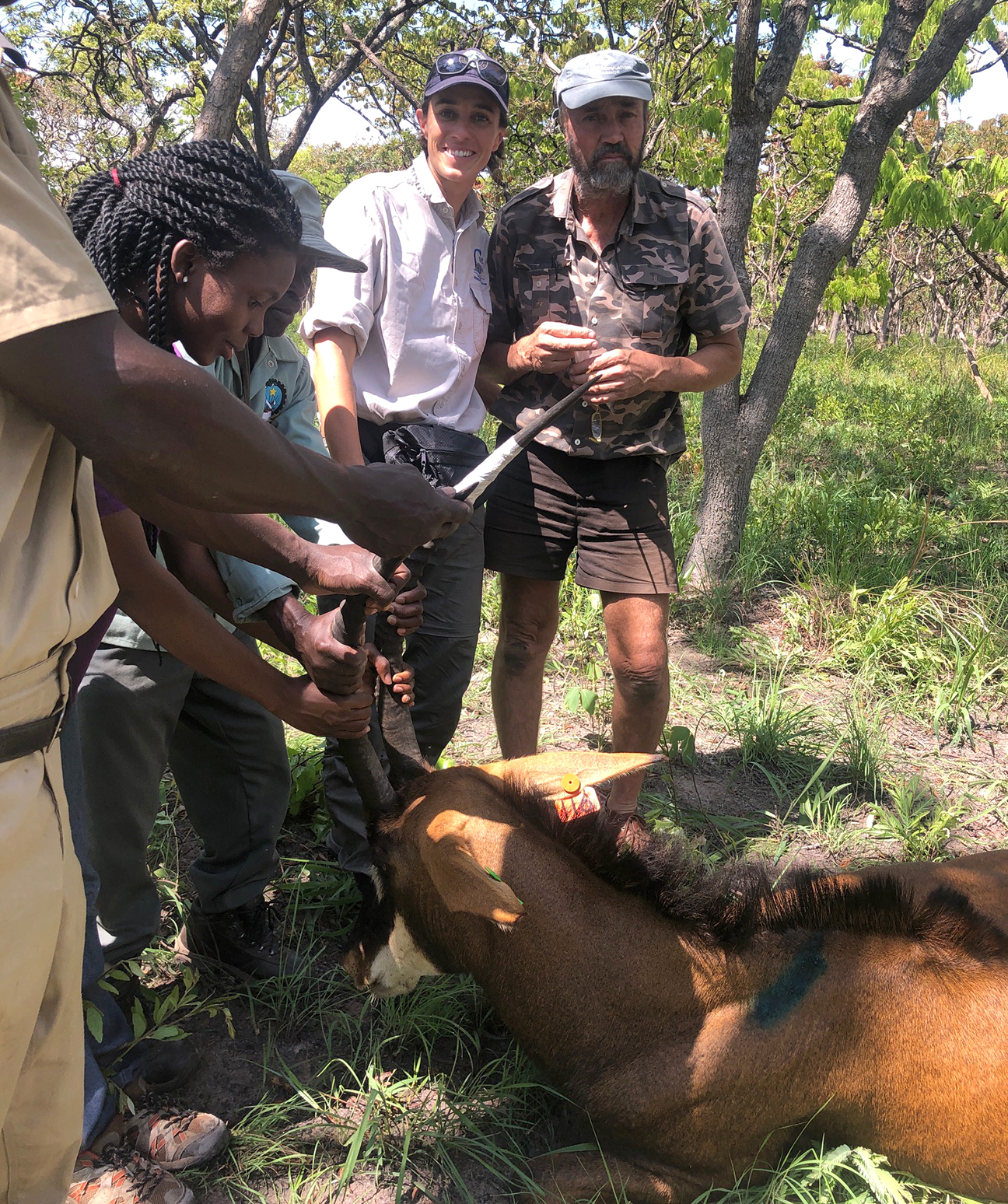 In addition to planning the husbandry and the veterinary care, the general logistics of such a large undertaking had to be worked out. These logistics were extremely complex and could not have been done without the significant efforts of a few key people. Most specifically, John Newby, Marc Dethier, and Mahamat Hassan Hacha (OROA Game Reserve Conservator) all worked tirelessly to organize the permissions and permits, the delivery of a helicopter to Chad that could be used for darting animals, and the use of a small fixed-wing airplane that could be utilized for animal transportation and aerial surveys.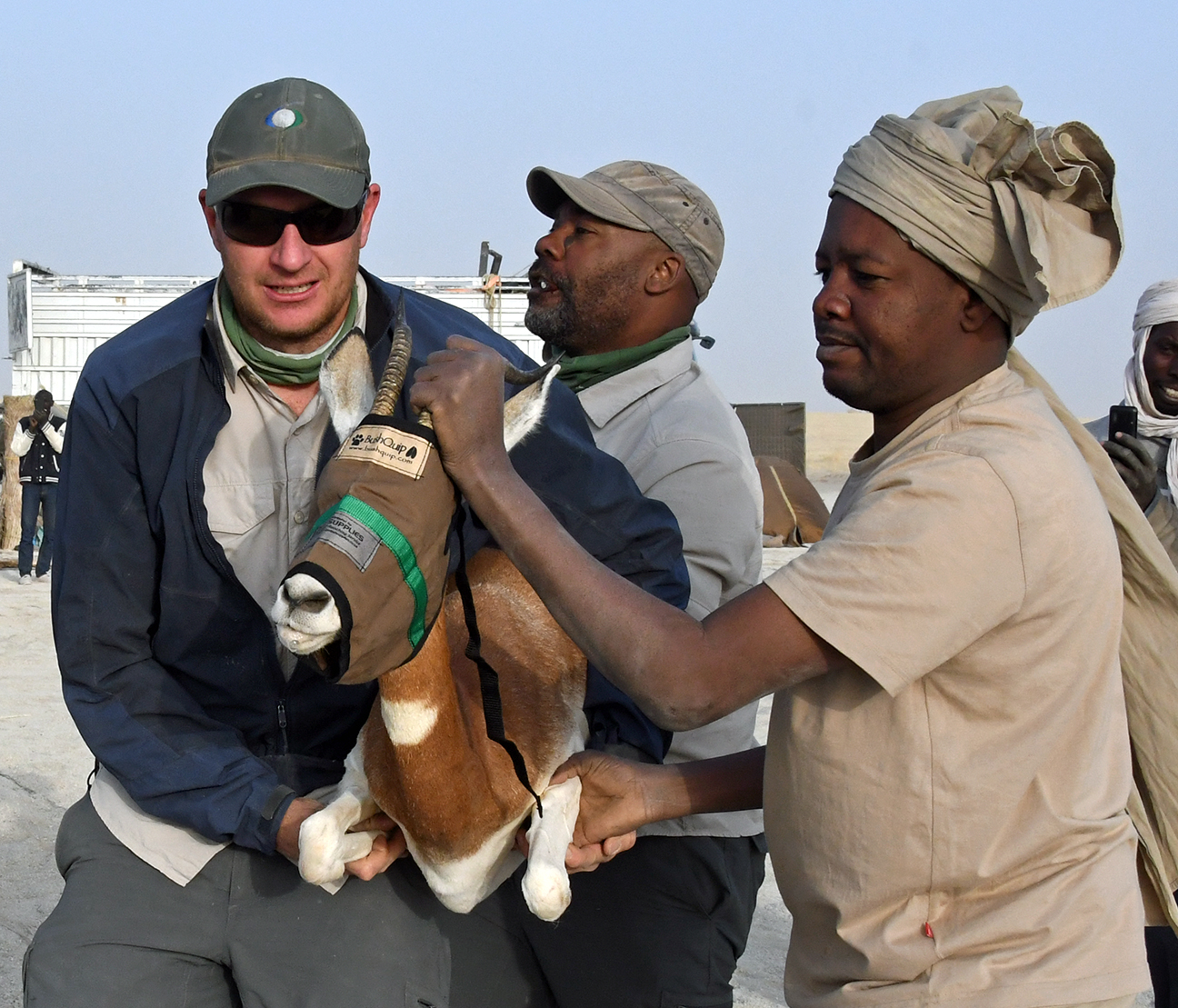 Once planning had been completed, it was time to actually catch damas. The team left Oryx Base Camp and drove the 250 miles from OROA to the town of Salal, which sits at the edge of the Manga region. A small airstrip outside of Salal was determined to be the best location for our camp, since it would allow us to be close to the helicopter and the fixed-wing plane during captures.
Despite the good location in relation to the aircraft, this site left much to be desired in regards to a campground. There was no infrastructure present and the wind was constant with no barriers to stop it. As an unplanned team-building experience, we erected a windbreak to minimize the wind blowing directly through camp, but otherwise it was very exposed to the elements.

At camp, we were joined by Hoho Andrew from Tropic Air as our helicopter pilot, Dr. Charlotte Moueix as our capture vet, and a crew of outfitters from the Société de Voyages Sahariens (SVS) under the direction of Andrea Bonomo. SVS would provide all of our meals during our stay in Salal, which was extremely helpful given the lack of infrastructure present.
Charlotte has years of experience helicopter darting antelope from her work in South Africa and had agreed to be our darter for the dama captures when it was determined that Dr. Morkel would be unable to meet us for the actual capture.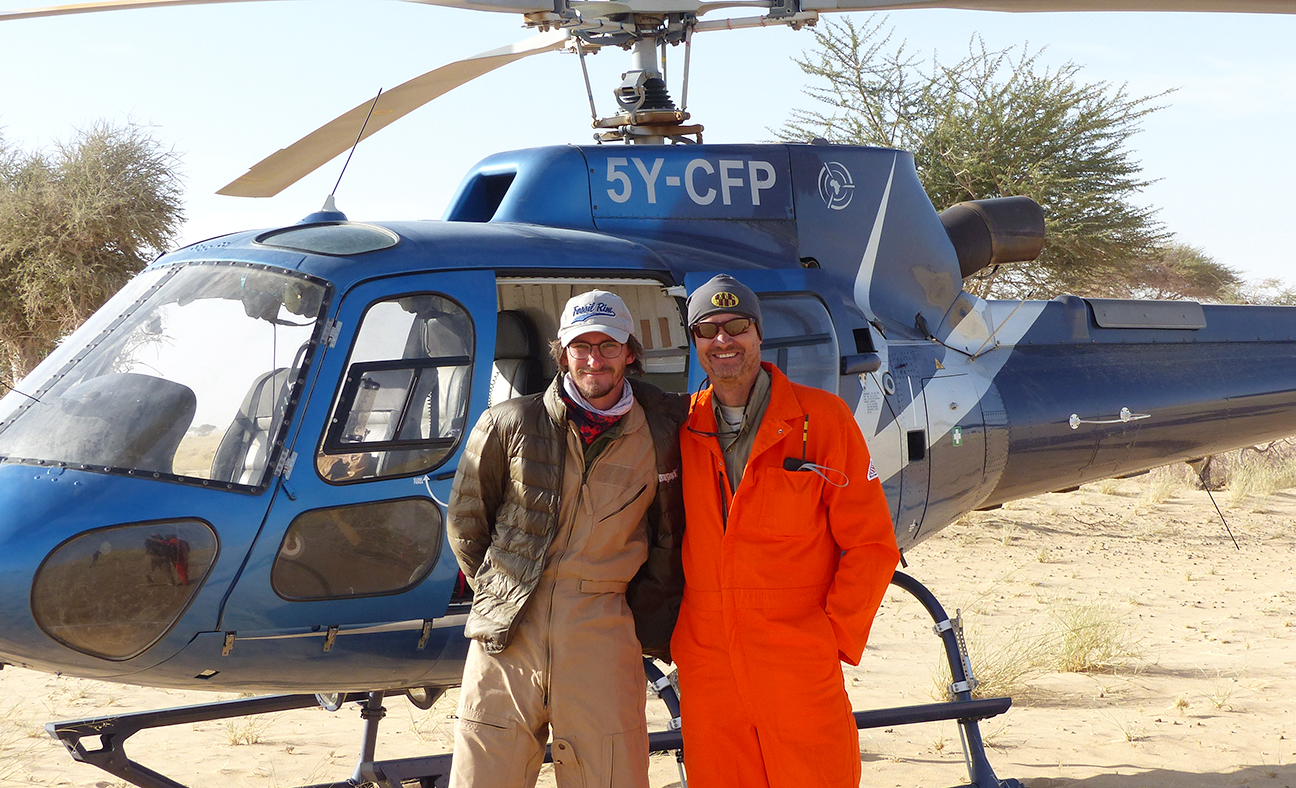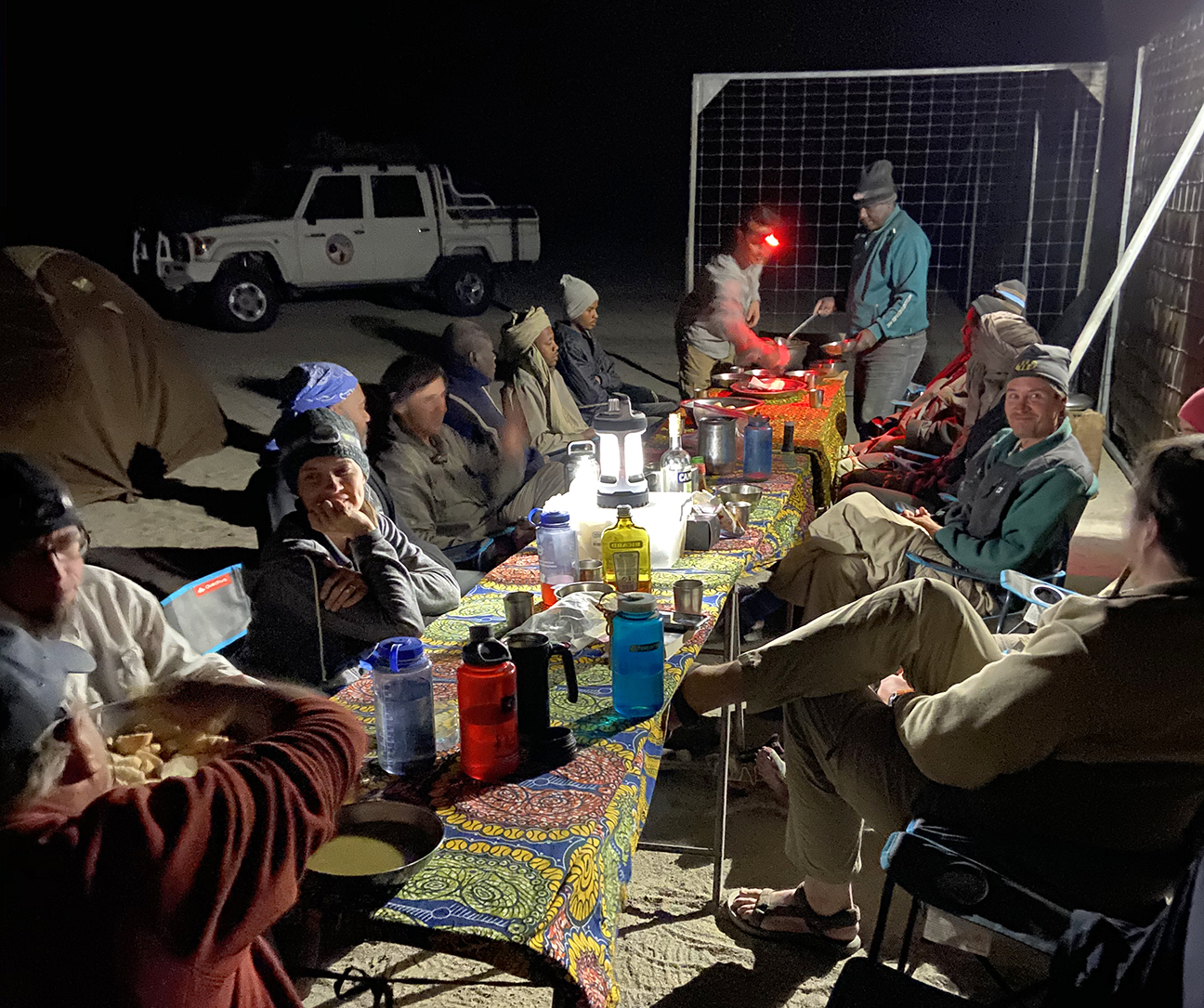 The fixed-wing aircraft was unfortunately delayed by several days, so our initial surveys were done via helicopter rather than plane. Searching for dama gazelles via helicopter is a bit like looking for a couple of needles in thousands of hayfields. Based on the most recent aerial surveys, which were done a few months before, it was suspected that there were at most 10-20 animals present over an area that spanned more than approximately six million acres.
The landscape in this area is gently rolling sand dunes, which allowed for decent visualization at a distance, assuming there wasn't a sandstorm going on. Which there was. Almost every day.
Luckily, we also had the help of several ground crews. The NGO Noé Conservation, along with a team from Chad's Wildlife Service, quickly started searching on the ground for evidence of dama gazelles. This was done by looking for actual tracks of the animals, as well as by contacting local informants who had been encouraged to look out for dama gazelles in their area over the past several months.
The search was also significantly aided by the survey mapping done by Dr. Tim Wacher in preparation for this trip. This survey mapping allowed us to focus on several hotspots in the area where damas had been previously reported to be seen. However, after two days of searching, both by helicopter and on foot, no damas were seen.
Despite this, the crew still felt positive that the animals were there, even if we hadn't yet seen them. With the addition of the fixed-wing plane, which had been confirmed to arrive the following morning from the Mission Aviation Fellowship (MAF) and be flown by pilot Phil Henderson, our odds of finding gazelles would likely be increased, as the plane would be able to cover much larger distances in search of dama gazelles.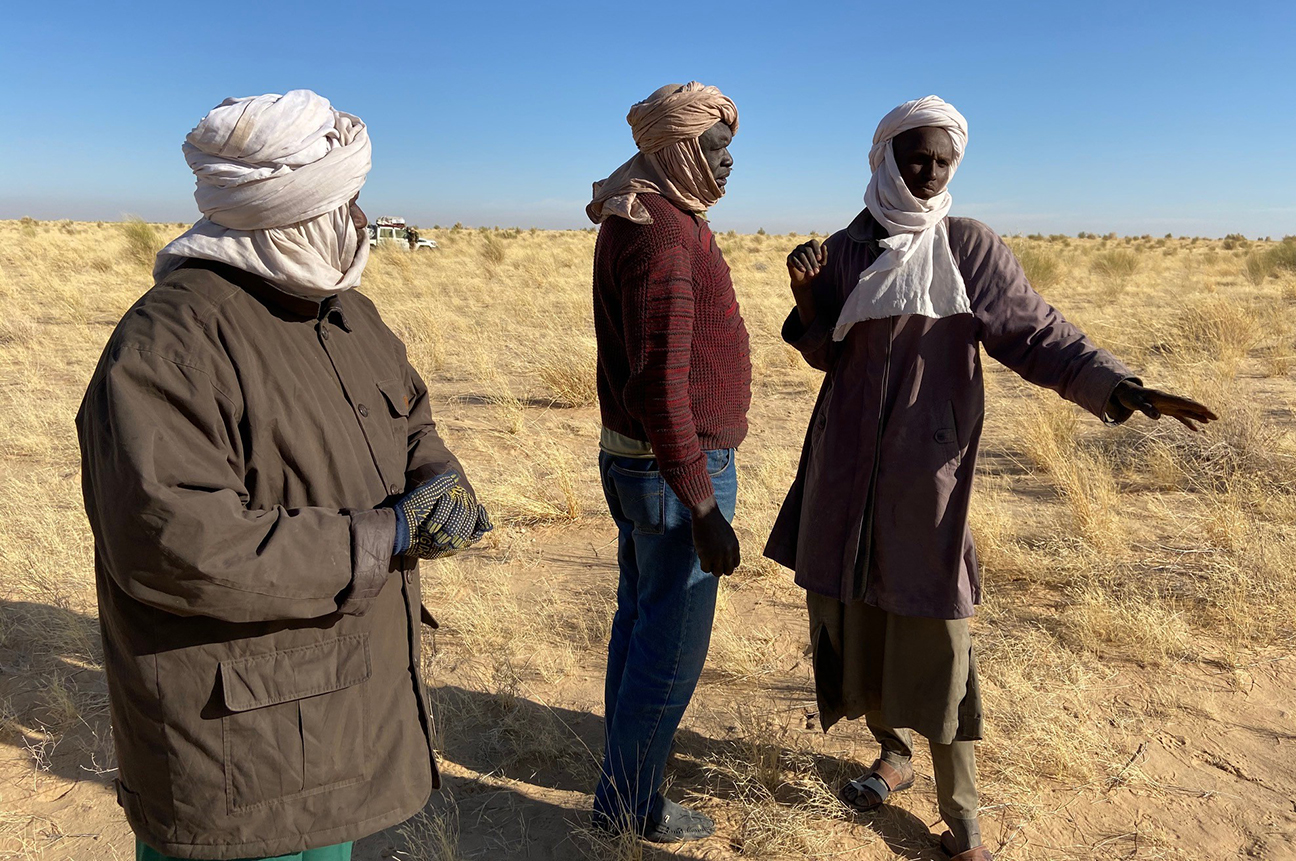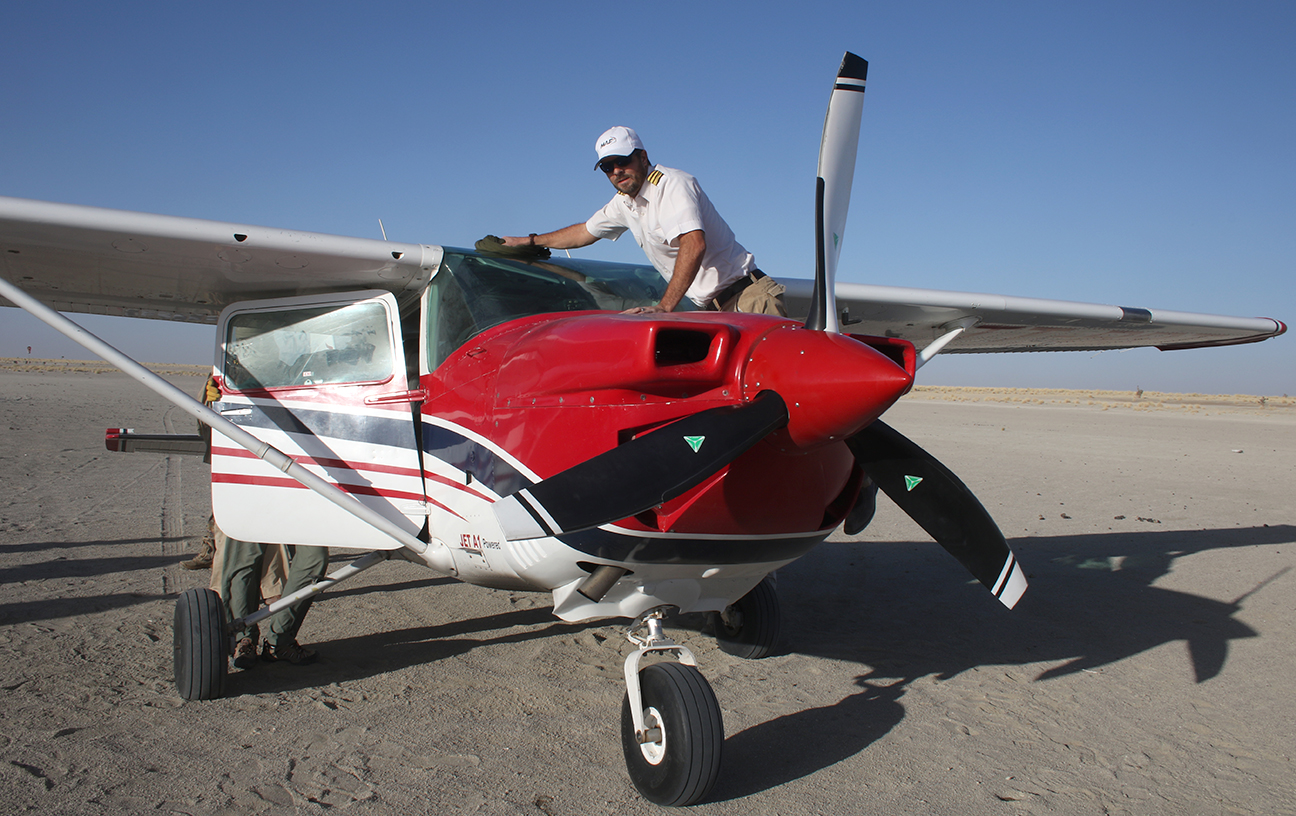 Finally, on January 24th, fresh dama tracks were found by the ground crew! Tracks of at least four animals were noted along with fresh urine, indicating that these tracks were placed within the previous few hours. As the ground crew continued to follow the tracks, the helicopter with the capture team (myself, Charlotte, and Justin, along with Hoho the pilot) rushed out to the location.
After some significant tracking, all four animals (all females) were seen from the helicopter. Within 30 minutes of being found, three of the four animals were darted by Charlotte and showed evidence of the effects of anesthesia. The capture team found the three anesthetized animals and loaded them into the helicopter for transport back to the camp at Salal.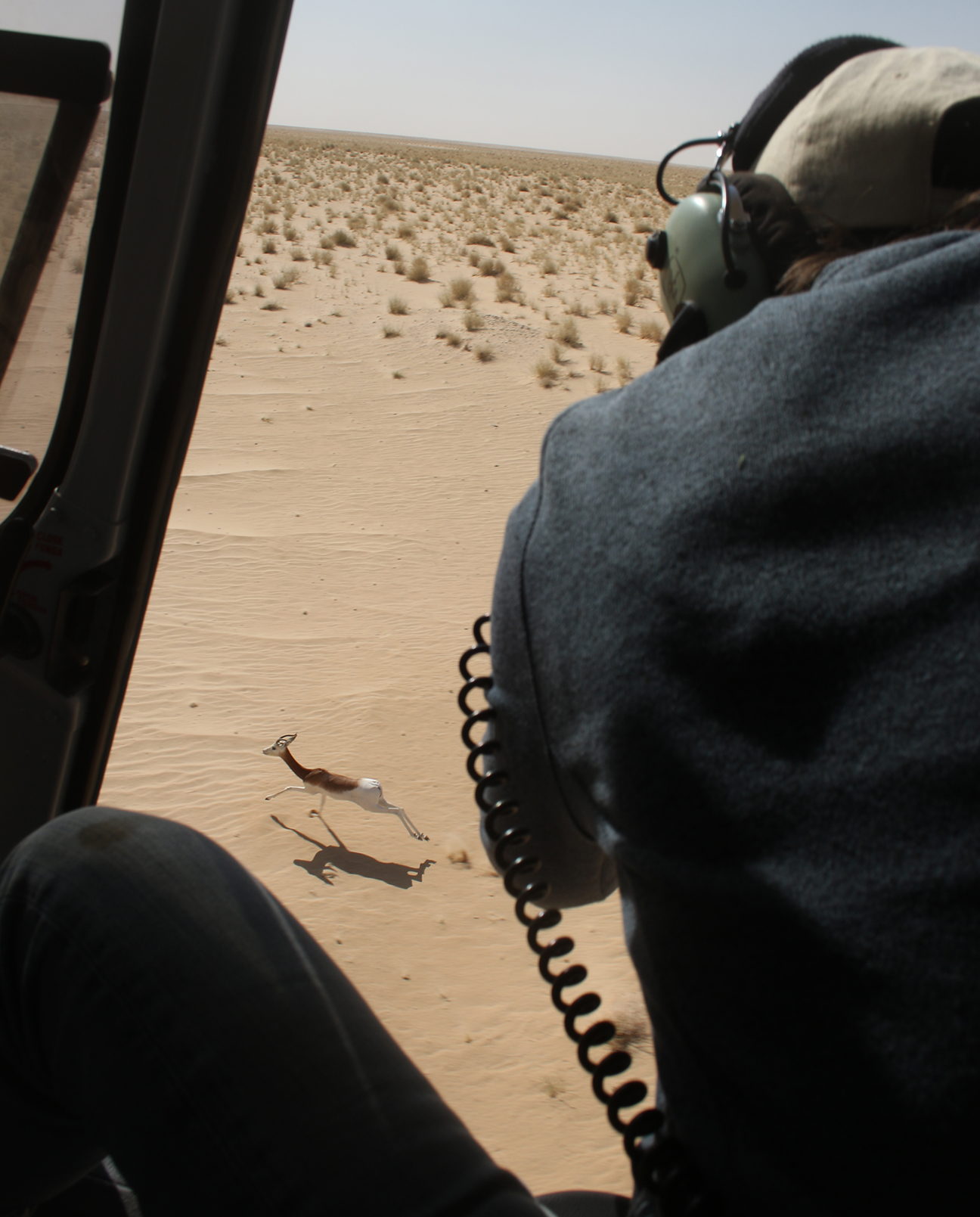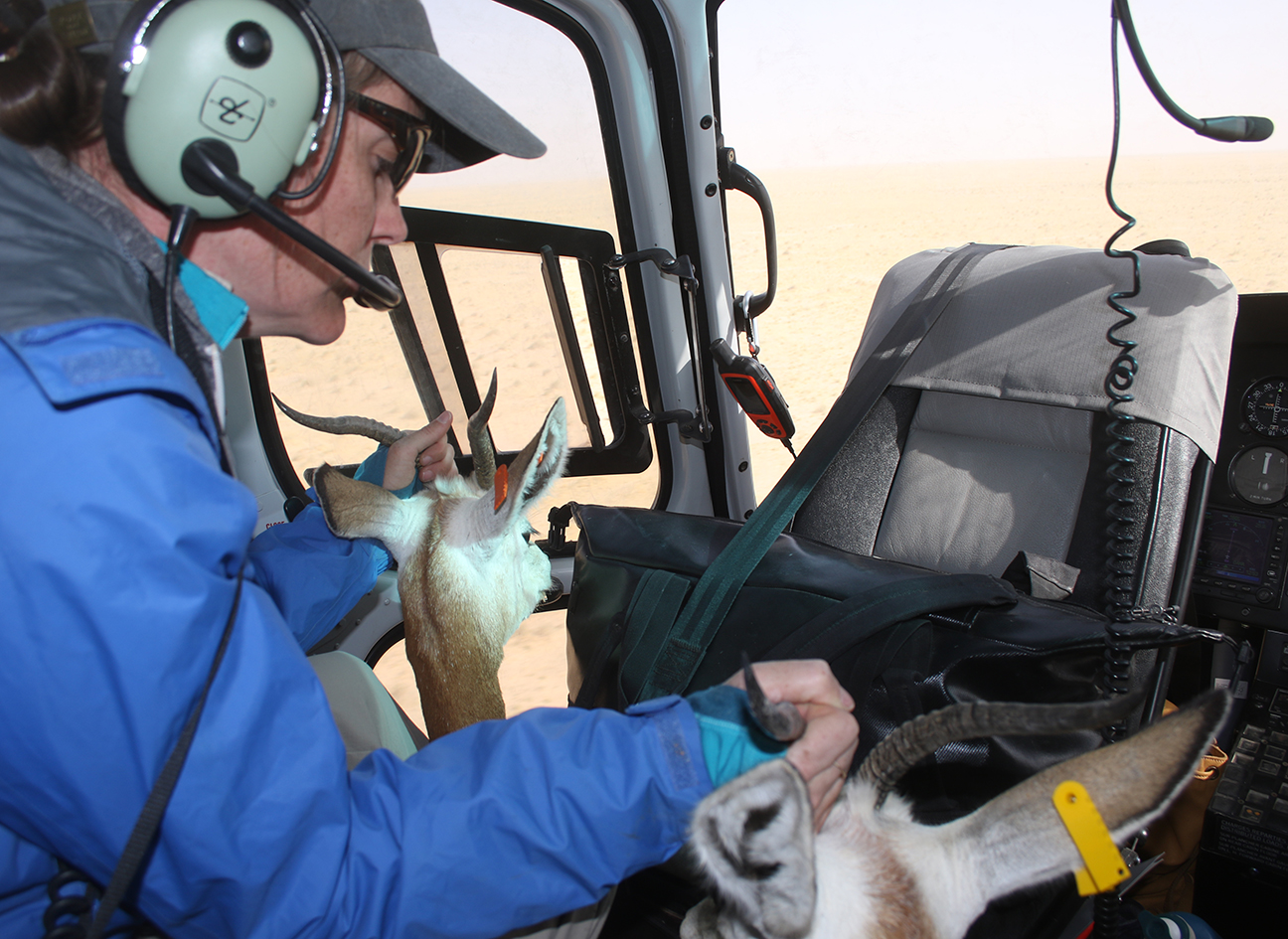 Once back at the Salal camp, the dama gazelles were given reversal agents to counteract the effects of the anesthetic drugs that had been delivered in the darts. They were also administered several tranquilizers to help maintain a calm disposition over the next few days while transitioning into captivity.
Physical exams were performed and the animals appeared to be in excellent shape overall. Ear tags were placed to allow for individual identification, and then the three animals were loaded into specialized dama gazelle crates for holding until they could be transported to OROA via helicopter or plane.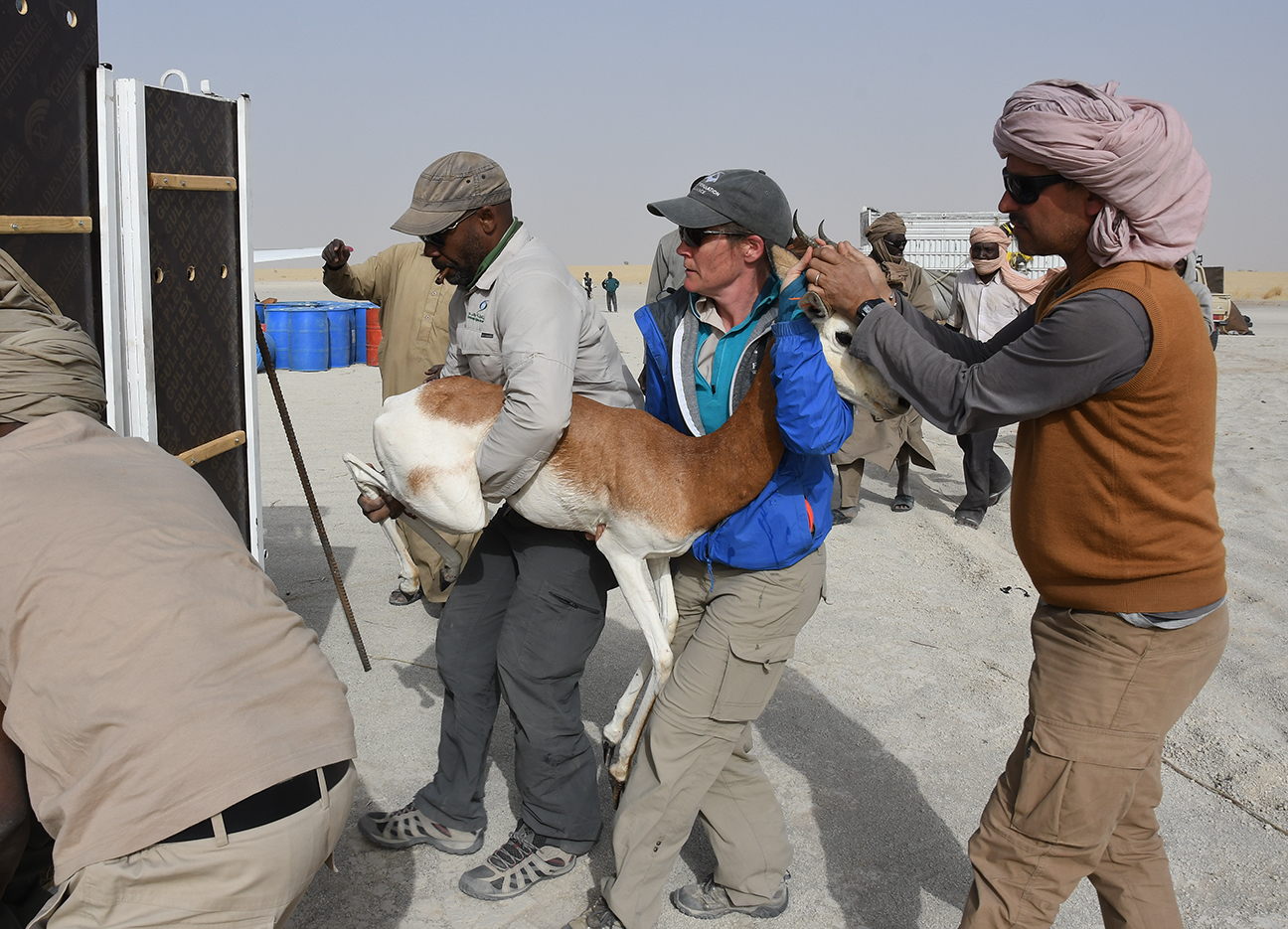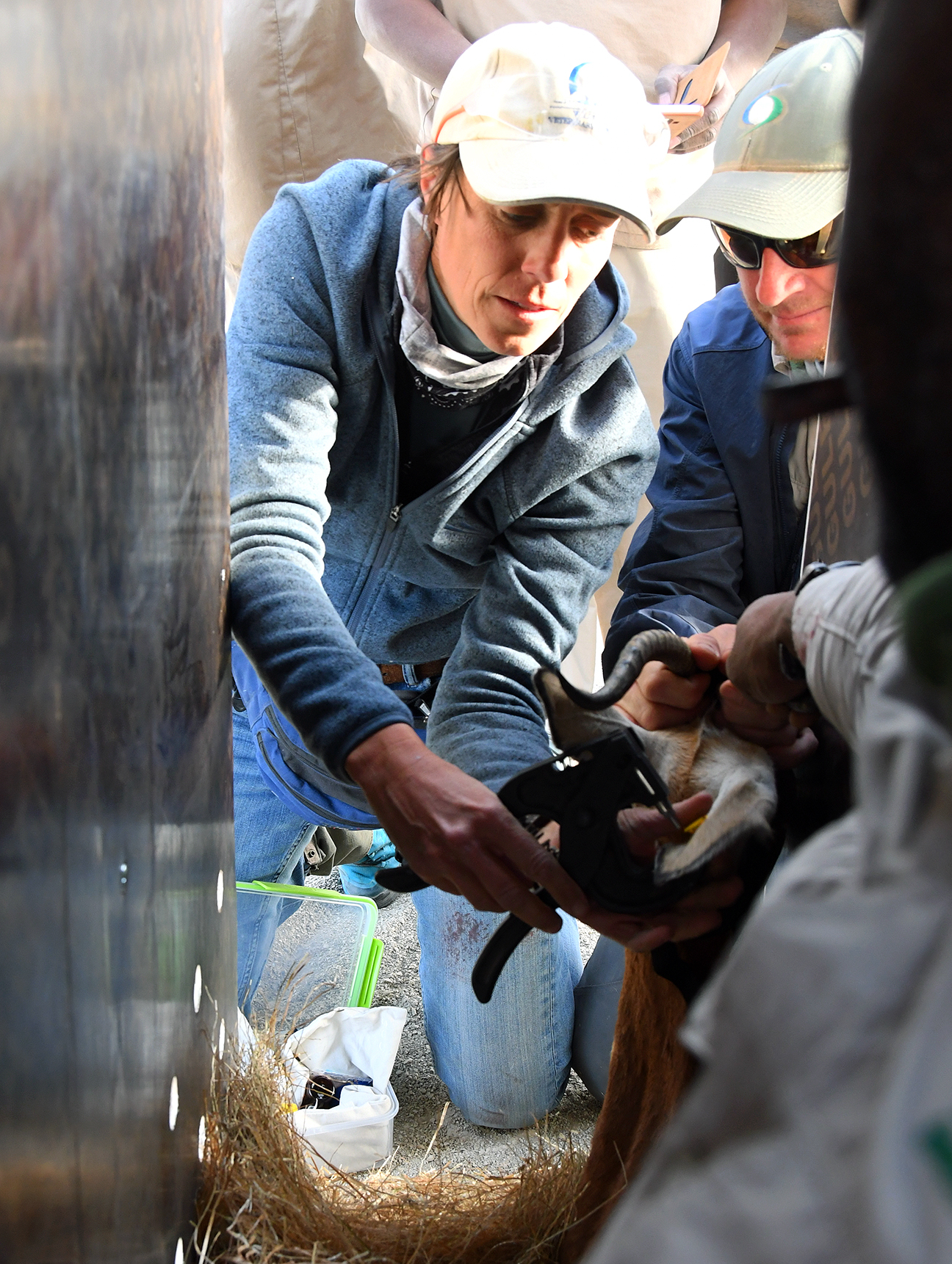 Normally, hoofstock like these gazelles would be transported while still within their crates. This allows them to be transported fully awake, as they are unlikely to hurt themselves in these specialized crates and tend to stay calm in the quiet, dark environment the crate offers.
However, due to the size of the aircrafts that were available in the country of Chad, our three dama gazelles had to be flown without their crates (the crates simply would not fit in the small fixed-wing plane or the helicopter). Because of this, a sedation protocol had been developed, as mentioned earlier, that was intended to allow us to safely transport these animals with two of them in the floor of the helicopter and one in the floor of the plane without the use of the crates.
On the morning of the transport, the dama gazelles were removed from their crates and given a temporary intravenous catheter that could be used to titrate any sedation that was needed while in transport. The animals were hobbled, blindfolded, and ear plugs were inserted to minimize stimuli. Then, they were loaded into the helicopter and fixed-wing plane, each aircraft with its own veterinarian and animal husbandry specialist, and flown two hours to the holding pens in OROA.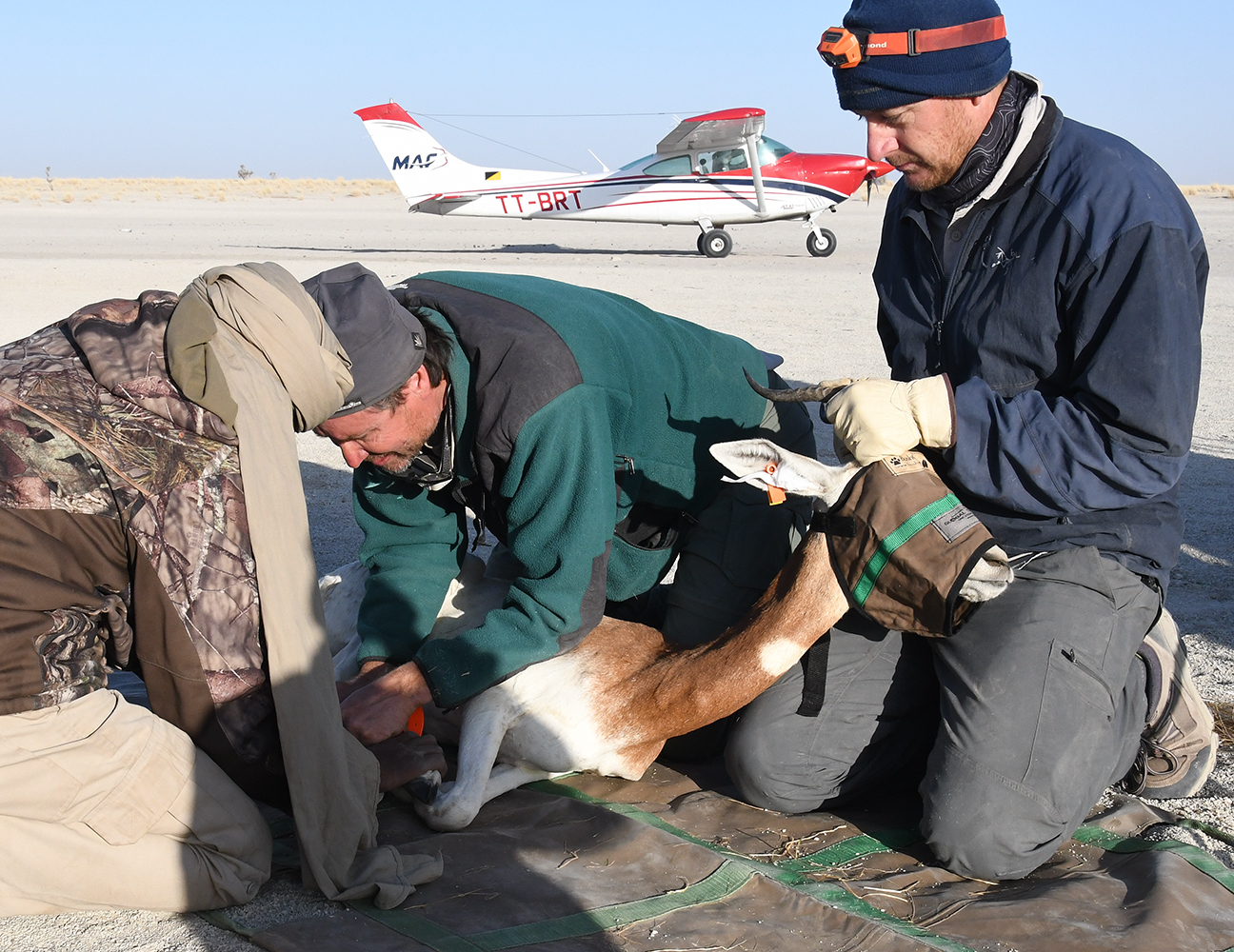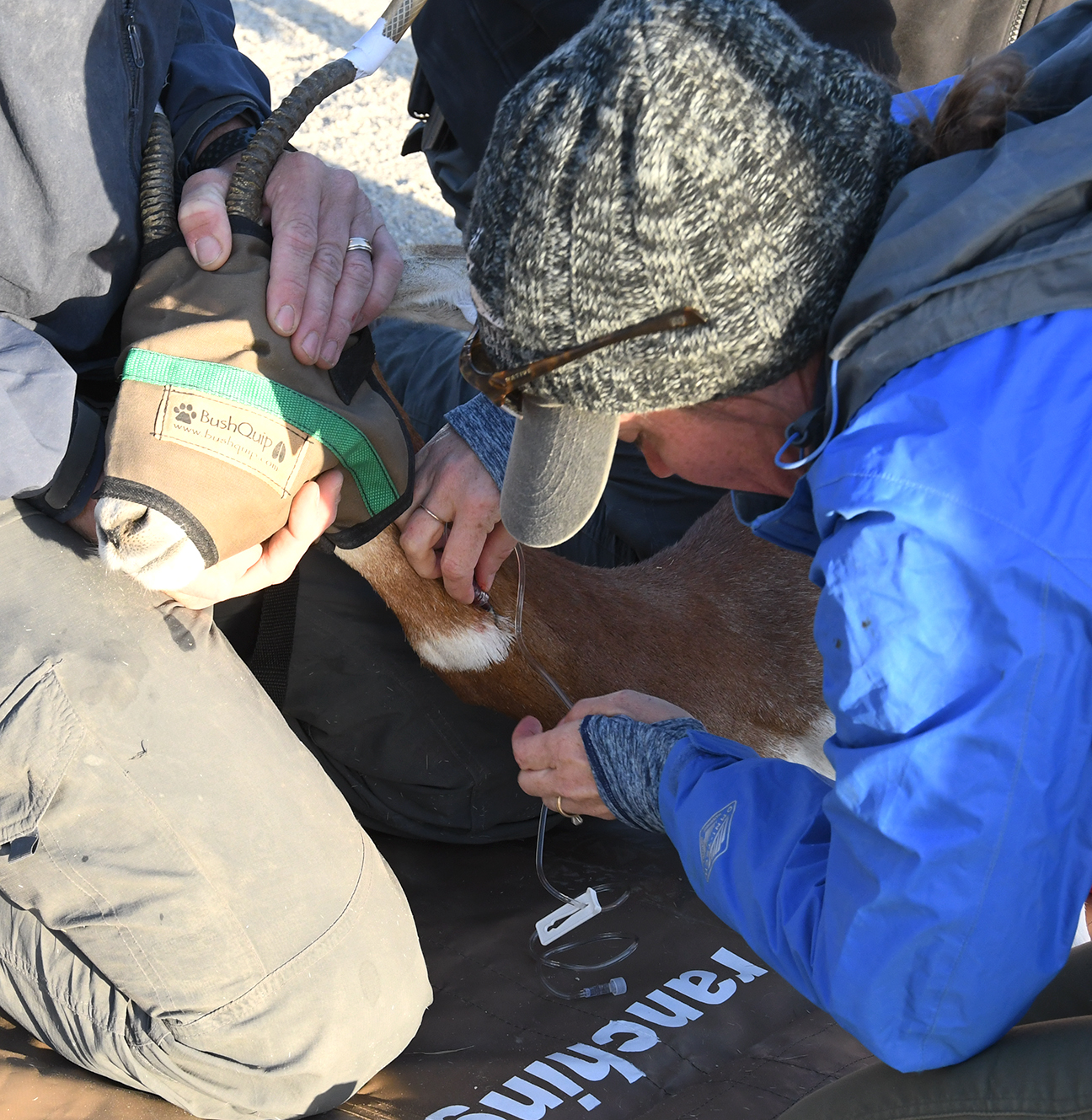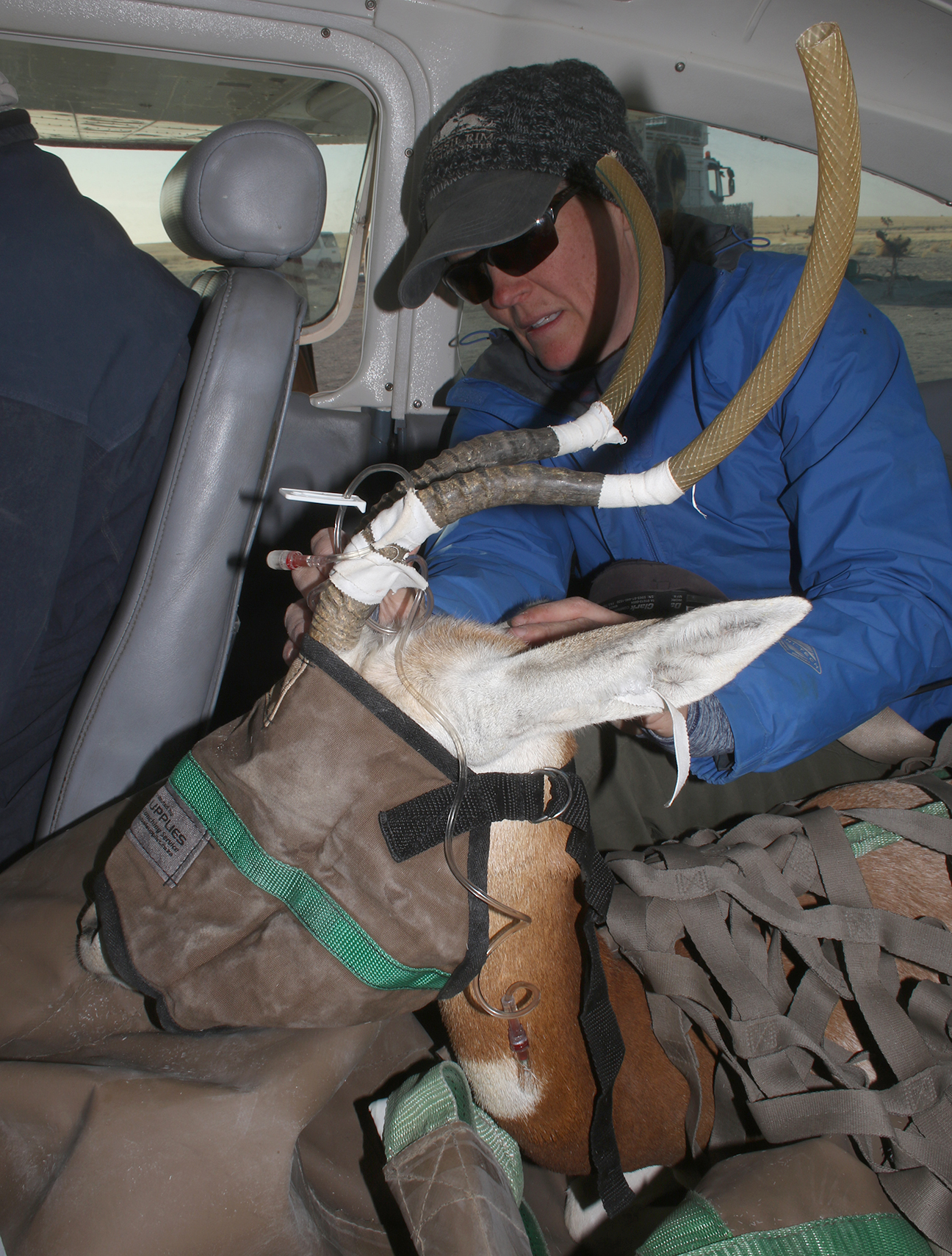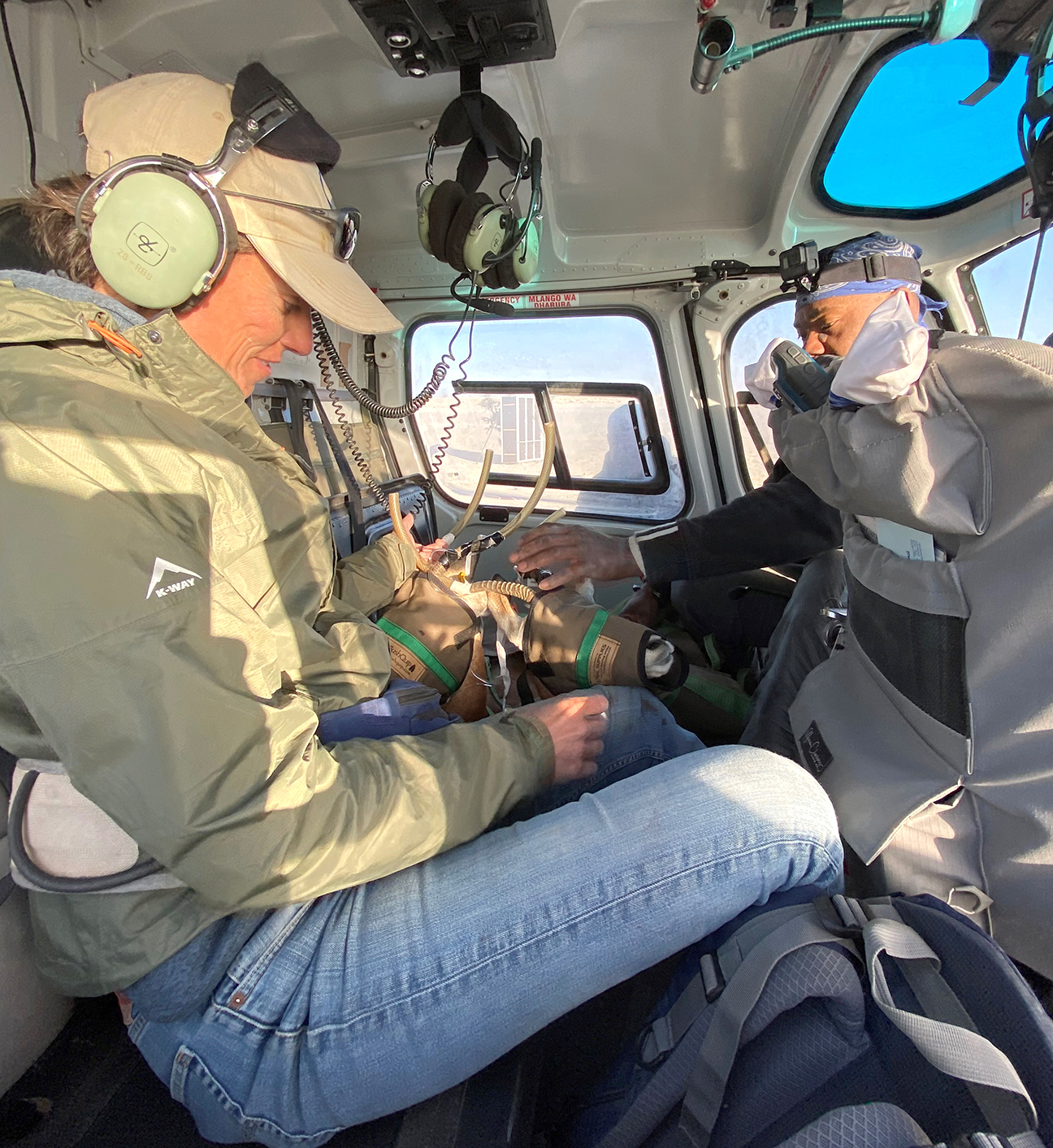 Once the dama females had landed and were secured in their holding pen, it was determined that the best chance for their reproductive success would be to introduce them to a male from the herd that was already present in OROA. With this in mind, two ground teams were dispatched to locate the OROA animals.
Once a group of damas was sighted, the capture team (myself, Charlotte, Adam, and Hoho) set off in the helicopter to dart a male. Within 20 minutes, we had our male. He was introduced to the herd and all four animals appear to be settling in well!
The three girls were affectionately named after three of the women involved in this project: "Charlotte," "Becki" (who helped organize the MAF plane), and "Julie." The male was appropriately named "Moussa" after John Newby's nickname and in honor of all the amazing assistance John contributed to this project.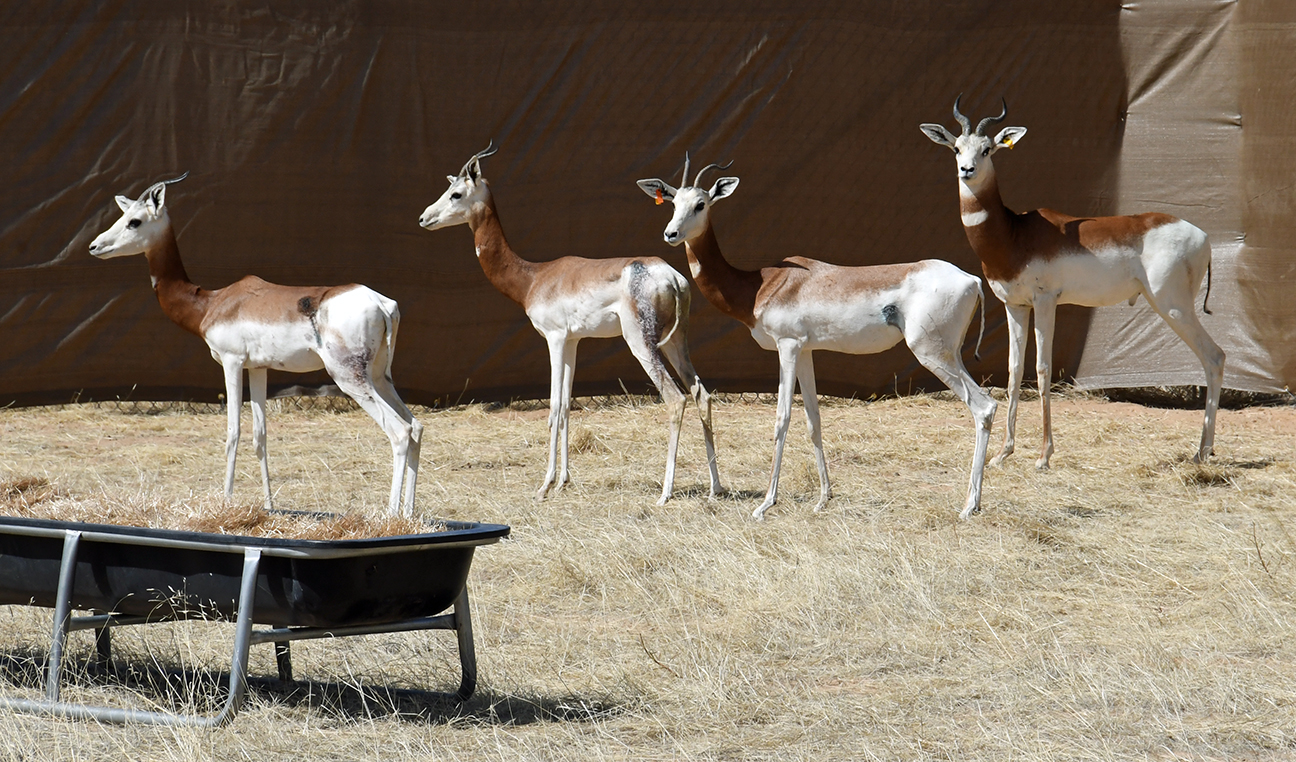 As a conservation project, this trip was a resounding success. Much of this is related to luck and good timing, but the amount of time and effort that went into planning for these projects was the key to our progress made.
The assistance of all the various people and institutions who were involved in the many different moving parts was essential to these accomplishments. This article only focuses on a small number of the people who were ultimately involved in this project, and our thanks and sincere appreciation goes out to all of those who were concerned enough about the dama gazelle's survival to participate.
-Dr. Julie Swenson, Associate Veterinarian