Livingston journals on oryx reintroduction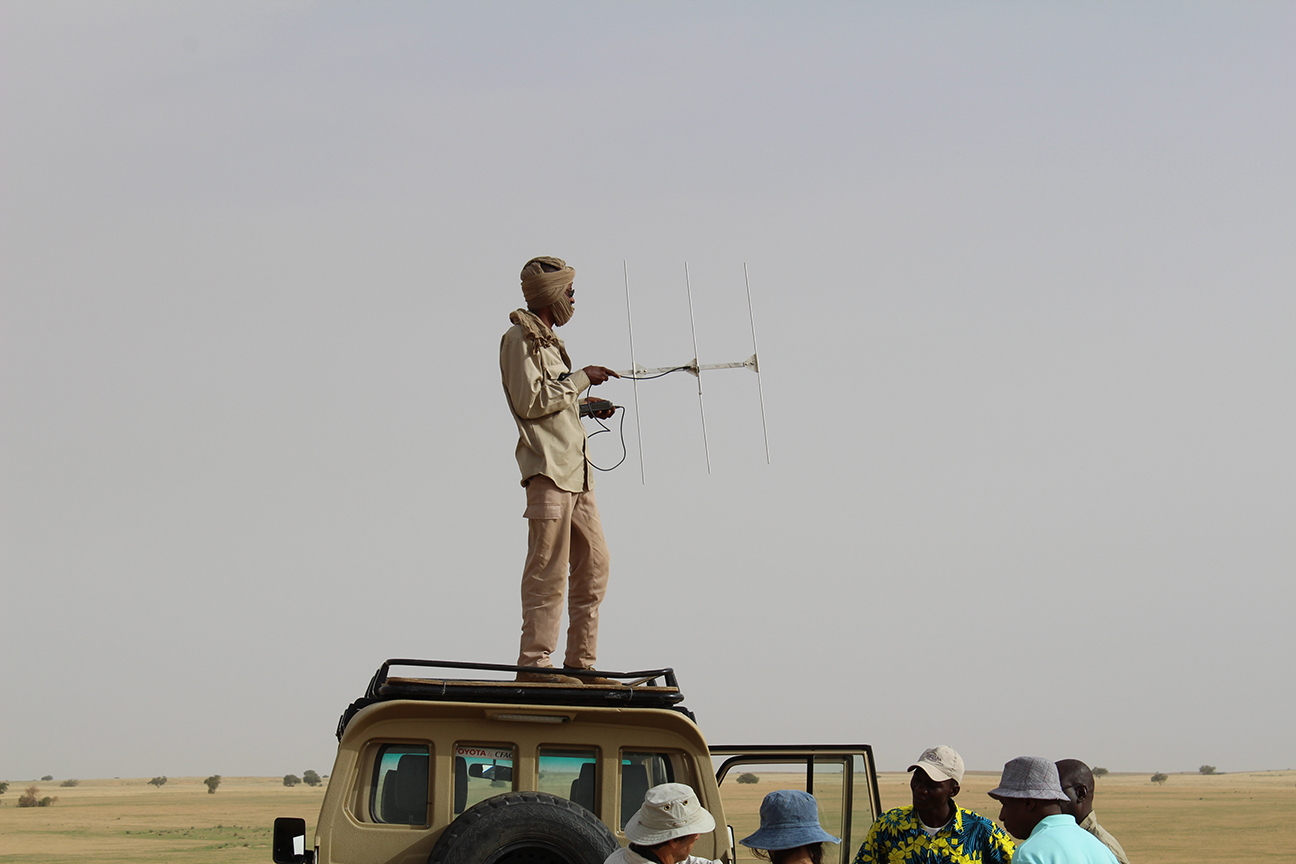 SPA & FRWC Trip to Chad on July 9-26, 2018
Gavin Livingston's Travel Journal
In July, I had the incredible opportunity to travel to the Republic of Chad with Adam Eyres, the Director of Animal Care at Fossil Rim Wildlife Center and Antelope Conservation Fellow at White Oak, as well as Dr. Julie Swenson, Associate Veterinarian at Fossil Rim.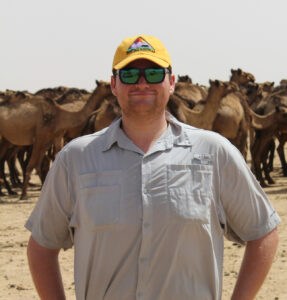 As for me, Gavin Livingston, I am the Manager of the Source Population Alliance (SPA), which is based at Fossil Rim. SPA is an ungulate conservation program and is a part of the Conservation Centers for Species Survival (C2S2), of which Fossil Rim Wildlife Center is a founding member.
Similar to many international trips, just getting to our destination was a journey in itself, and this trip provided plenty of color along the way. Follow along as we navigate delayed flights, airline changes, lost luggage, and a cross-Chadian road trip all on our way to begin the conservation work we traveled 7,200 miles to do.
In Chad, we worked on the scimitar-horned oryx reintroduction project of the Environment Agency – Abu Dhabi (EAD) and Sahara Conservation Fund (SCF). Our mission on this trip was to fit GPS tracking collars on the next group of oryx slated for release back into their native range.
Prior to this project's beginning in 2016, the scimitar-horned oryx had been extinct in the wild for three decades. Now, with the support of the EAD, the hard work of SCF, and the dedication of breeding centers around the world, the oryx once again roams the desert of Chad.
Monday, 7/9/18, Day 1: The Journey To Chad Begins
Adam, Julie and I left Glen Rose to start our journey to N'Djamena, Chad at around noon. Before we left town though, Adam and I spent the better part of an hour searching for the UPS truck in town to pick up a package that we needed for the trip. We chased down two different UPS trucks, and after a lot of effort and some dumb luck, we were able to get our hands on the hoof trimmers we needed to take to Ric and Justin, the Americans who run the EAD's oryx project.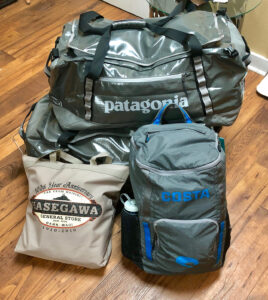 We encountered our second issue of the day during check-in at DFW Airport. Delta would not recognize Adam's booking credit card to verify my ticket. Fortunately, after trying several different cards, we got it squared away, and we were off on our journey, sort of.
After we checked in, Adam went to go take his truck to long-term parking, and Julie and I went through security to go make our first currency exchange of USD to Euros. We each exchanged $400 USD and got $290 euros back.
While Julie and I were in line at the currency office, Julie checked her email and saw that we all had a message from SCF CEO John Newby. His email said that the GPS collars for the scimitar-horned oryx had not yet arrived in Chad and likely would not be there until the 19th of July, which is the day we were scheduled to depart Chad.
John said that his team has planned to stay until July 24 to ensure the collaring is completed. Since we are already en route, and tickets paid for, we will just assess where we stand in relation to timing once we get to Chad and talk about it more in-depth with John.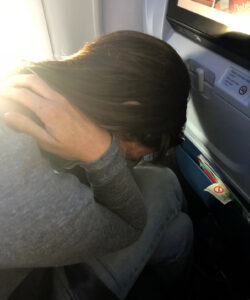 Our Delta flight from DFW then gave us our next curveball by being delayed long enough that we would have missed our connecting flight in Atlanta for Paris. Luckily, Adam was able to talk to the gate agent and we were transferred onto an American Airlines flight that would get us to Atlanta in time to make our connection. On the Atlanta-to-Paris leg of the flight, Adam and I booked exit row seats and scored some great legroom, while Julie got a window seat in another area of the plane – her favorite spot.
Tuesday, 7/10/18, Day 2: Delay Is The Word Of The Day
Once we got to the airport in Paris, it didn't take long for me to make a spectacle of myself. I went to the restroom to wash my face and brush my teeth; it was only after the fact that I discovered there were not any towels to dry my face.
My next move was obviously not wise, but I did it anyway. I for some reason thought it was a good idea to try and dry my face under the hand dryer; it was not.
I hit my head and almost blew my contact lenses out of my eyes. Hmm… On the plus side, we found RoxAnna, who is joining us on the trip from the Living Desert Zoo in Palm Springs, California. She is the Association of Zoos & Aquariums' Scimitar-Horned Oryx Species Survival Plan coordinator.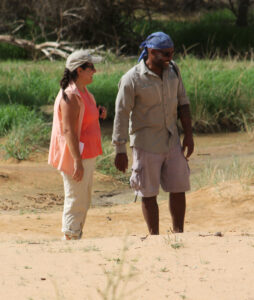 The relative ease of travel on this leg of the trip did not last long; at the last minute, it was announced that we had a gate and terminal change for our flight, which requires going through security again. As we were getting ready to go change gates, we ran into some Environment Agency – Abu Dhabi folks that will be joining us in Chad; Ric, Justin, Lahaj, and Siyeed met us at the gate. We made it through security with a moderate level of hassling and got in line for our Air France flight that was scheduled to leave for N'djamena at 4 p.m.
No sooner do we get in line, than they announce that we have a 1.5-hour delay. After it was all said and done, we ended up with three different gates, three planes and two terminal changes, then we were finally boarded on a plane that just came in from Taiwan at around 8:30 p.m. The flight finally took off at 8:45 p.m. Paris time.
During the plane changes, Adam and I lost our exit row seats we paid for, but the new plane was larger, so we each got our own row on the plane, which worked out pretty well legroom-wise. One item of concern is our luggage. None of the three airlines we have flown on seem to be exactly sure where the bags are, and if they will make it to Chad when we do. I do not have a great feeling about this.
Wednesday, 7/11/18, Day 3: Mr. Livingston, Please Come With Me
We finally landed in Chad around 1 a.m. local time. A shuttle bus took us to the terminal to go through passport control and customs. While going through customs was uneventful, our luggage never made it to Chad. After waiting for all the luggage to come out, we went to the baggage office to file a claim.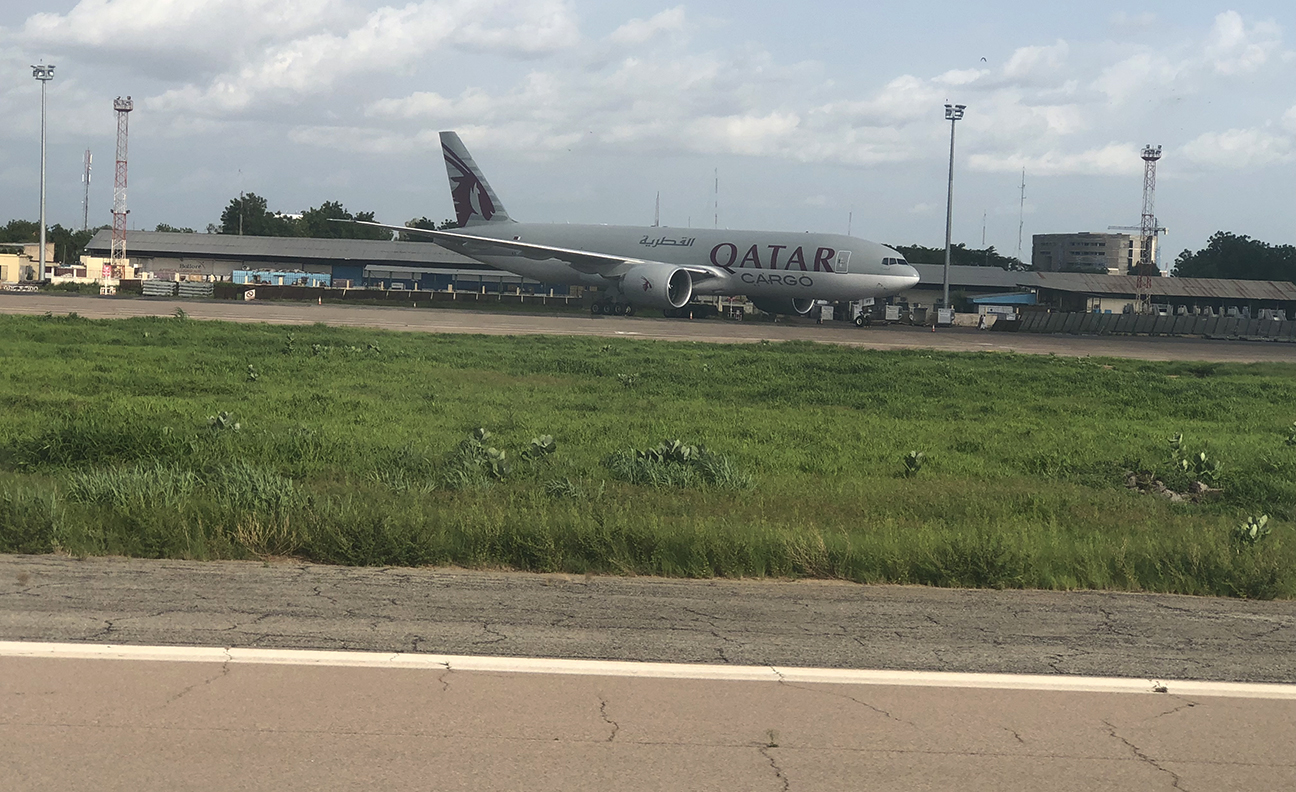 Before we could walk in though, a man who worked at the airport asked me if I was Mr. Livingston. I said I was, and he asked me to please come with him. Now, obviously this made me a bit nervous. Julie and Adam went into this guy's office with me, and I sat down to talk to him.
Luckily, this was indeed the baggage office. We filled out lost luggage forms and were told the bags would be on the next flight in two days.
By the time Adam, Julie, and I were finished in the baggage office, the rest of the team was already waiting in a Hilton shuttle van. On the way to the hotel, we drove down embassy row, passing dozens of armed guards.
The Hilton N'Djamena is very nice and was only constructed last year. Once you go through the front gate, there are zigzag barricades that must be driven through to get to the unloading area for the lobby.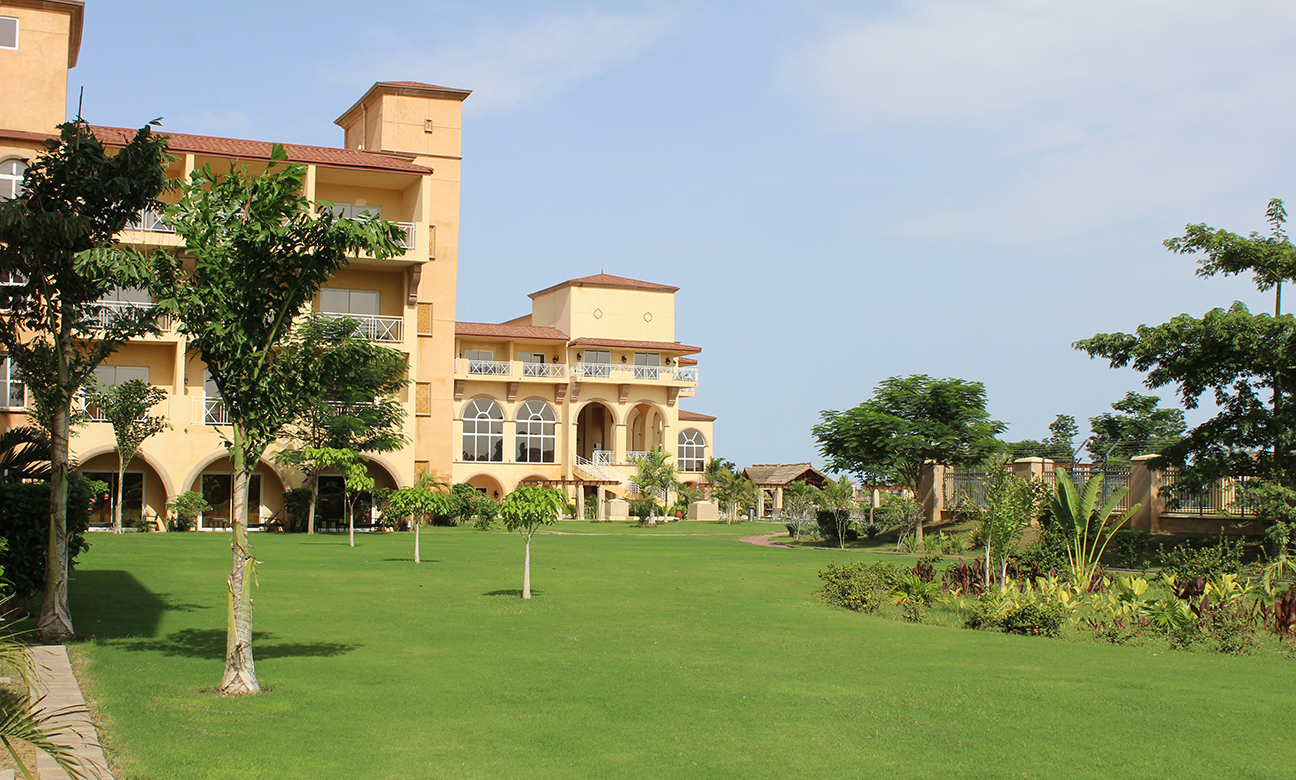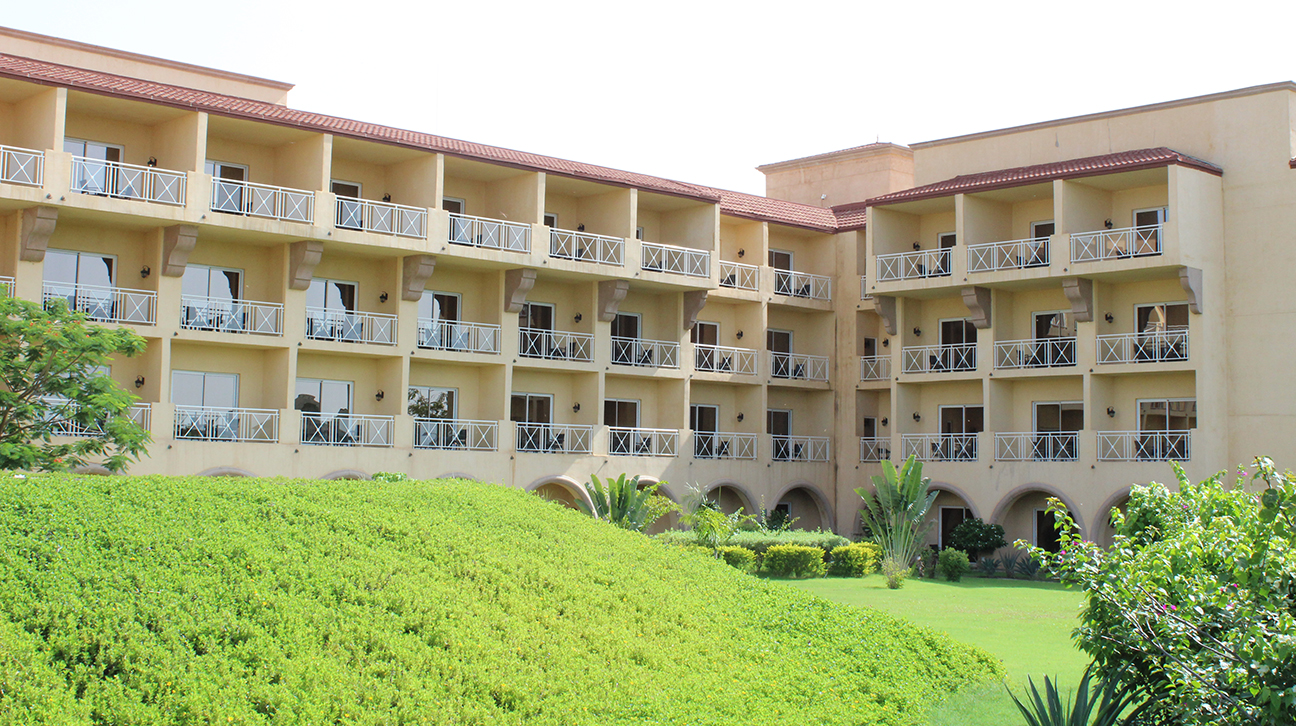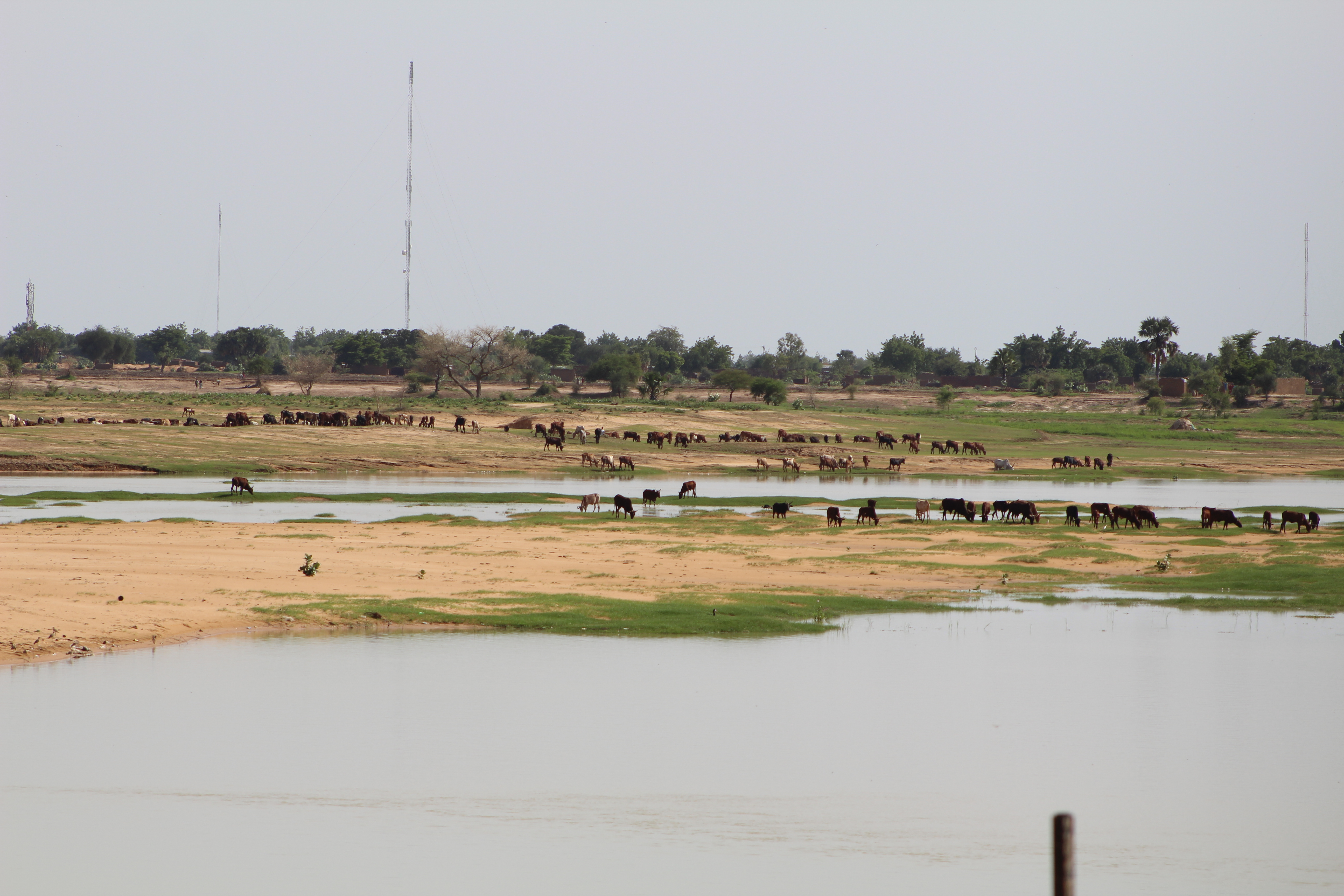 John Newby met us in the hotel lobby and said we should be back down at 6:30 a.m., or three hours from now. We quickly decided that Adam, Julie, and I would be staying at the hotel until our luggage arrived on Thursday. Newby and the rest of the team went ahead and began the journey to "Basecamp Oryx".
Wednesday, 7/11/18, Day 3 (Part 2): Hurry Up And Wait
We spent most of the morning until early afternoon just hanging out at the hotel and trying to catch up on some rest. At 1 p.m., we took the hotel cab, which was the same van as the shuttle bus, to the Air France office, pharmacy, and artisan co-op. The price for a cab ride was $14 per person each way.
It ended up being worth it though, as it got us the cab and driver for as long as we needed them. We went to the Air France office downtown, as we were unable to try and change our flights online.
We spent almost two hours there, in which Adam dealt with the Air France lady for a while, and then we had a one-hour call with Delta Airlines. Ultimately, we were able to get our flights changed to a departure date of July 24 and only had to pay a change fee of $300.
After the Air France office, we went to the artisan co-op Adam had been to before to buy souvenirs. It was an experience to say the least. The area was a square with little tin vendor stalls set up on the outside and inside with a loop connecting them all.
Most of the vendors all sold slightly different versions of the same things: wooden animal carvings, metalwork, textiles, etc. Nothing has a price on it, and everything is negotiable and involves a considerable amount of haggling.
All the vendors were very nice, but extremely pushy. One of the vendors figured out I didn't have a wife or kids yet; she said "Oh, how sad for you." Ha-ha.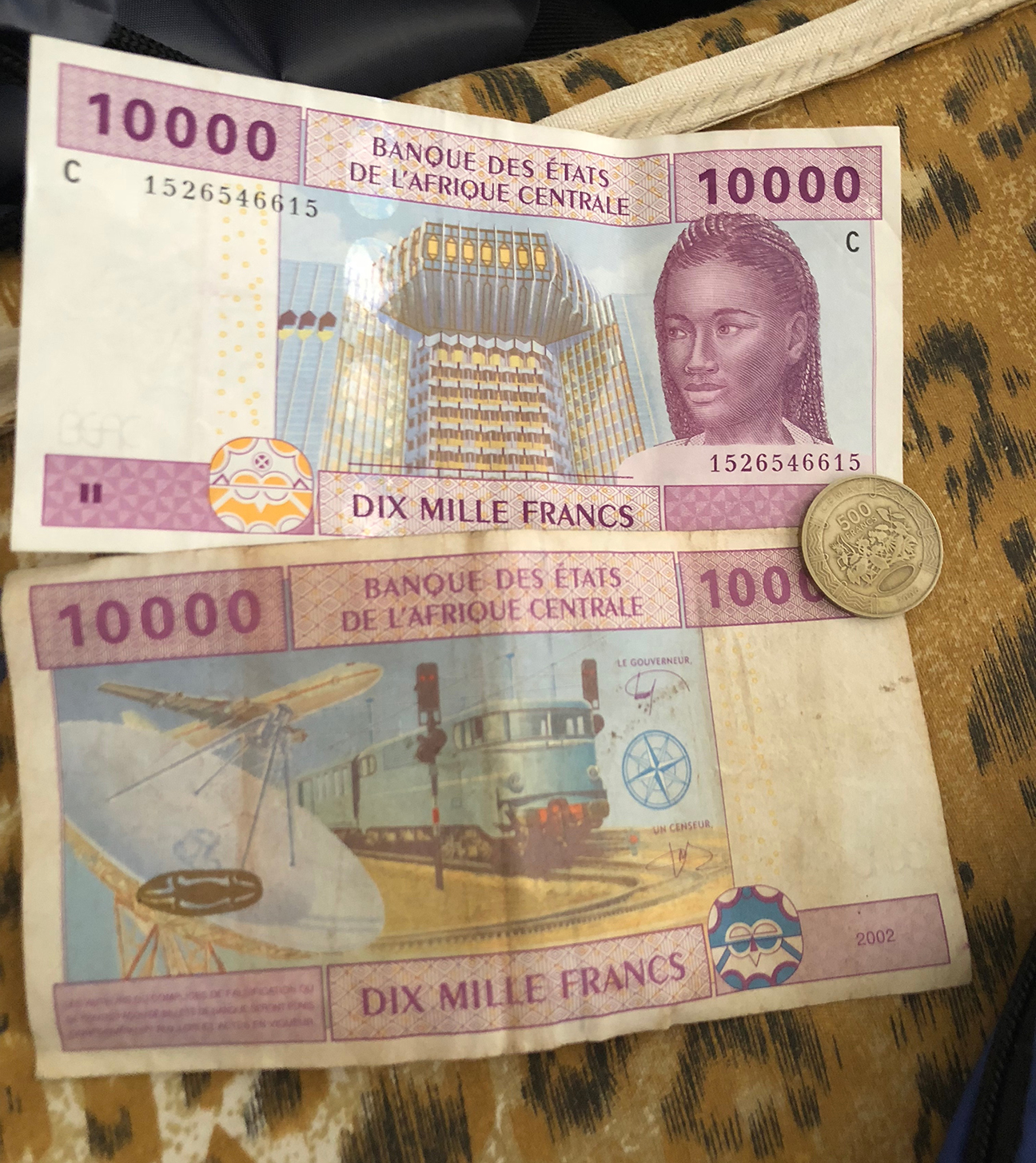 I ended up spending about 45,000 CFA (local currency), which is about $80 USD, and I feel pretty good about my purchases. I bought a couple of leather-framed maps of Chad, wooden animals for gifts, etc. Overall, it was a lot of fun and a very interesting outing.
While driving around, an interesting thing we learned is that N'Djamena is the third-most expensive capital city in the world to live in. Which means that if you want to live a Western lifestyle in Chad, everything will have to be imported, you'll need backup power, etc., which makes it very expensive to live how we are accustomed to in the U.S.
That evening, we spent a few hours in the hotel lounge chatting. The power went out multiple times over the evening, but it comes back on within 30 seconds when the hotel generators kick in.
It stormed all night long and poured down rain. This part of the country is on the border with Cameroon and is much more tropical than where we are heading to.
Thursday, 7/12/18, Day 4: The Bags Are Here, Kind Of
Low-key day at the Hilton today. We ate breakfast at the hotel around 6:30 a.m. and stayed down there for three hours exchanging crazy stories. I sent out an email to the SPA participants updating them on the trip so far and the delays we are experiencing.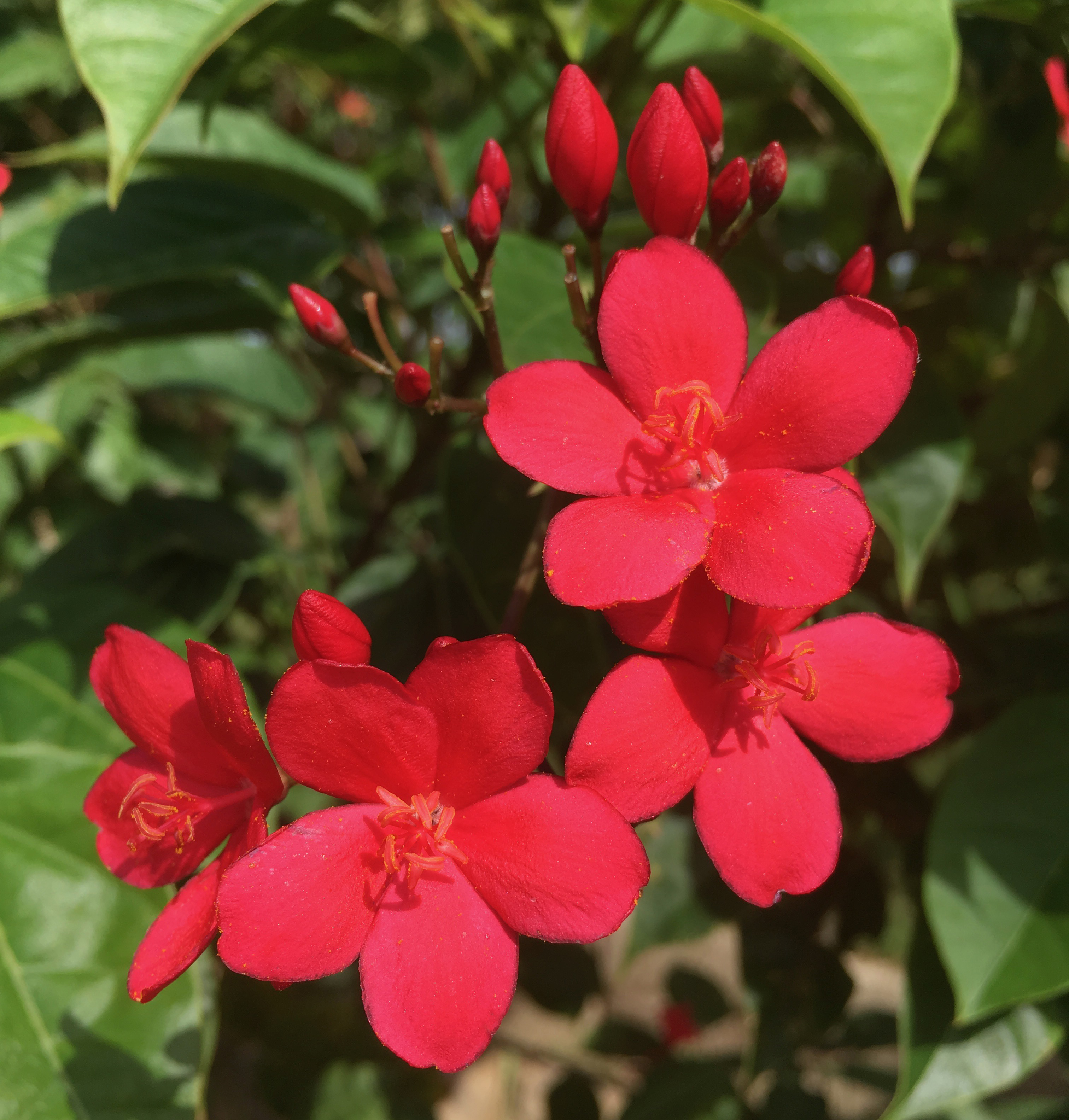 In the afternoon, we went on a mini-safari adventure around the hotel property to practice with our cameras. We saw lots of lizards including skinks and agamas, plus many bird and plant species.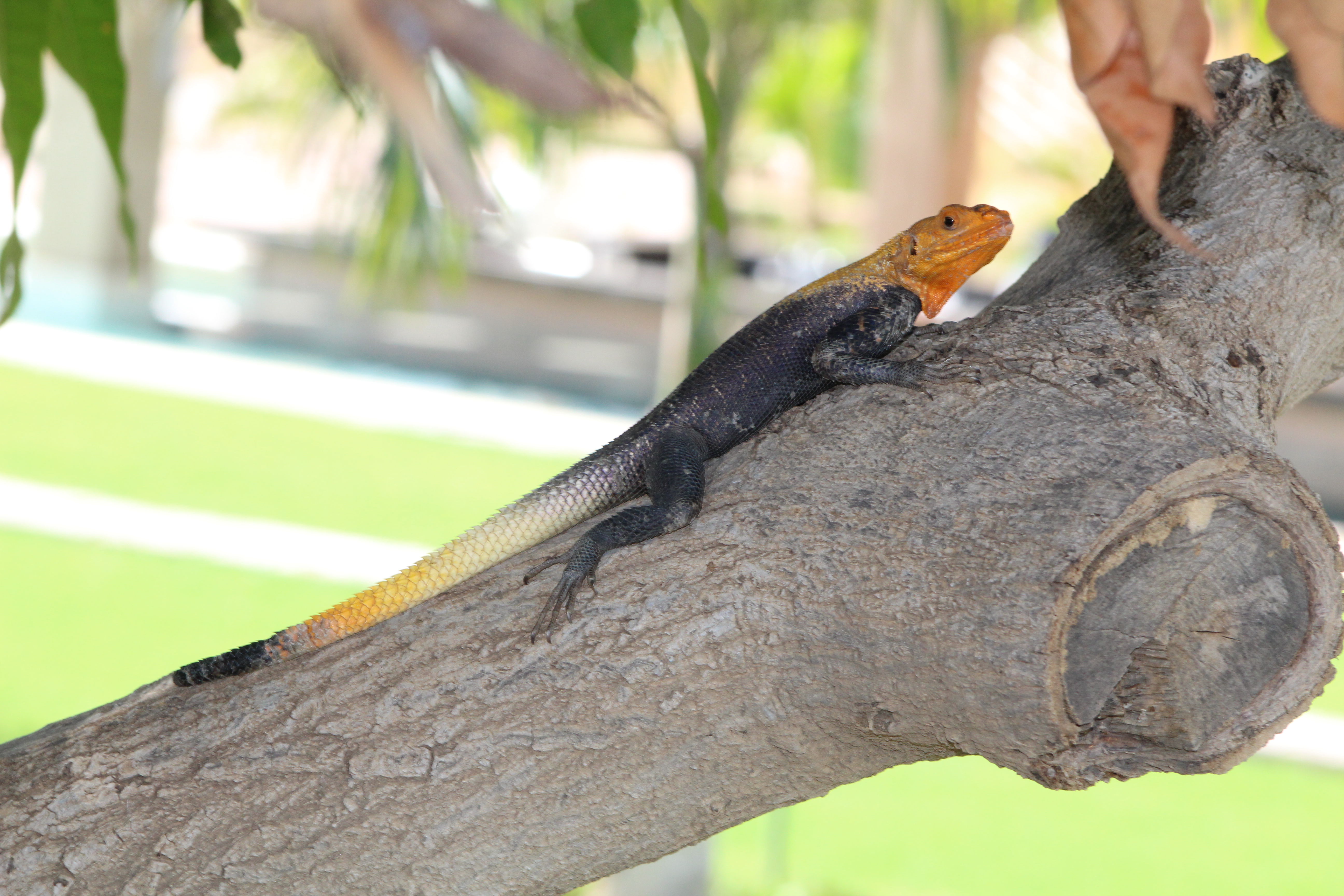 This hotel is very odd; it is huge and very nice, fully staffed at the pool, restaurant, swim-up bar, etc., but there are only about 25 guests in the entire hotel.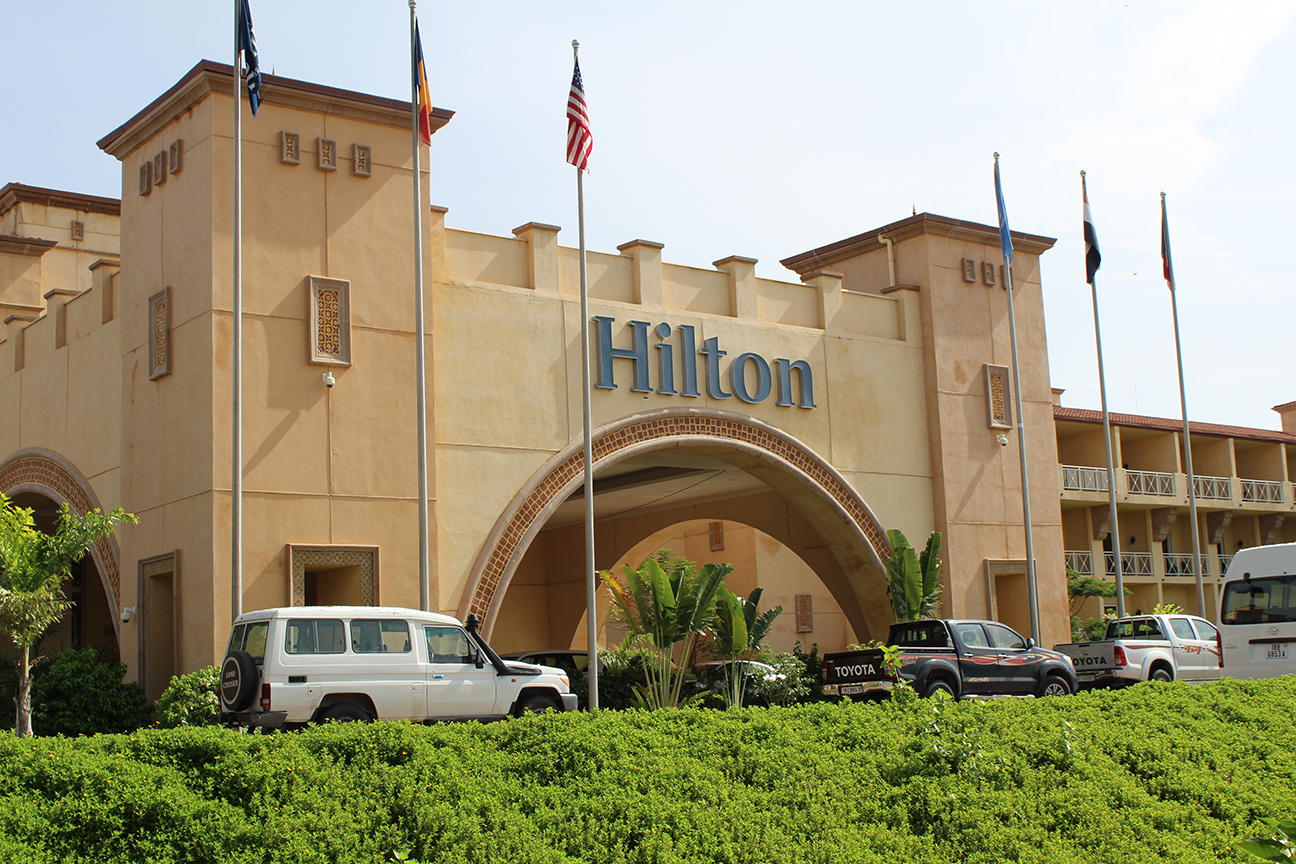 We went to pick up the luggage from the airport after the flight arrived at 9 p.m. Security at the airport seemed unusually high with three checkpoints to even get to the parking lot. When we got to security in front of the airport, Julie realized her passport was in her backpack in the van, so she and Adam went back to the van to get her passport.
I said I would go ahead and wait for our bags – big mistake. I was sent in the wrong entrance and waited for 20 minutes without seeing them. It turns out I was in the wrong spot and quickly found them once I got to the correct area.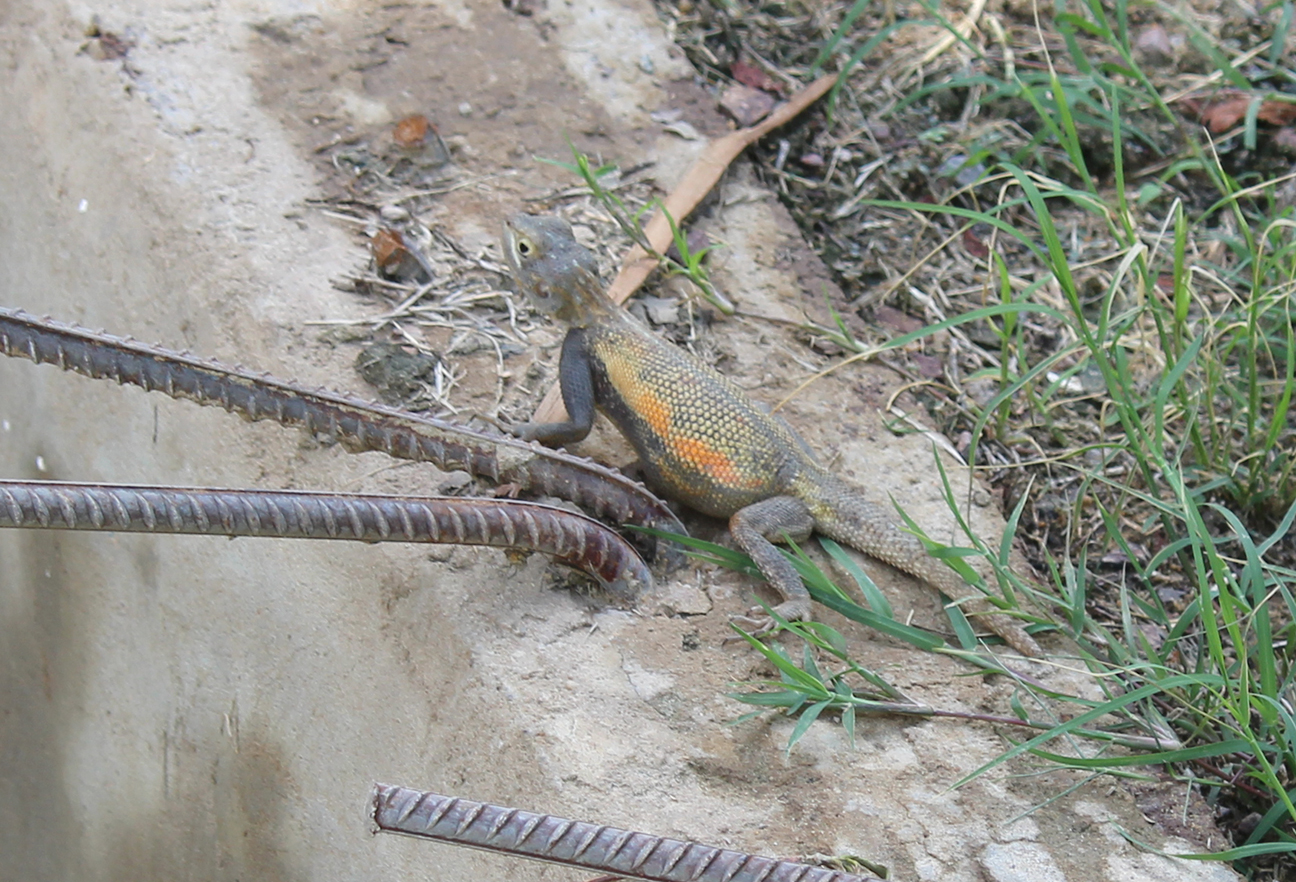 Apparently, the security was so high because a political representative from Cameroon was coming through the airport on state business. When I found Adam and Julie, they had five of our six bags; my smaller Patagonia duffle was missing, which had all of my clothes in it. We waited until all the luggage was out and no bag for me.
So, I went to the luggage office again, and this time the man who was working there spoke only French. From what I could gather using my elementary French class as a resource, my bag should be on the next plane arriving on Sunday. The good news is my large duffle that did arrive has my snacks, tent, bug spray and sunscreen.
Since I have a change of clothes, I can make do until the others arrive. Much harder to find a new tent. Another issue we encountered is damage to Adam's luggage.
His The North Face duffle has holes in it, and all the snacks and Gatorade powder he has inside have been torn into by something. It is a total mess.
Our new plan on my luggage is to leave my baggage info, passport copy, etc. for Katherine who is arriving from Smithsonian Conservation Biology Institute on Sunday to wait for the GPS collars. If the bag arrives while she is waiting, she will bring it out to basecamp with the collars.
We are leaving for basecamp in the morning at 7 a.m. We shall see what adventures that brings.
Friday, 7/13/18, Day 5: The Road To Abéché
We left the N'Djamena Hilton around 7:30 a.m. in an awesome SCF Land Cruiser truck. SCF sent a driver and an armed guard to pick us up for our journey to basecamp.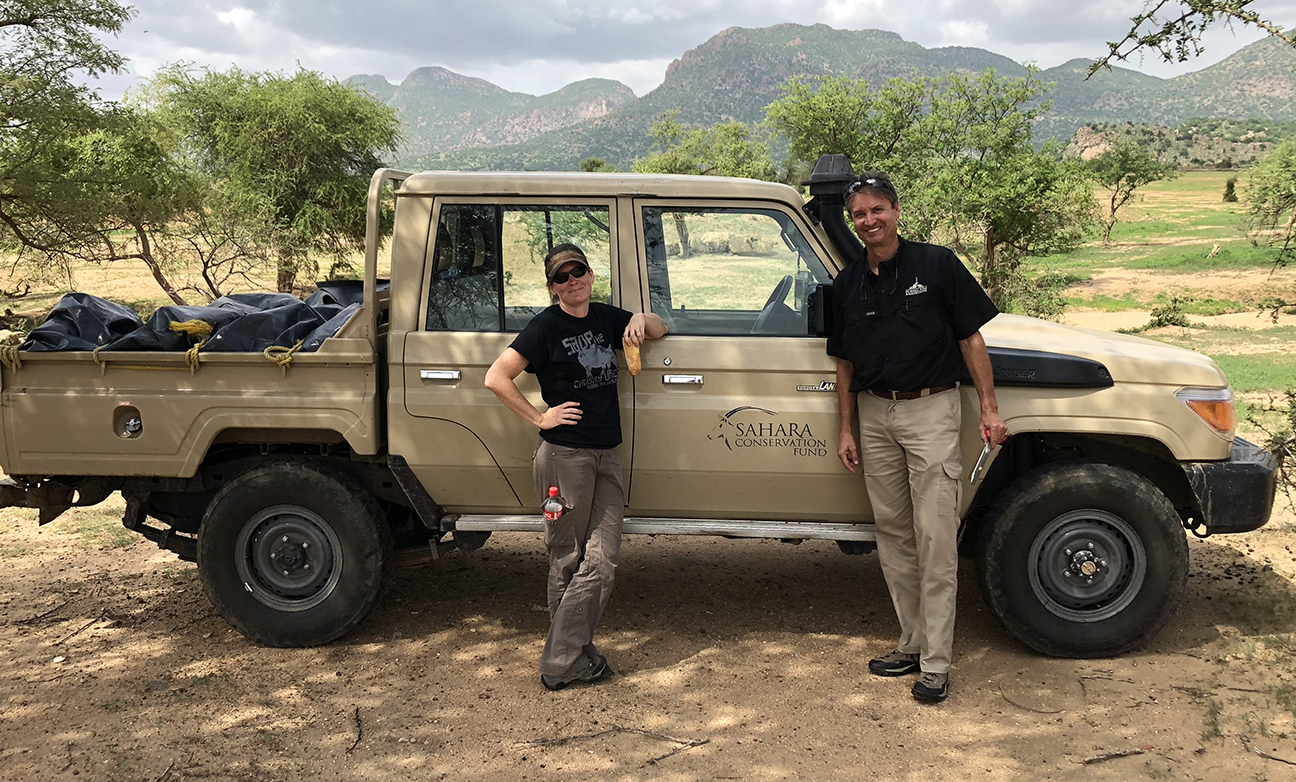 The road was paved most of the way to Abéché. However, the potholes were so bad in some areas of the road that we drove on dirt paths beside the road instead. We passed through dozens of small villages on the way to Abéché.
There was an incredible amount of livestock on the road with herds of hundreds of sheep, goats, cattle, donkeys, and camels being a regular sight. One of the neatest and most unexpected parts of the drive came when a beautiful red rock mountain range appeared out of seemingly nowhere.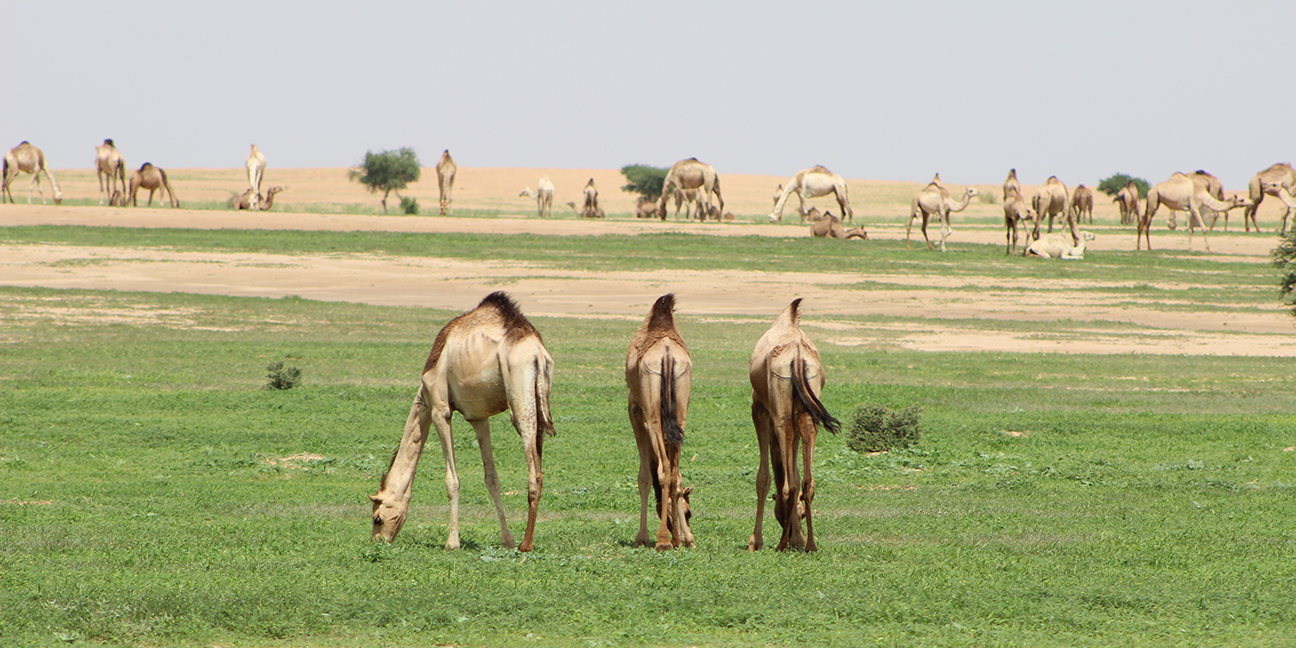 One thing to note here is that traveling outside of N'Djamena as a foreigner requires special government permission. SCF set up our arrangements ahead of time so it was not an issue, but we stopped through many roadblocks where our drivers had to show special badges that indicated our permission to travel.
When we stopped to get diesel and water around lunchtime, the driver Sharif tried to get us to eat street meat for lunch. Adam insisted it was safe to eat, but I took the safe route and stuck with a protein bar and some Oreos for lunch.
There was great birdwatching along the way. During the drive we saw Abyssinian rollers, northern red-billed hornbills, marabou storks, Abdim's storks, cattle egrets, European black kites, bee-eaters, Rüppell's  vultures, African masked weavers, bronze-winged coursers, Denham's bustards, and Arabian bustards.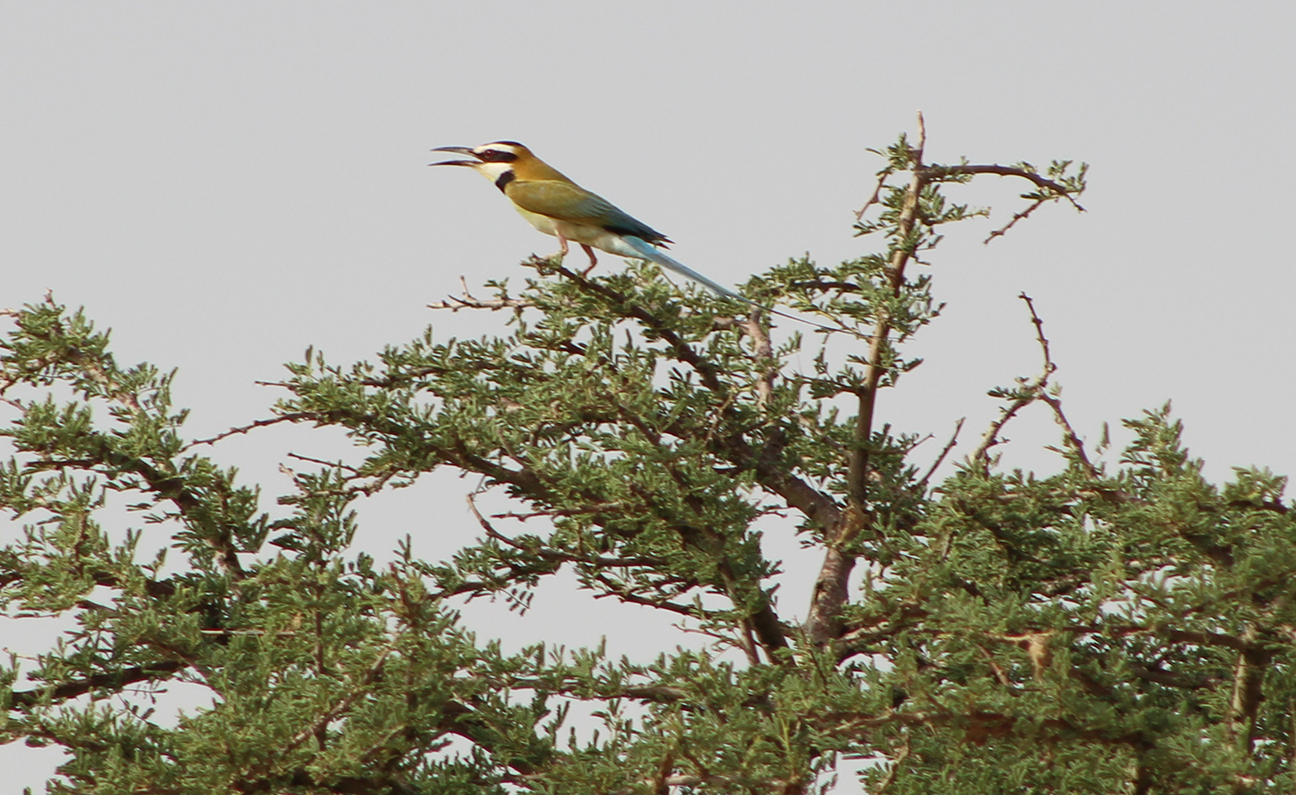 We finally made it to Abéché around 8 p.m. and drove on dirt roads through town. Abéché is the second-largest city in Chad and is a huge center for trade and commerce in the area. We stayed the night at a place called "Hotel Caesar".
Julie stayed in a single room on one side of the courtyard, while Adam and I shared a double room on the other side. We had dinner there of chicken and fries, which was delicious and the beers were cold.
Saturday, 7/14/18, Day 6: "Basecamp Oryx"
The drivers arrived in the SCF truck to pick us up from the hotel around 6:30 a.m. The rest of the five-hour drive to basecamp was basically all off-road on desert tracks, so it was an extremely rough ride. They had received some rain in the area recently, so we saw lots of bustards, ibises, and other birds on this part of the drive.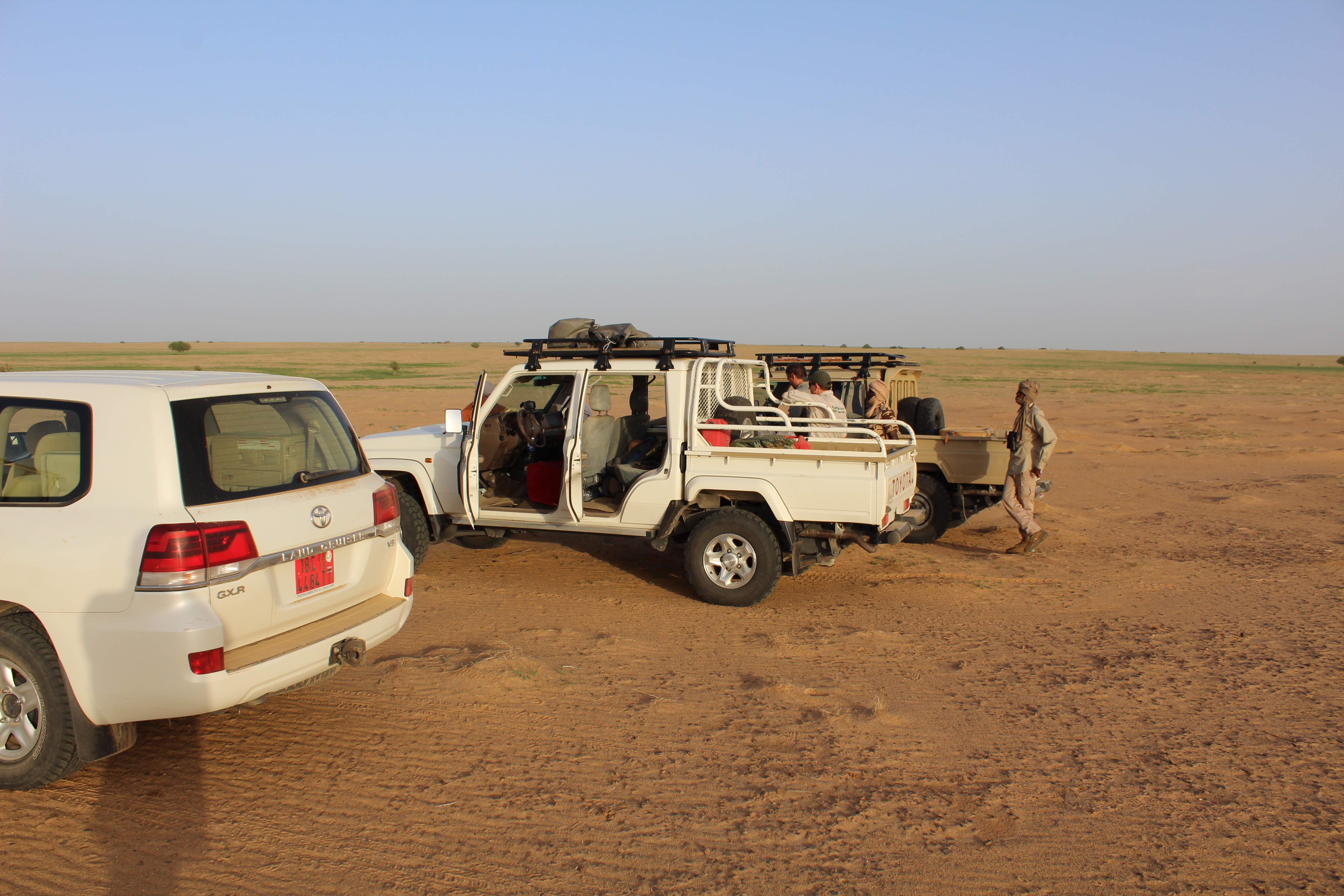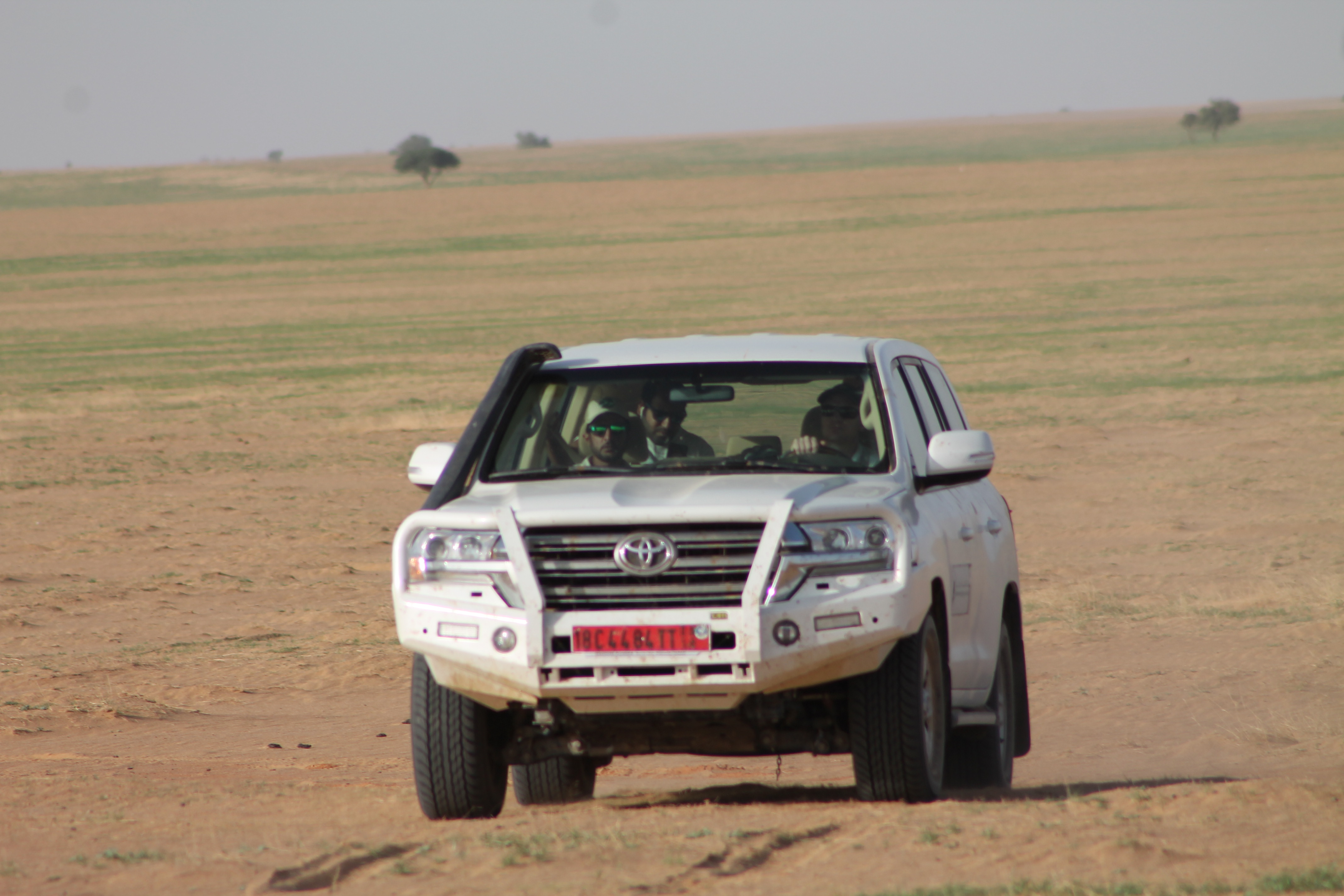 The farther north we went, the more camels we saw. We definitely encountered over 500 camels on the way to the reserve today. At one point, Sharif stopped the truck and bought a water bottle full of fresh camel milk to drink from one of the nomads. As we neared the huge Ouadi Rimé-Ouadi Achim Faunal Reserve, we spotted the first dorcas gazelle of the trip, and right near basecamp, I saw our first wild scimitar-horned oryx (SHO) – a big bull with a GPS collar still on.
Basecamp Oryx is located in the south-central area of the reserve and is surrounded by eight-foot-tall game fence. It has buildings made from retrofitted cargo containers, two round shade huts for us to sit under for meals, and is powered primarily by solar and wind, with a generator if needed. Another small camp is located near the basecamp, and it houses the rangers and guards for the reserve.
As soon as we got to camp, we had lunch with the rest of the group that had already been there for two days, and then we went and set up our tents behind some of the cargo containers near the wind turbine. We left for our first oryx tracking trip at 2:30 p.m. with the idea being that we would track the herd that is the farthest from camp – the 2016 release animals. It is at least a two-hour drive each way to get to the area this herd is at.
I rode in the EAD V8 Land Cruiser with Justin, who runs the EAD project. On the drive to find the oryx herd, we saw well over 200 dorcas gazelle, which was an awesome and unusual sight.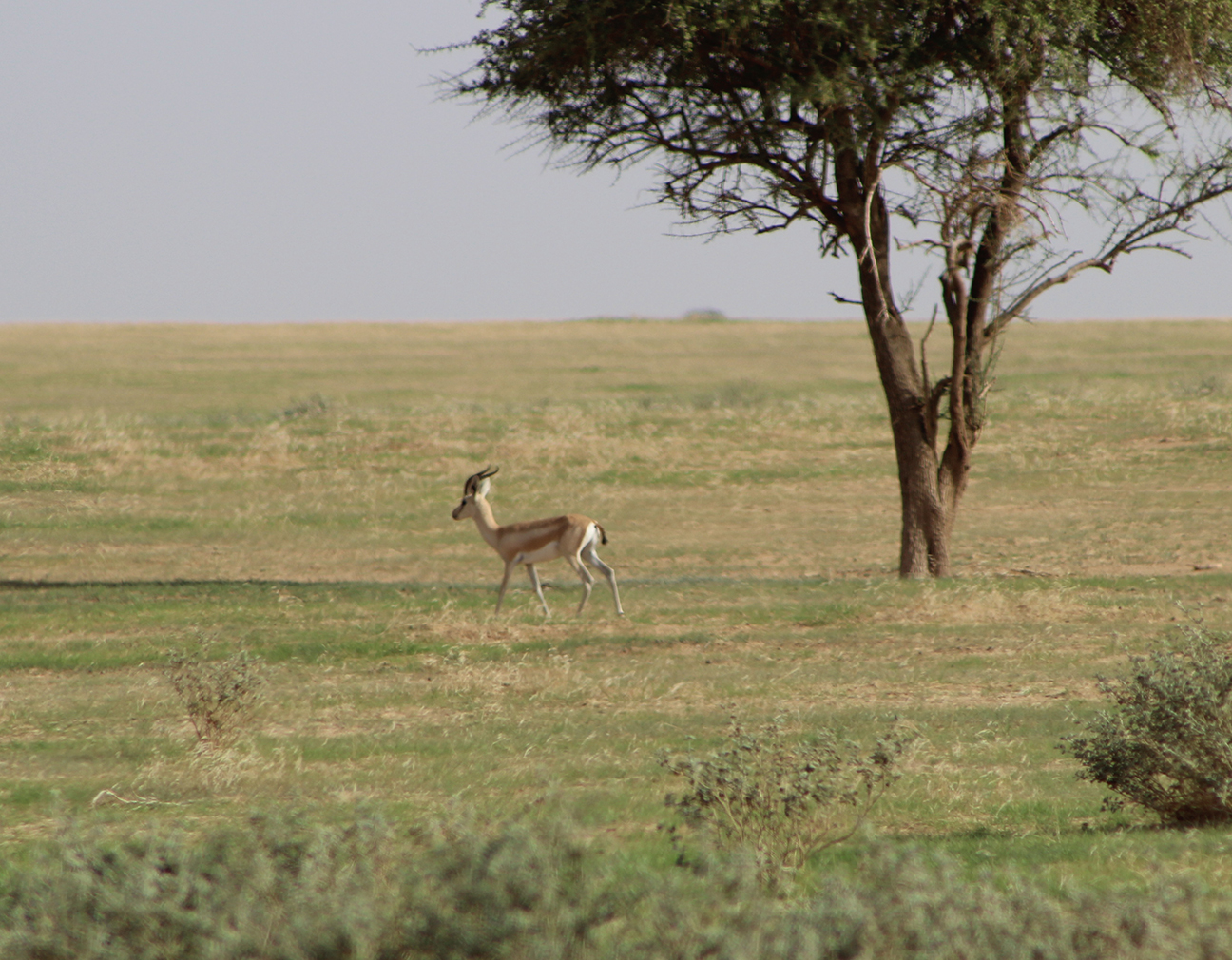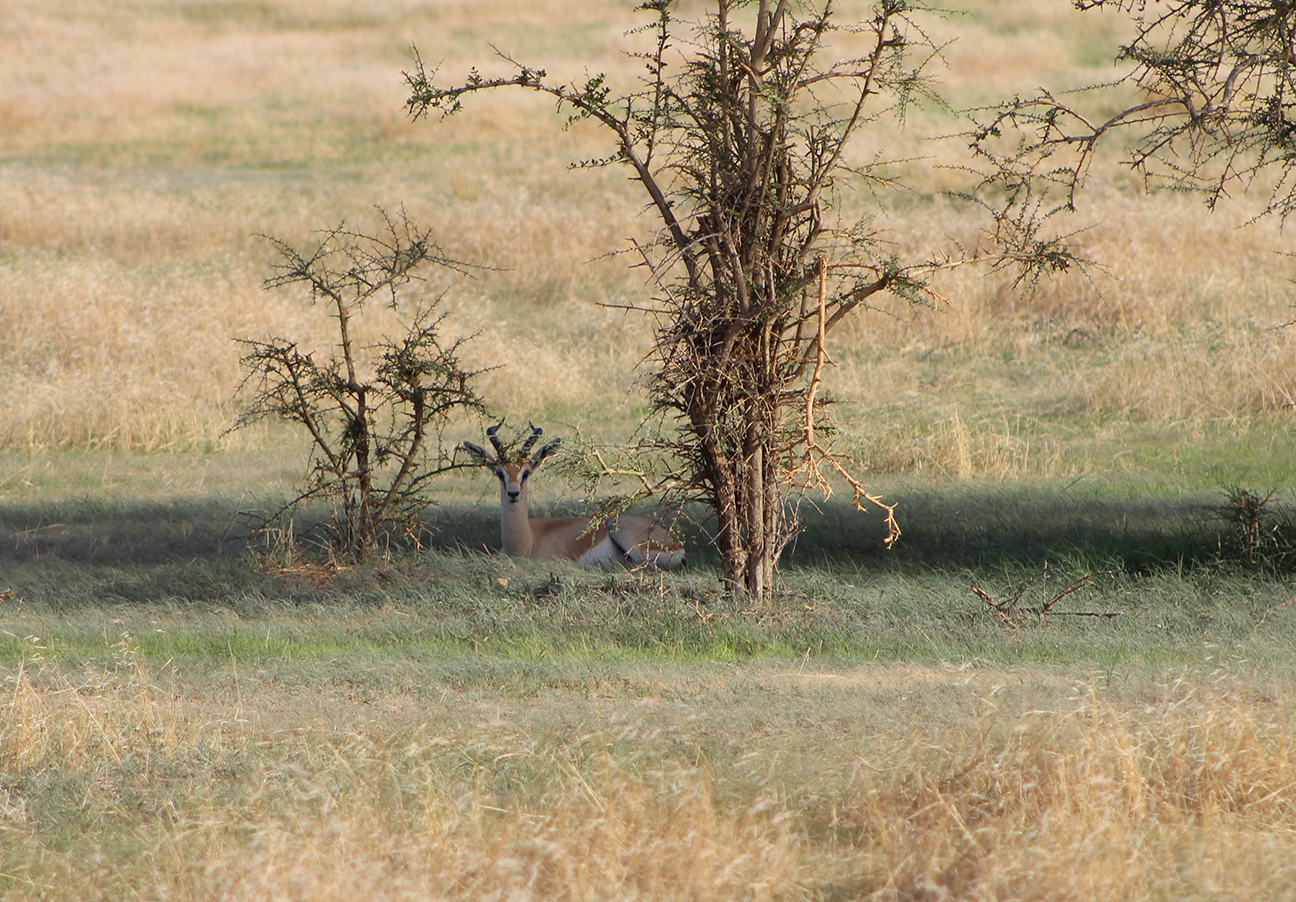 Near dusk, we had our first sighting of wild SHO. We saw the herd of 18, of which all but one are 2016 release animals that have had their GPS collars fall off by design. Luckily, a 2017 single SHO joined the herd and this is how they are tracked.
This herd looks very good and all oryx are in excellent body condition with about six calves amongst them. One of the cows has a female calf from last year and a new calf from this year in the herd. This herd is comprised of animals from the "world herd", including both U.S. and Abu Dhabi-born SHOs.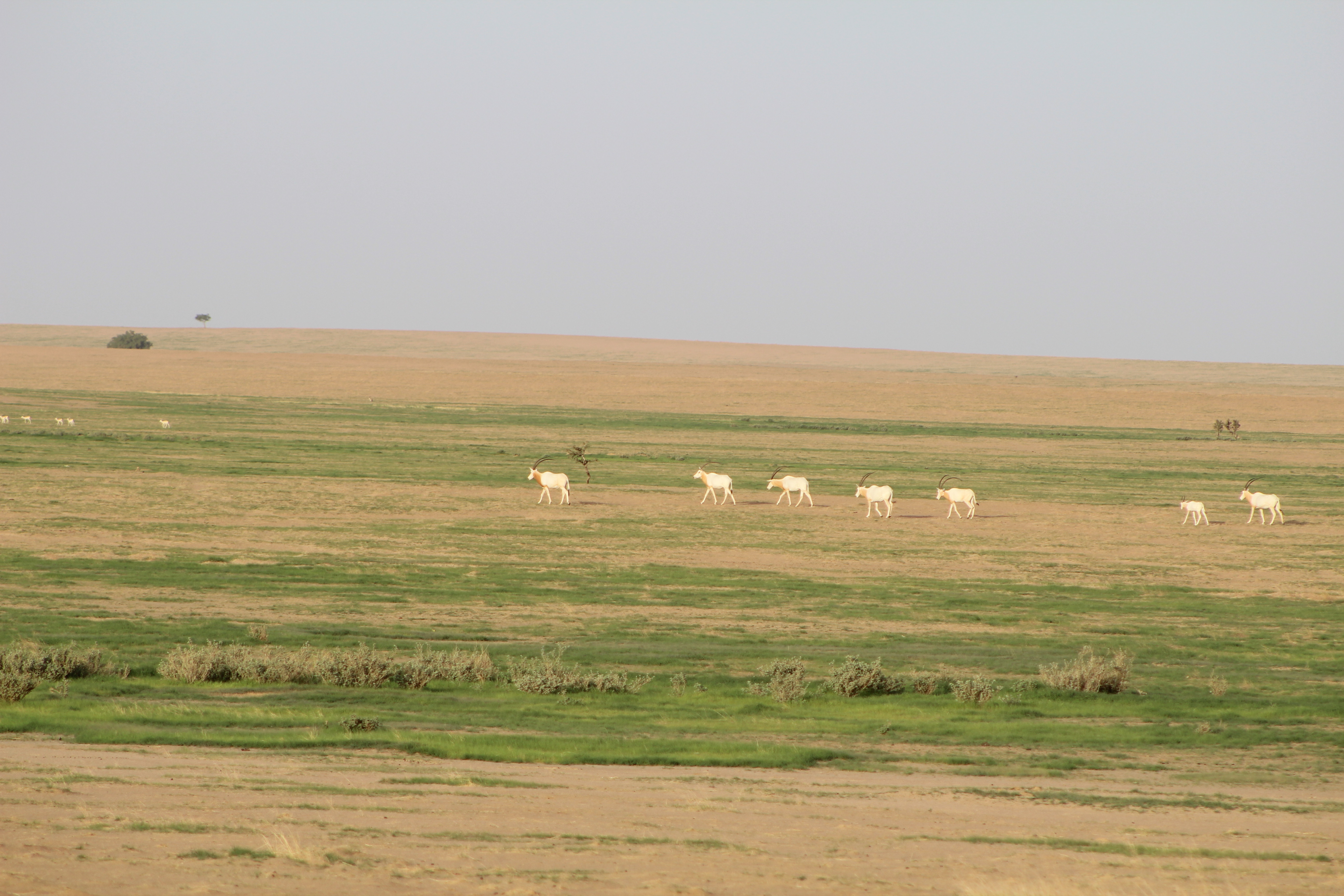 This group is the most cautious of humans among any of the release animals and doesn't let the monitoring vehicles get very close to them. They have never come back to camp like some of the other groups and seem to have adapted to the habitat well.
It was truly inspiring to see these oryx back in their native range where they have been extinct for several decades, and it is even more exciting to know that Source Population Alliance (SPA) facilities were involved in making this happen. On the drive back to camp, we spotted a family group of five pale foxes, which was really neat to see!
Dinner was cooked by the SVS Outfitters crew. We each had a chicken thigh with French fries and orange slices. The chicken tasted okay, but appeared to have had a very hard life.
The first night of tent camping was not exactly ideal; it was extremely hot without a bit of a breeze. About an hour after we all got into our tents, it started raining lightly, so we each had to put our rainfly on our tent to keep the rain out. Out of nowhere, the slight rain turned into heavy rain and then came 60-plus mph winds.
I was doing my best to hold onto my tent and keep it from breaking in the wind, plus I had my arm outside the tent holding the rainfly down after it became unbuckled. Also, because this is the desert, the tents were being sandblasted the entire time with wet sand. As soon as there was a short lull in the wind, Justin and Ric came over and told us it was time to head inside.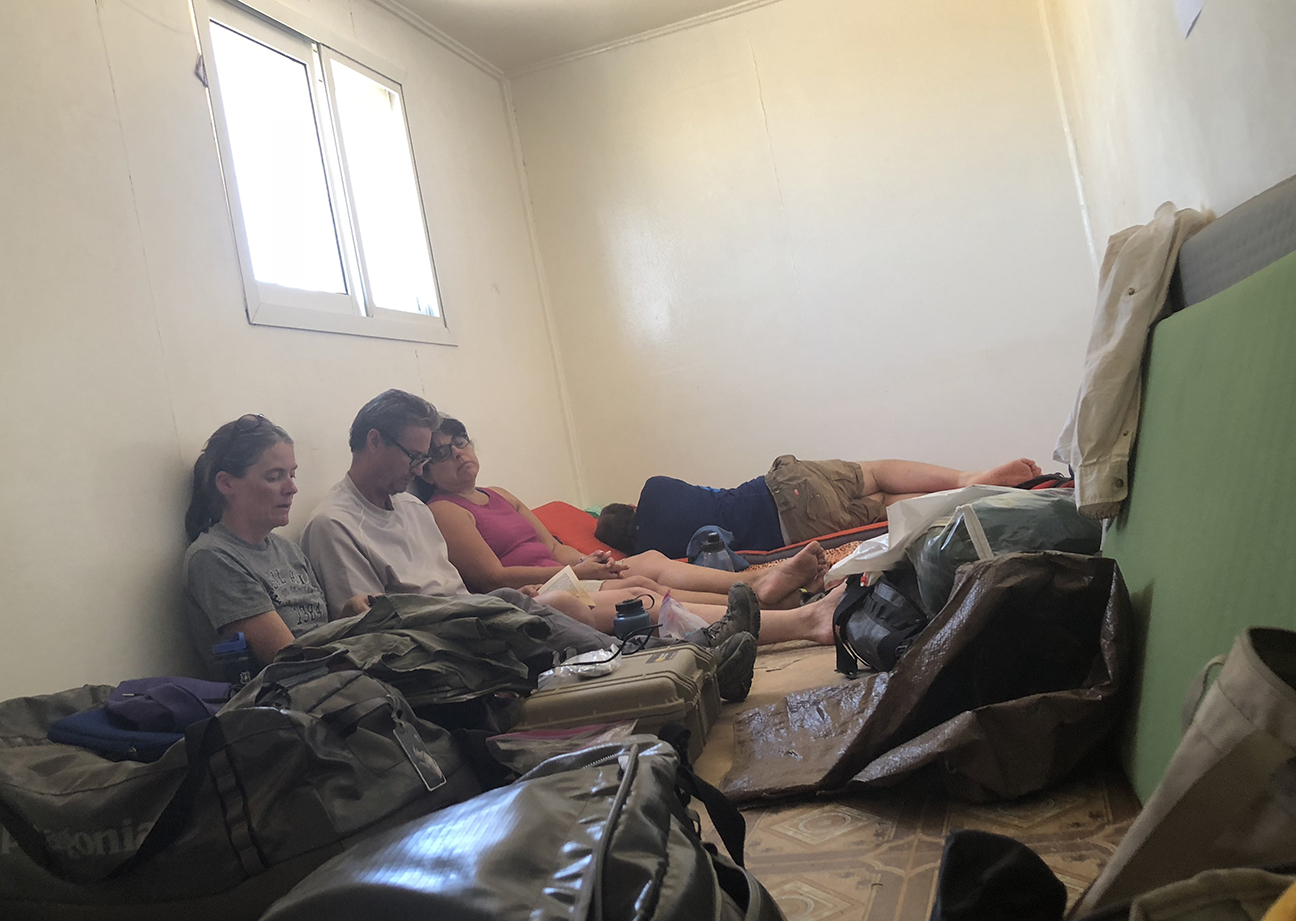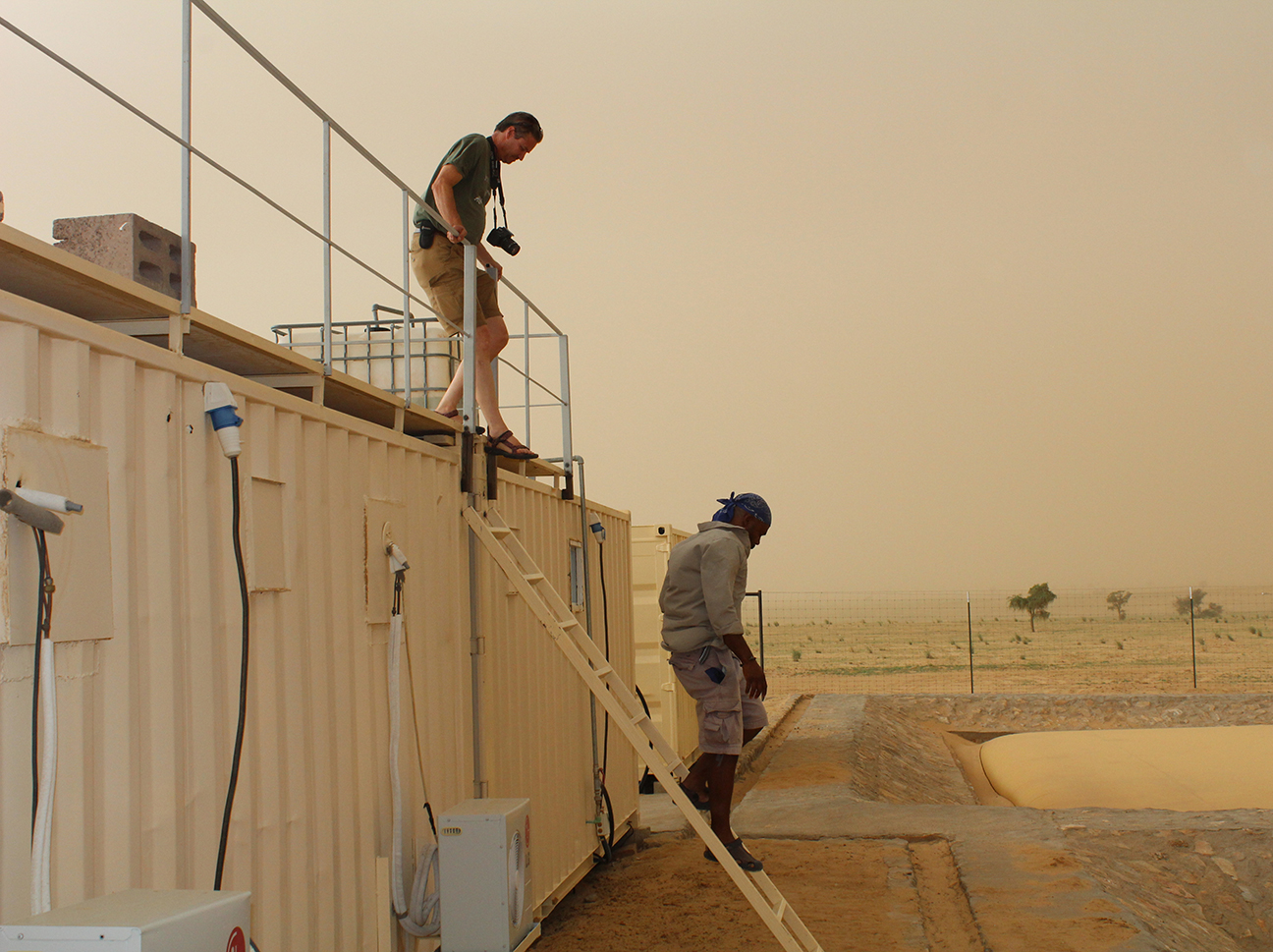 They helped Julie bring in her supplies, and then Adam and the guys helped me drag my camping equipment into one of the cargo containers. I was hoping to try and ride out the wind, but that was obviously not in the cards. We slept in the guys' cargo container/bunkhouse.
The good part is that it was slightly air-conditioned and we just put our camping mats on the floor and slept in there for the night. The real bummer is that since the door was open for a bit while we were rescuing our camping supplies, the container was full of bugs.
 Sunday, 7/15/18, Day 7: Game Drives For Days
We got up around 5:30 a.m. and went out to the common area to sit under the shade and have breakfast. It was already hot, but there was a nice breeze. I sat and talked with Justin and RoxAnna for a while.
Ric and Justin decided to go ahead and make some adjustments to the catch pens for the oryx we will be collaring. Adam and Julie went down to help them, and since there were plenty of people working on that, I went with Newby, Thomas, RoxAnna, and a group of visitors from the Chadian government to go track a herd of oryx.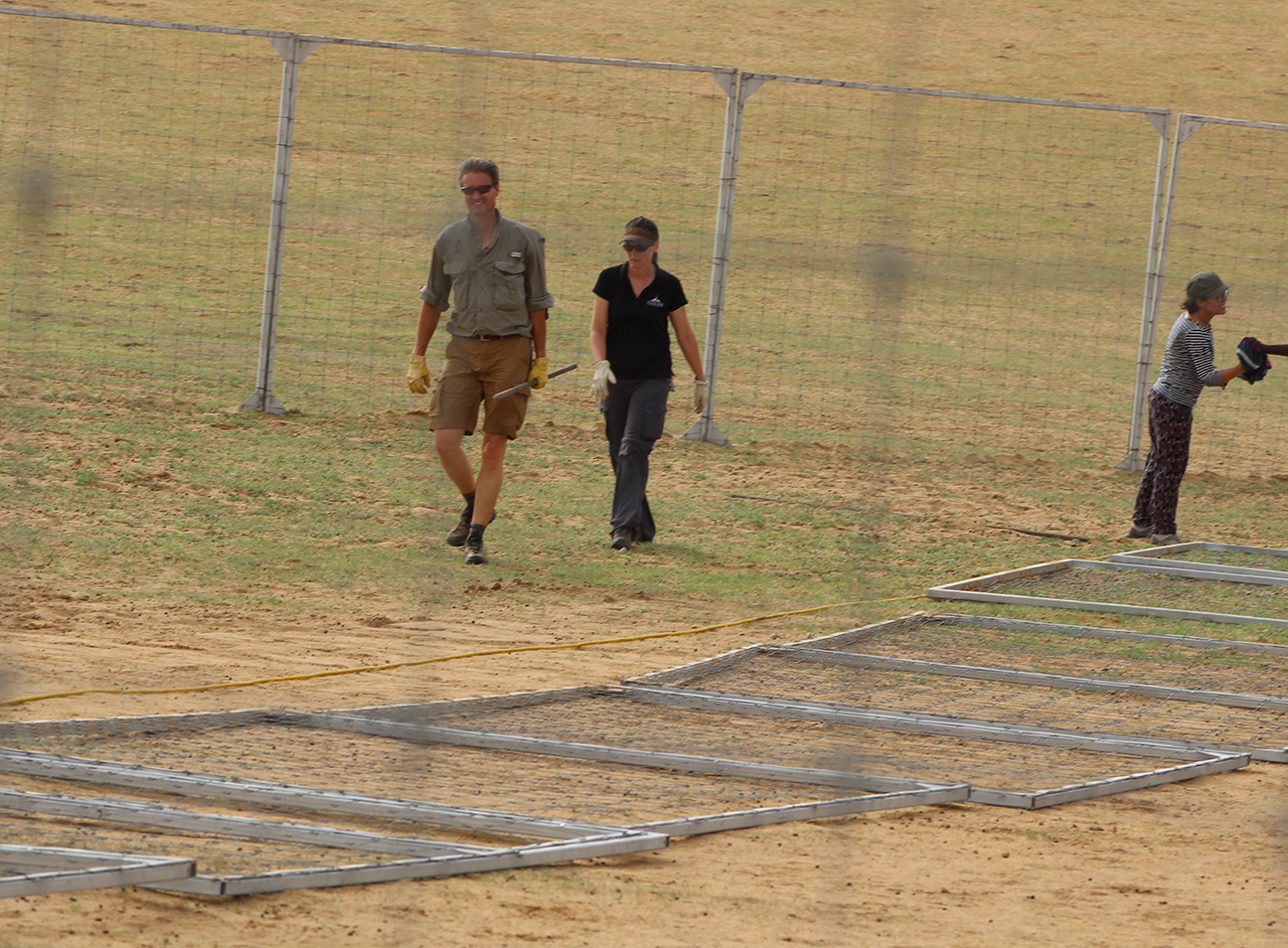 It turned out to be a good game drive and we were able to get really close to the oryx herd made up of 2017 release animals. We saw 21 oryx in a big group that was fairly close to the pre-release holding pens. It was great oryx watching, and I got some good pictures of the group.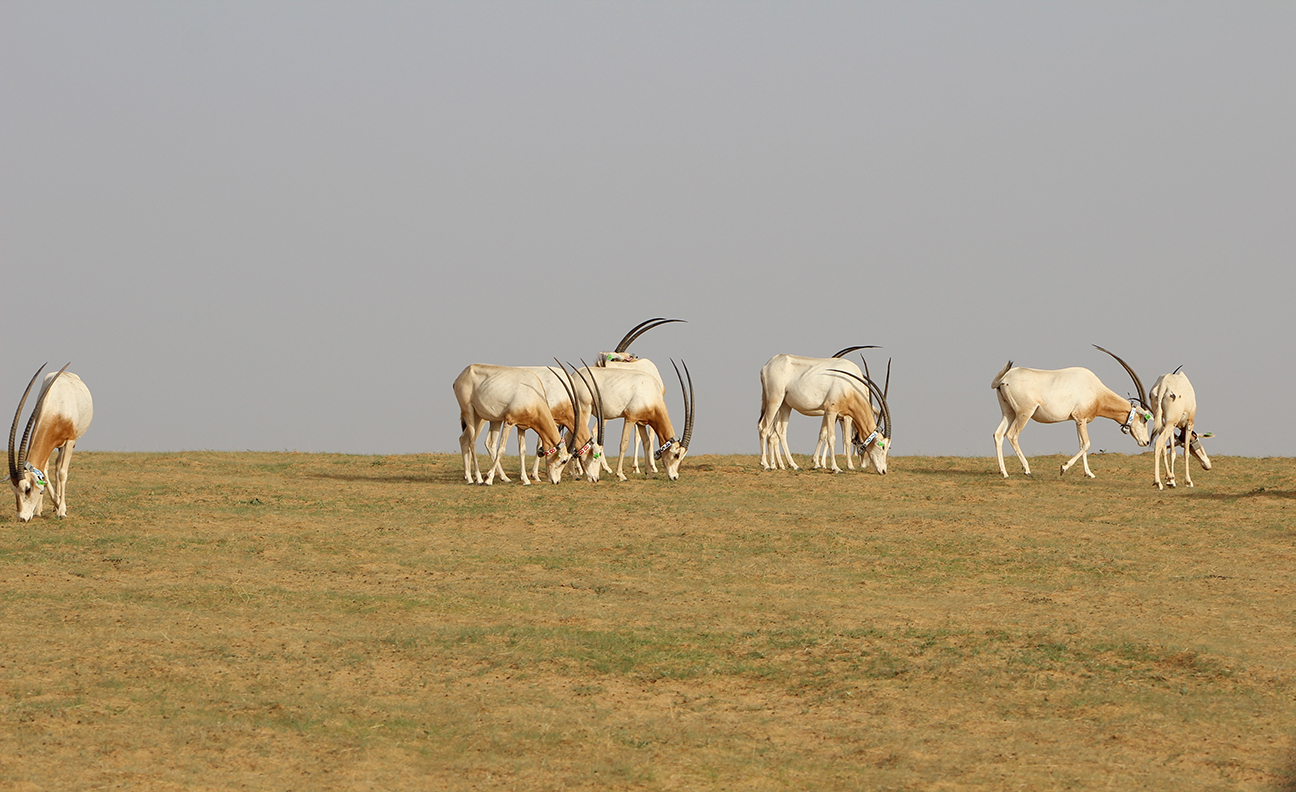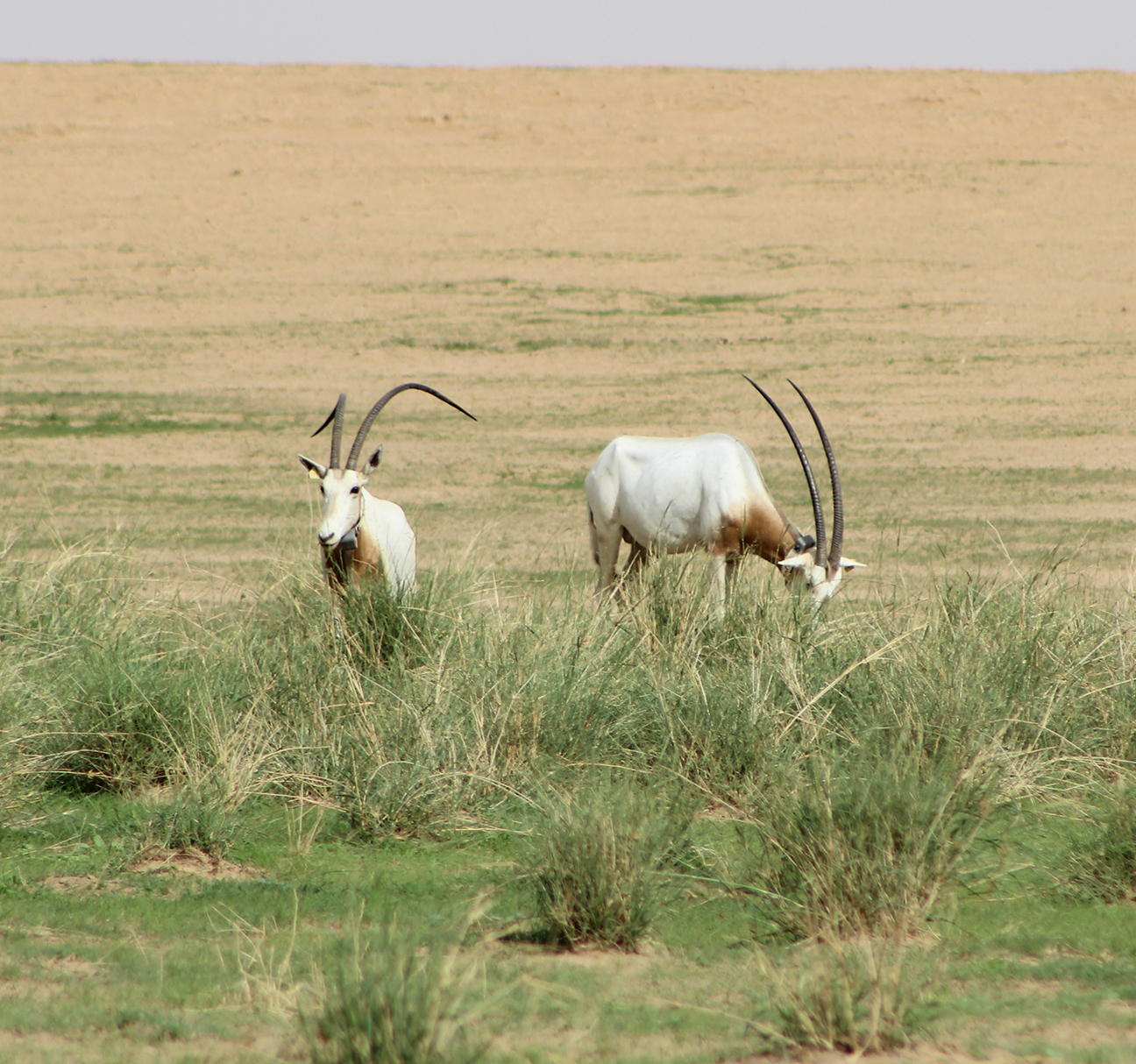 On our way to find the next group of SHO, we saw six dorcas gazelle, and then found a group of five SHO under a shade tree. It was already really hot out. Three of the five SHO were in excellent body condition, one was in okay condition, and the other was quite thin.
One of the really encouraging things was how interested the men from the Ministry of Environment and Fisheries Chad were in the oryx and the tracking of their radio collars with the very high frequency signal.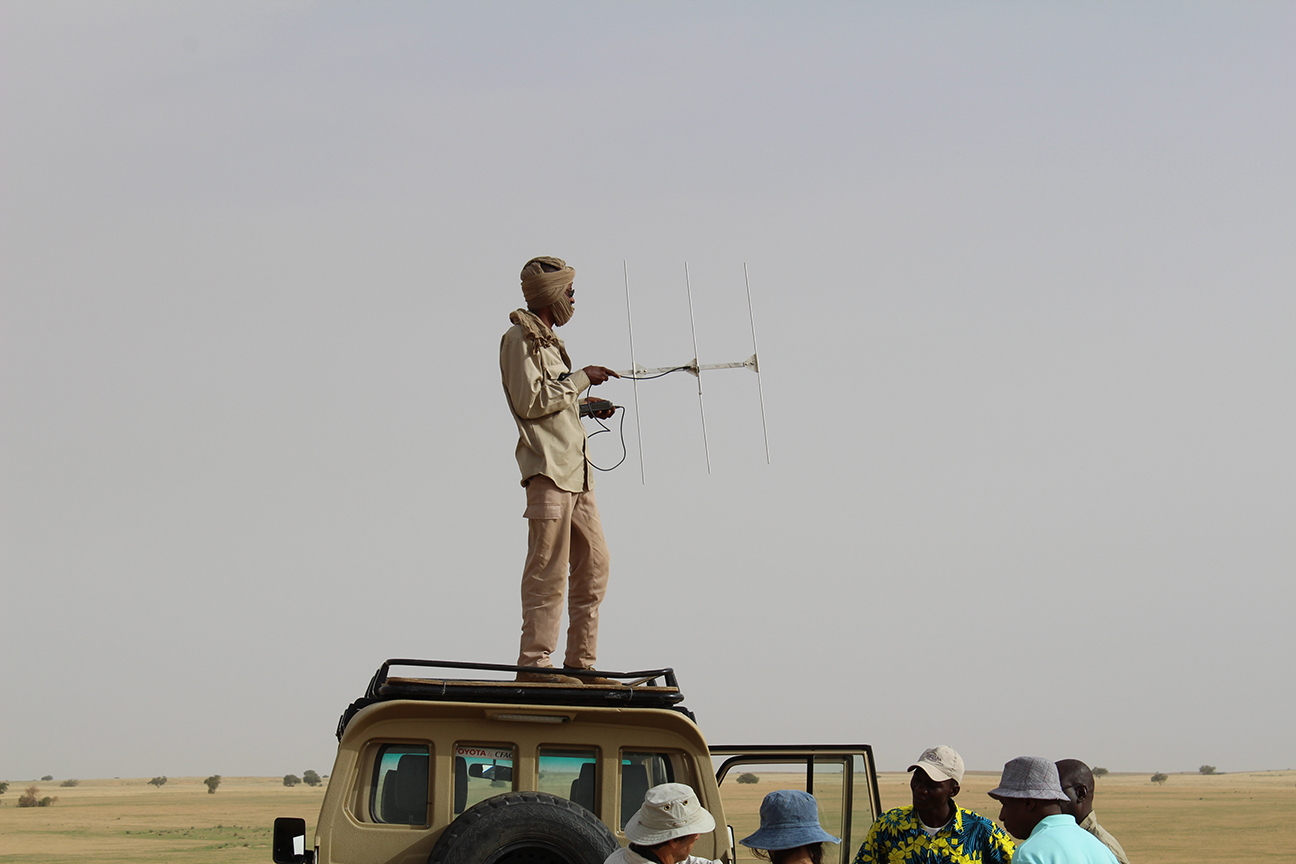 On the way to find the last group of oryx for the morning, we heard a thumping sound. We had a totally flat tire on the front right of Newby's truck. Newby and I made fairly quick work of the situation though, and got the tire changed to a spare.
Tomorrow, we are planning on starting an overnight trek farther into the reserve to the Wadi Achim and Wadi Karma – two seasonal wetland areas that have historically served as oryx and addax habitat during the dry season.
In the next posting set for Aug. 16, the group heads to the Wadi Karma and Wadi Achim for an overnight adventure, plus Gavin learns about the life of SCF's John Newby from the man himself!