Carnivore intern cherishes her adventure out west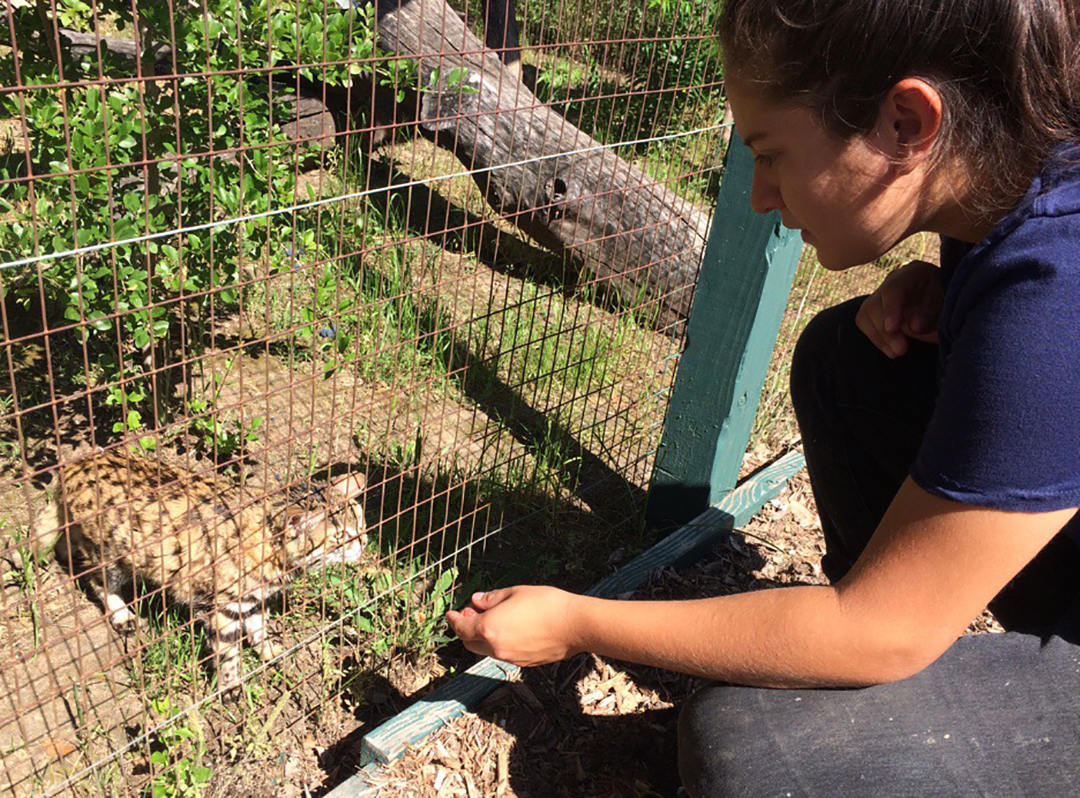 With so many "firsts" involved for carnivore intern Jennifer Ceballos when she came to Fossil Rim Wildlife Center, having a positive experience was going to be huge for her career considerations.
Ceballos had never been to Texas. She had never been to a wildlife facility that was not a zoo. She had never had an internship, plus she had never encountered most of the animal species she would be caring for.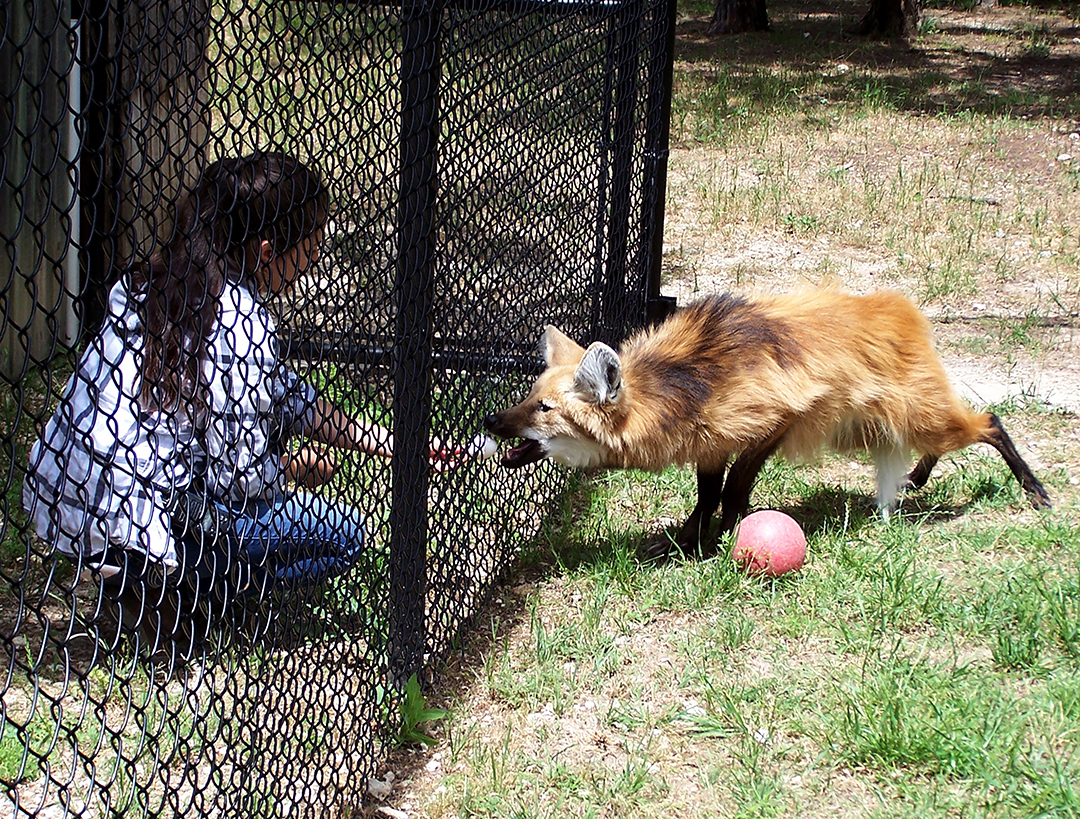 "I was looking for wolf internships online, and Fossil Rim kept coming up with The Whitfield Collins Carnivore Internship," she said. "I was really interested in the species I would get a chance to work with, so I decided to apply."
Born in Miami, Ceballos moved to Gainesville, Florida at age 18 to attend Santa Fe College Teaching Zoo. Surprisingly, the small school was also the collegiate destination for Fossil Rim Cheetah Care Specialist Alex Sharkey and Hoofstock Animal Care Specialist Molly Shea, although Ceballos did not know them before her arrival.
"I started at Santa Fe right out of high school and got my associate of science degree in zoo animal technology," she said. "Now, I'm working on my associate of arts degree in biology. I have been taking online classes while at Fossil Rim, and then the plan is to go back to school for my bachelor's degree."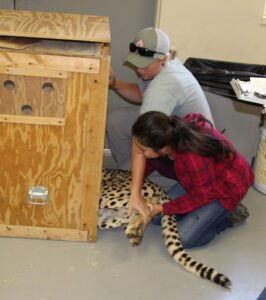 Ceballos started at Fossil Rim on Jan. 1 and her "spring" term would end on May 20.
"I'd never even been to Texas; I never thought I'd live here," she said when thinking about the adjustment. "I'd only been to Zoo Miami and then Santa Fe before my arrival at Fossil Rim.
"This was my first-ever internship, so I didn't come in with high expectations. I knew I wanted to work with wolves, and I came here with an open mind. This internship has made me think that I will gravitate toward more of a safari-type job than a zoo job, because I like the setting.
"At school, I was working with six people all the time. Here, I am usually off working on my own, which I like."
In regard to some of her most memorable experiences at Fossil Rim, Ceballos had quite a list.
"For one, we did sperm collection for one of our red wolves," she said. "He was always in his house and I never saw him, so to see him on the (clinic) table in front of me, it was like 'so that's what you look like.' Then, I think of the day when 'Mork' (the brown-nosed coati) climbed up on the roof of his enclosure and got stuck. He eventually fell off, and I was there waiting with his blanket to catch him.
"That wasn't an enjoyable moment, but one I'll never forget, and we made sure he can't get up there again. Watching the gray wolves breed was cool, because for the first three months there was nothing, and then you see that our efforts to pair them up was working. My internship was through the pup season for maned and Mexican gray wolves.
"Being able to see the preparations and precautions taken was interesting. I think the spring version of this internship is definitely the best time of year to try it. The other experience I'd mention is getting to see some cheetahs breed.
"I've seen cheetahs at other facilities, but to be able to get so close and learn more was eye-opening. It was cool to have a cheetah day each week."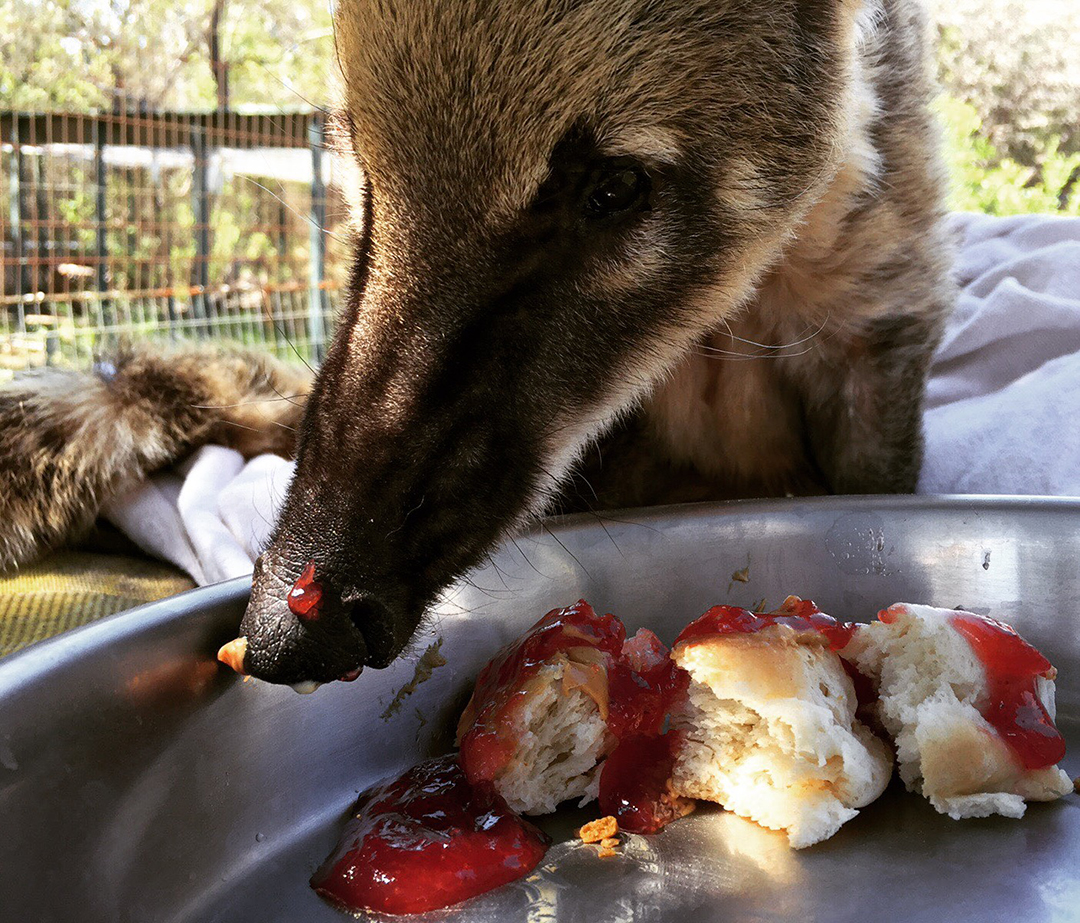 For the first month, Ceballos would work with Fossil Rim's non-cheetah carnivores for five days per week. Beginning in February, one of those days each week (Saturday) turned into a cheetah care day.
On the other days, she would help care for the park's five maned wolves, two red wolves, two Mexican gray wolves, two black-footed cats and the aforementioned brown-nosed coati.
"I've been working with dogs all my life, and then at zoo school I wondered how I could keep that going? I decided to pursue a career with wolves or foxes, so this internship was a good fit," she said.
The maned wolves, in particular, made an impression on her.
"They are a weird animal, but after working with them for nearly five months I would be okay working only with maned wolves for my entire career," Ceballos said. "They are my favorite, and they don't really act much like wolves. They are very curious, and I was able to recognize their different personalities after awhile, plus tell them apart by appearance."
Although she learned a lot about the various wolves and the cheetahs, Ceballos made sure to mention her time with the smallest animals in the department.
"Maned wolves are my favorite species here, but individually I have to say Mork is my favorite," she said of the male coati. "He is so different, because there is closer contact with him than the other carnivores. You feed the other animals and that's the extent of it, but Mork wants to be scratched and really likes your company. If he is on his tire and I give him a head scratch, he'll try to follow me out when I leave."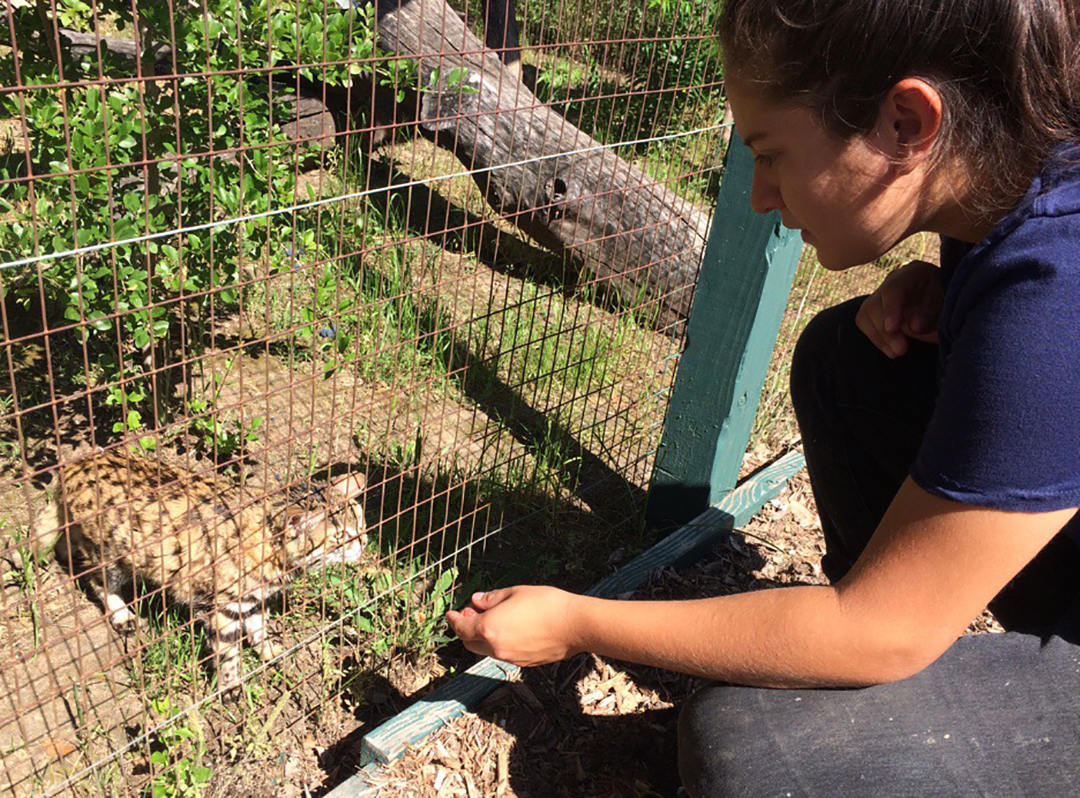 The black-footed cats (BFCs) are even smaller than Mork, but do not share his friendly disposition.
"BFCs eat a lot," she said. "They are small, cute and furry like a housecat, but they don't have a housecat's personality – more like a cheetah. You wouldn't want to have a BFC in your house; they are wild. We don't even go into the enclosure with them."
On that note, Ceballos talked about the safety considerations for working with carnivores. Mork was hand-reared and then a pet earlier in his life, which is the reason for his docile nature relative to the other animals. Even so, animal care staffers often point out that wild species like coatis do not make for good pets as a general rule.
"You definitely don't forget that these are carnivores you're working with," she said. "I wouldn't be comfortable telling you when a hoofstock species is upset and about to be aggressive, but I can tell you when wolves are about to get that way. I can read their body language.
"I'm always watching out the corner of my eye, making sure I know where everybody is. If something did happen, it would be my fault, not theirs."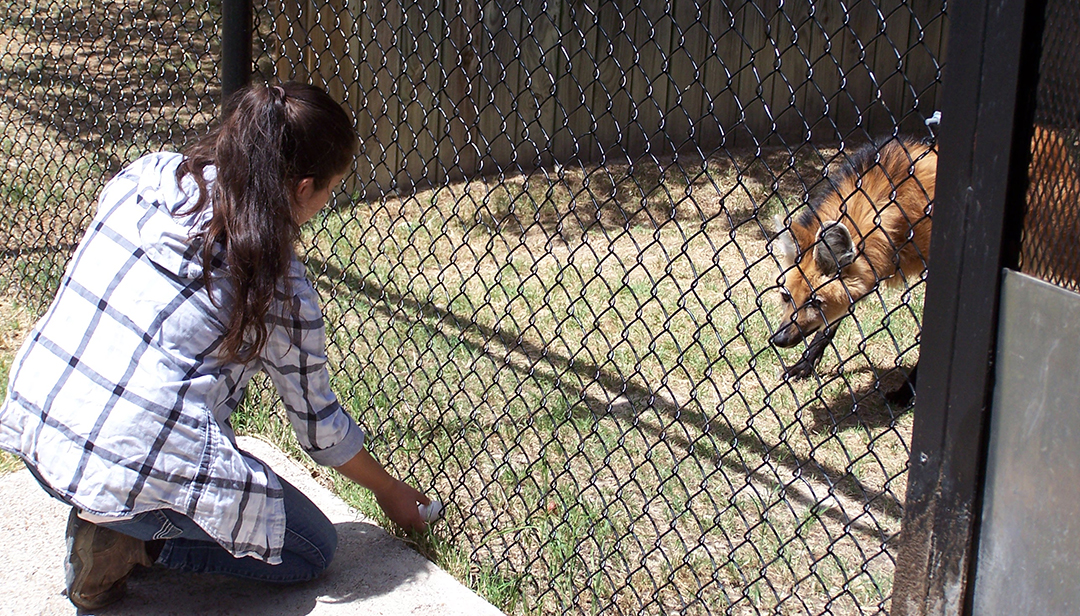 Certainly she takes good care of the animals directly in front of her, but this time at Fossil Rim has made Ceballos consider the big picture of conservation more often.
"Before I came to Fossil Rim, I really didn't know about the situations for each of these species," she said. "But now, I think about the cross-fostering we want to do with the Mexican gray wolf pups we are trying to have, and I better understand how important they are. A Mexican gray wolf recently passed away at the El Paso Zoo, and I recognized the big loss for the (critically endangered) species.
"I think more about these animals in other places now that I have bonded with the animals here – at least in terms of wanting to take good care of them. Now, I consider the situation for the whole species."
Not only was this the first internship for Ceballos, she was the first-ever intern for Fossil Rim Carnivore Animal Care Specialist Tessa Townsend, as well as the first intern at Fossil Rim for Sharkey.
"I worked mostly with Tessa, especially early on," Ceballos said. "She's who I report to most, and she is the staff member who works with wolves the most. To know I'm the first intern she's ever had, I think she has done great. Tessa is better at helping people than she thinks she is.
"Most of what I've learned here has been from her. I wouldn't be comfortable with what I'm doing if she hadn't taught me well."
Townsend is also thankful for their teamwork in recent months.
"Jen fit right in with the carnivore team by being a super-hard worker and showing great passion for the carnivores here at Fossil Rim, especially the wolves," Townsend said. "She was an essential part of our team these past few months by putting in countless hours observing our Mexican gray wolves for breeding and whelping behavior. Based on her performance here, she has a bright future in the animal care and conservation field. I couldn't have asked for a better first intern, and I'm definitely going to miss her when she's gone."
Ceballos also credited the supporting learning environment fostered by Sharkey and Fossil Rim Carnivore Curator Jason Ahistus.
"Jason and (Sharkey) always said 'don't be afraid to ask questions' and were there to help me learn," she said. "I'd bombard Sharkey with questions on Saturdays, and she was always very helpful, wanting to answer them. It would become more of a discussion than just answering questions. Jason was always super-patient with my questions.
"I appreciate how the carnivore staff went out of their way to make sure my first internship was a great experience. This will be a good comparison for any internships or jobs I get in the future; it's been very positive."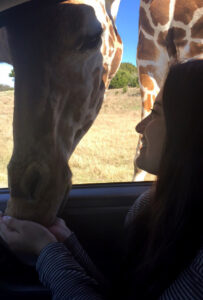 It seems Sharkey will also fondly recall Ceballos' tenure.
"Jen was pretty awesome," Sharkey said. "I was excited to hear we were getting an intern that attended Santa Fe Teaching Zoo, because I also graduated from there and I love talking to people to hear their experience. She was a hard worker and showed dedication and true passion for this field. I hope that the time she spent with me working with the cheetahs made her appreciate them more, however I know her true passion is with the wolves, and who could blame her?"
As Ceballos said, the plan is to head back to Santa Fe and earn her bachelor's degree before pursuing a career involving wolf care.
"If I can't work with wolves, my second option would be a training job in a zoo or something like that," she said. "The fact that I was here at Fossil Rim for wolf breeding season, I think that experience will help. Also, I think of all the behavioral info I learned while here – especially with the maned wolves."
If there was any doubt, Ceballos is telling prospective interns to send in their applications to Fossil Rim.
"I would recommend Fossil Rim to any future intern," she said. "It's an experience you will remember forever. It's worth a try, and everybody is really helpful here."
If you have never visited Fossil Rim in a general sense, Ceballos can also recall the perspective of a first-time visitor to a wildlife conservation center.
"I can speak to this because I didn't know anything about Fossil Rim when I started," she said. "The first thing I did was drive through here as a guest, and it set in that this is where I'm going to work. It's a beautiful place and a great opportunity."
-Tye Chandler, Marketing Associate