Preceptee Plass gains career clarity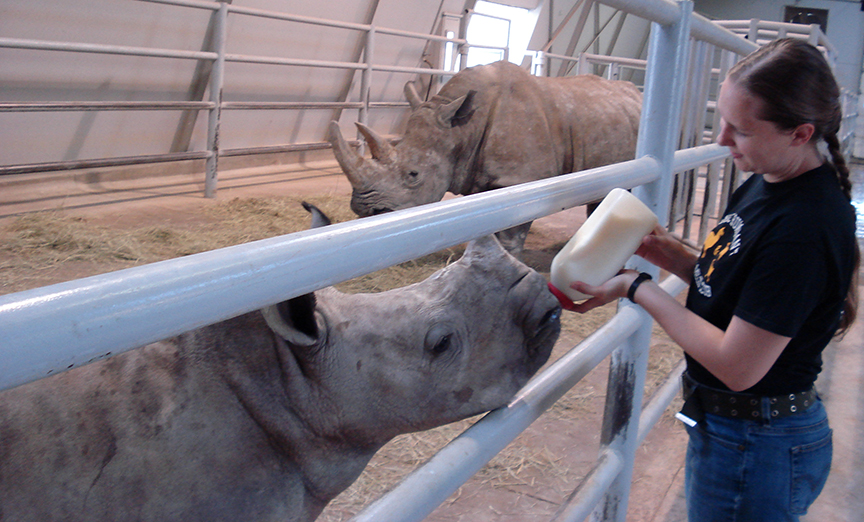 Karen Plass has been building upon her animal health knowledge base for quite some time as she eyes her career, and a preceptorship at Fossil Rim Wildlife Center helped her feel better than ever about the direction she is heading.
The California native was a vet preceptee at the facility from March 25 through May 5. She took a Conservation Centers for Species Survival (C2S2) course at Smithsonian Conservation Biology Institute (SCBI) in 2015 and became aware of Fossil Rim.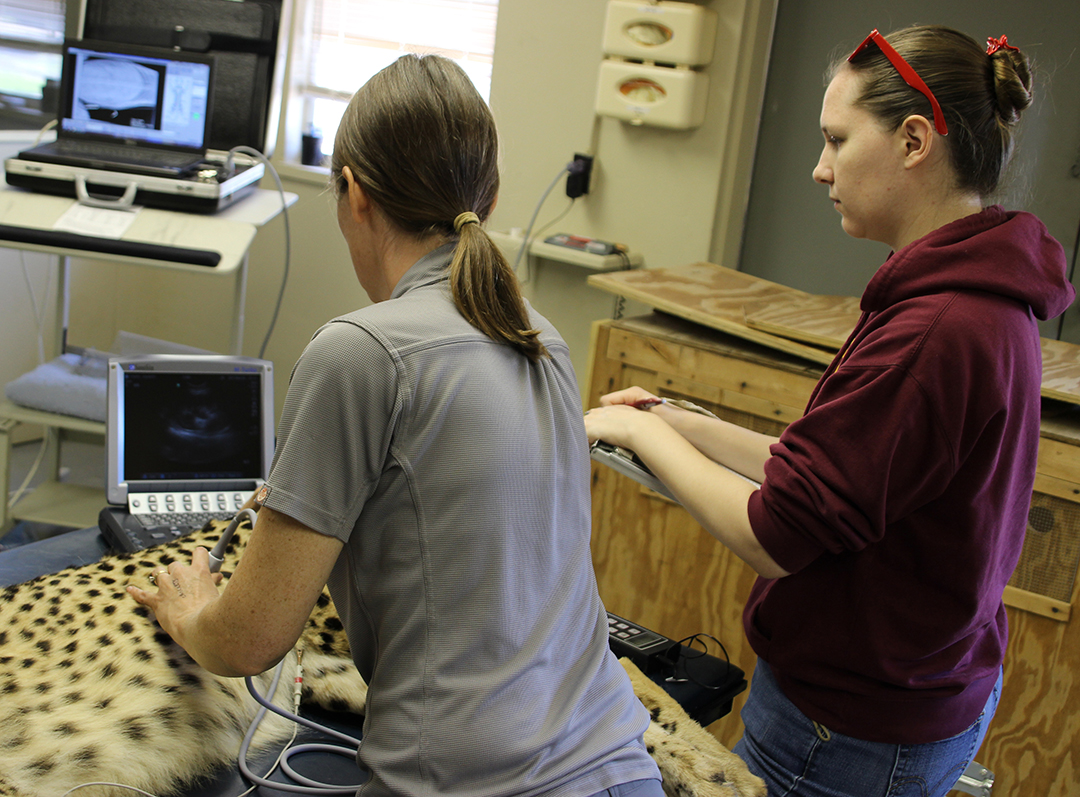 "I met Kelley (Snodgrass) and Kristen (Culp) and found out about Fossil Rim," Plass said. "It sounded amazing, and I decided I wanted to come here for a preceptorship. I knew it would help me build experience with zoological species or wildlife, but after finding out the mission behind C2S2, it inspired me to go learn at one of their institutions."
Growing up in urban California, attending a farm camp in the summer as a girl was her first foray into handling animals other than her pet dogs. The seed of interest was planted, which could be seen as the origin of her long journey to Fossil Rim. Prior to the Texas trip, most of her background was in small animal medicine and companion exotics.
"When I decided I wanted to be a vet, I aimed for exotics – they always fascinated me," Plass said. "Clinics I previously interned at dealt with companion exotics, as did my time volunteering at the (Junior Museum and) Zoo in Palo Alto (California)."
Before moving to Minnesota for veterinary school, Plass actually became a certified veterinary technician.
"It's not super common to go to vet tech school first, but it's a good way to get the technical background and physical skills you don't always get in vet school," she said. "I'm glad I went that route."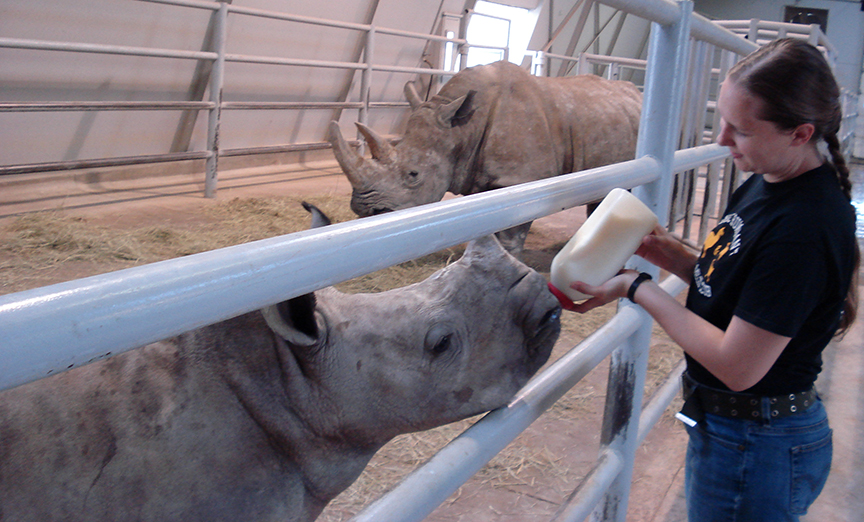 While the weather had to be a huge adjustment, Plass has thoroughly enjoyed her time in Minnesota.
"I love it there; I've done volunteer work for wildlife rehab," she said. "I took as many courses as I could involving exotics."
When she began at Fossil Rim with an eye on caring for larger exotic animals, Plass recalls a whirlwind first week.
"On my first day, we had a blackbuck immobilization," she said. "The second and third days were focused on cheetah pre-shipment exams. On the fourth day, we immobilized and transported two wildebeest.
"Then, on the fifth day I traveled to Abilene Zoo to see a black rhino breeding soundness exam. What a first week!"
One of those early experiences ended up being among her most memorable at Fossil Rim.
"The consecutive days of cheetah pre-shipment exams were definitely something that stands out," Plass said. "Getting to put my hands on a cheetah and see how they feel, look at their structure and how they differ from a housecat, and then adopt your regular feline practices to a much larger version. Seeing the various screening tools used for the data the vets want to collect for research, as well as disease control, made for a memorable experience."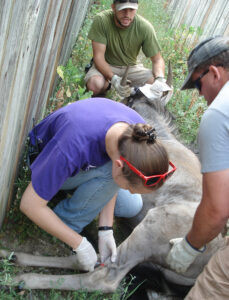 There was also a situation where Plass was able to do some troubleshooting and help an animal, which she certainly found fulfilling.
"We had a scimitar-horned oryx with a lameness issue," she said. "I was able to pull from my vet school training regarding cattle lameness, as well as a paper we'd read here for journal club, to make a suggestion about how we might treat the scimitar. We put a hoof block on the unaffected (opposing) hoof to help the other one heal better. To see that really help him, at least for now, was awesome."
Plass was able to name her favorite Fossil Rim species – well, almost.
"I've learned a lot more about and really grown to love both species of rhinos (southern white and southern black) here," she said. "Learning how to get our veterinary work done without putting too much stress on them was very interesting. Plus, bottle feeding the baby white rhino was special, of course."
Considering her first exposure to Fossil Rim was through C2S2, Plass was one happy preceptee when she was able to attend the 2017 C2S2 Annual Meeting that was actually located just a few miles down the road in Glen Rose.
"Participating in the C2S2 Annual Meeting here was fantastic," she said. "I caught up with old acquaintances from the 2015 C2S2 class at SCBI and also met interesting new people. It was a second opportunity to hear about C2S2 operations after I'd learned more about Fossil Rim and other C2S2 members."
Before heading back to Minnesota, Plass made a project presentation to Fossil Rim staff, interns and volunteers.
"I'm still working on my ultimate project, which has a longer timetable than six weeks, but my presentation for the staff was about wildebeest-associated Malignant Catarrhal Fever and the virus that causes it," she said. "Also, how it functions within wildebeest and how it is transmitted to other species – what are the implications for Fossil Rim as an institution that has potentially susceptible species present which are actually intermingling with the wildebeest herd? I looked through data from 1995 to 2015. It's present in our herd, but doesn't seem to be causing a problem.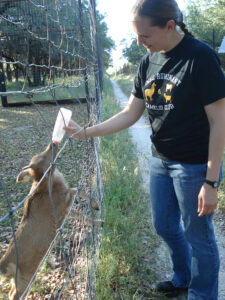 "My ultimate project is risk assessment; in a situation like this where we know it is in our herd, we have susceptible species present and a visitor could potentially transmit the virus back to a cattle ranch. So, do we need to do any interventions?"
Spending every day with some combination of veterinarians Dr. Holly Haefele and Dr. Julie Swenson, Plass appreciated their investment in her.
"They are awesome," she said. "Always open for questions, willing to teach and answer a random question to help you learn and grow. I also brushed up on my lab work skills with (vet tech) Brenda (Cordova,) doing bloodwork and fecals."
Practical experience is the name of the game for Fossil Rim preceptees and interns.
"I've been able to go through the process of how you prepare for each day," Plass said. "Taking things as they come throughout the day – jump from an APC (Attwater's prairie chicken) chick directly to a rhino. The vast breadth of species you get to work with – every day is an adventure.
"The experience I gained with wild hoofstock here was very valuable; my previous experience was with companion exotics. Learning to assess situations of darting, transport and minimize animal stress along the way was important."
Amazingly, her departure from Fossil Rim saw Plass drive northward to Minnesota for her graduation the following day with only a few hours to spare.
She now has her bachelor's degree in biology, her associate's degree of science in veterinary technology, and her Doctorate in Veterinary Medicine.
"Once I get my project finished, I will have my master's in public health with a veterinary emphasis," she said.
It has been an impressive journey of determination, as Plass has been accumulating knowledge and experience for 11 years since she graduated high school in order to become the best veterinarian she can be.
"From here, I have a rotating small animal internship at VCA South Paws in Fairfax (Virginia) for a year," Plass said. "After that, I will apply for a zoological internship or residency. I spent as much time as I could saving up money before I started vet school, and as an intern you get a fairly modest salary, but part of this process on the way to becoming a veterinarian is learning to live within your means and being smart about your money.
"I would eventually love to find a home working with conservation breeding programs with the goal of reintroduction to the wild. Or if I end up at a zoo, it will be about holding onto the species that we can. I have also learned that I enjoy working with companion exotics and may end up pursuing a career in that realm."
If a potential preceptee comes across this account of her Fossil Rim recollections, Plass hopes they take the plunge.
"This has really given me the opportunity to solidify in my mind that this is the ultimate direction I want my career to go," she said. "I've enjoyed all the work I've learned to do here, and it's a great introduction into the world of conservation medicine and how to manage captive wildlife. If you are interested in this field, it's an excellent place to learn."
If you have never entered the gates of Fossil Rim to see what you discover, Plass is a proponent of making the trip to Glen Rose.
"It is definitely worth your visit to come check out all of these species that most people have never seen," she said. "This place helps you understand the implication that if we don't do something proactive, these animals will be gone from the wild. There are ways you can help Fossil Rim reach that goal, and visiting the park is a great start."
-Tye Chandler, Marketing Associate