Milligan expands hoofstock experience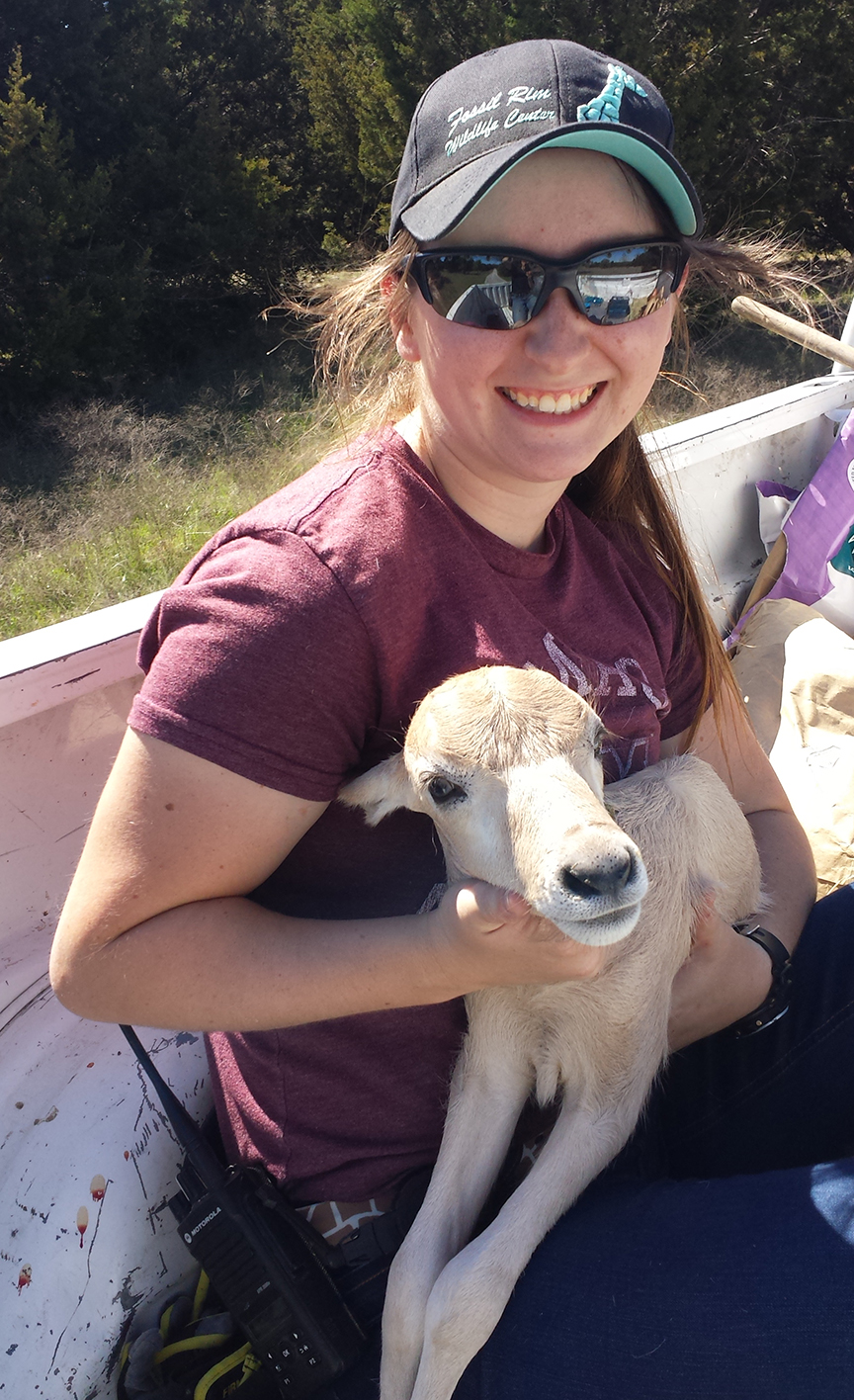 Having done internships at three zoos of differing sizes, Paige Milligan seized the opportunity to come to Fossil Rim Wildlife Center and expand her diversity of experiences even further.
The hoofstock and behavior research intern was at the wildlife center from Jan. 16 to April 27.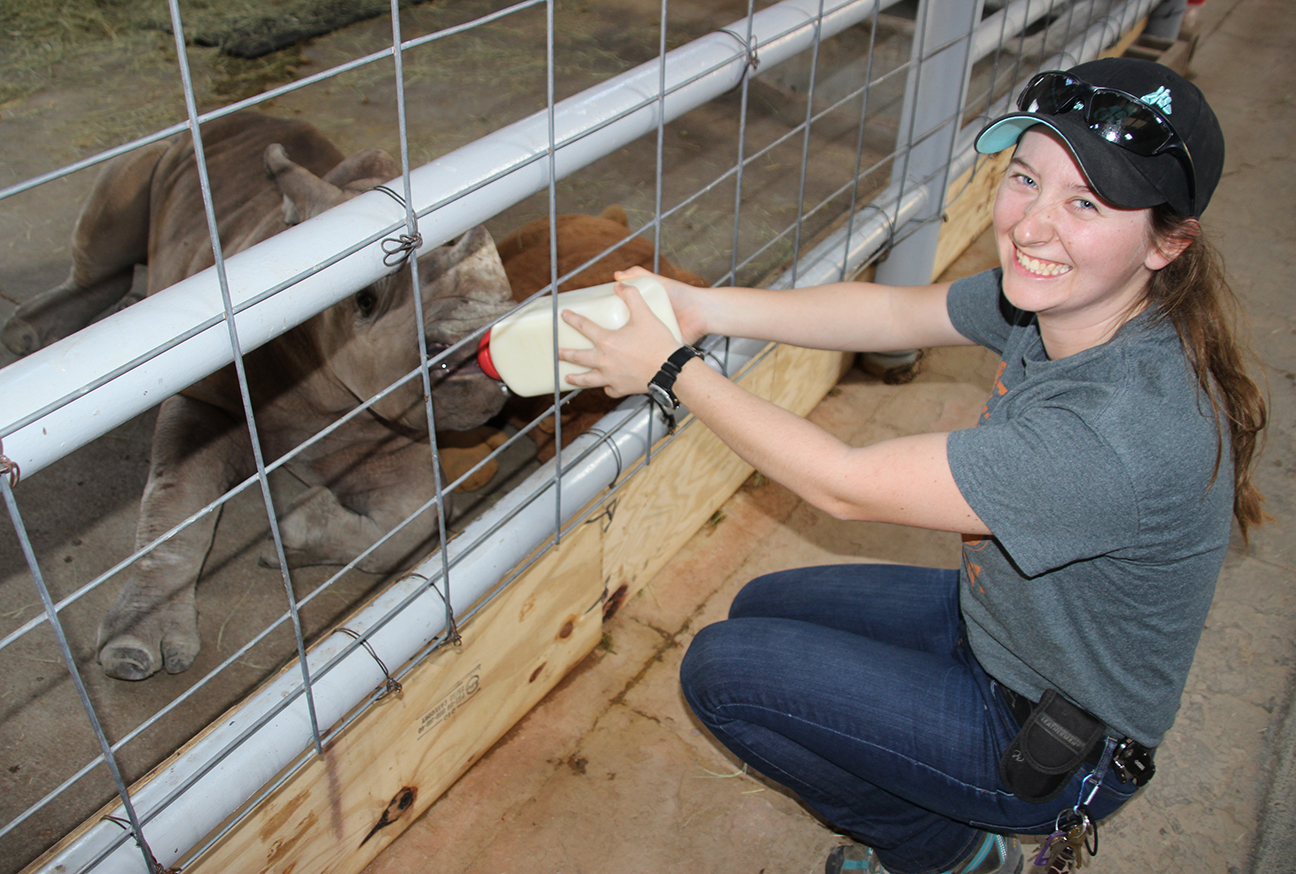 "This internship was recommended to me by a keeper who had been here a couple of times professionally, and he was aware of the internship program," said the native of Newtown, Pennsylvania. "He said I'd really enjoy it, so I applied. I've done internships at small, medium and large zoos, and then this one was at an even bigger facility."
Milligan read up on the specifics online as much as possible beforehand, but she would end up working with more young animals than she ever imagined.
"Going on all the neonate exams – including one on my last day – was definitely a highlight," she said. "I was fortunate to be a part of about a dozen exams – mostly scimitar-horned oryx and some addax. The first time I got to hold a calf was really cool."
She then pointed out the bottle feeding opportunities with the southern white rhino calf and a Kordofan aoudad calf as memorable moments.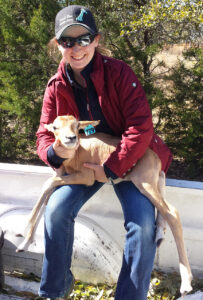 "The other thing I have to mention is when (the giraffe calf was born March 6)," she said. "I was off that day, but I was called in for a scimitar neonate exam as part of one of my projects. I missed the actual giraffe birth by a few minutes, but seeing his first steps was great. Being around all those young animals really stands out to me, because newborns were a rare thing in my zoo experiences."
In regard to the Fossil Rim species she enjoyed working with most, it led Milligan into discussing the two projects she tackled during her internship.
"I've grown very attached to the scimitars, because they were a subject in both of my projects," she said. "My first project was making ID guides for each scimitar and each sable. I took a picture of each animal from the front, back, left and right. I placed all photos of each animal on a sheet with notes about what made each one stand out.
"I got really good at knowing which is which, and recognizing their personalities because I followed them so much. I sent out my ID guides to all of the animal care staff. That way, if they need to know what animal they are looking at from afar and can't read an ear tag, these should help."
Before she delved into the details of the second project, which she did a presentation about for staff, volunteers and interns before departing, Milligan had something to add on the topic of favorite species.
"I'll always be a giraffe person, and I love being around them," she said. "I got to go to Namibia (in 2016) to help the Giraffe Conservation Foundation do field research."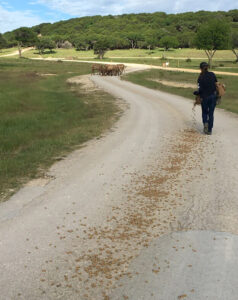 As for her other project, scimitar-horned oryx calving data collection and analysis, Milligan said she approached it in three parts: capture difficulty, social cohesion and health indicators.
"First, I took notes on observations during neonate exams of the scimitars," she said. "I identified particular dams with calves involved that gave us a hard time so (the staff) can keep an eye on them in the future – maybe budget more time when they are involved. Next, I looked at calf integration into the herd. Calves are either 'hiders' – by themselves in vegetation for the first couple of weeks – or 'followers' – up and moving right away to stay with mom.
"Then, I tracked each calf's progression as it aged. I would agree with some literature I found that calls them a 'weak hider' species."
The third component of her study was to collect biomedical data from neonate exams.
"So, I was tracking a number of things from the physical exam – temperature, respiration rate, pulse rate and weight," she said. "Blood was drawn to be analyzed later. I went back through our database to check records for every scimitar calf ever at Fossil Rim that I could find, which ended up being 75 calves. I collected stats from the data of all 75, so we have a baseline of what a normal, healthy calf looks like."
A notable aspect of the opportunity to study the scimitar-horned oryx is the fact they were reintroduced into the wild just last year.
"I was really excited to work with the scimitars right now, because I think they are especially important as a recently reintroduced species," Milligan said. "It's important to understand them as much as we can. Now that they are having calves in the wild, hopefully their population grows."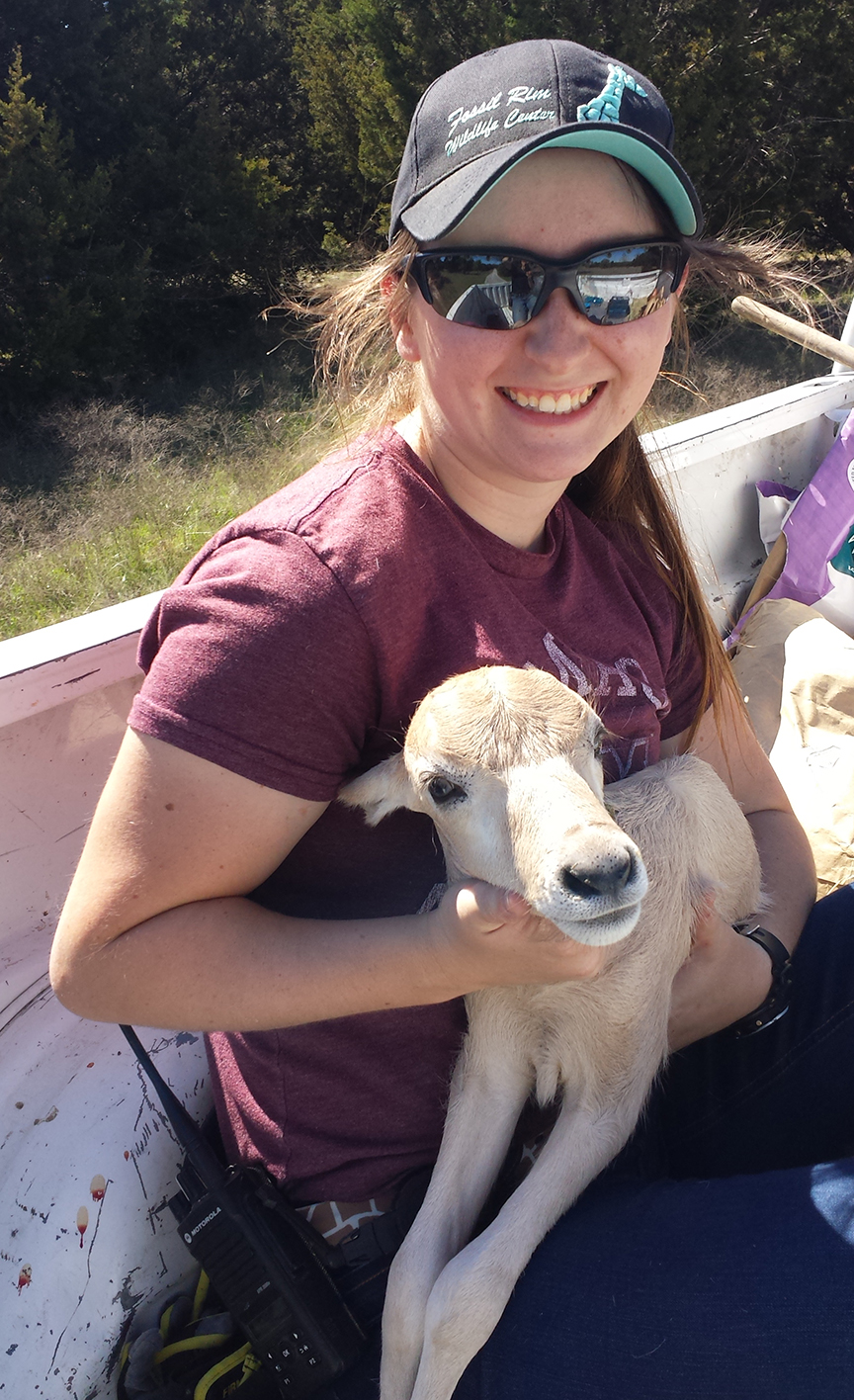 Milligan credited some people who really went the extra mile for her at Fossil Rim.
"For my research, I definitely need to thank Dr. (Jane) Packard," she said of the visiting researcher at Fossil Rim. "I don't have a strong research background, so she was great about answering my questions as I learned those skills. I got to ride with everybody in the hoofstock department with at least some regularity. It's interesting to see how everyone functions a bit differently, plus I could bounce around sometimes and see the different pastures and species.
"I really enjoyed working with Becca (McLachlan). She did an outstanding job of making me feel really welcome and telling me all about how Fossil Rim works and the animal species."
McLachlan can cover shifts for all other hoofstock staff, so she was definitely someone who could help Milligan gain more insight into all of Fossil Rim's hoofstock species.
Milligan, who graduated from the University of Massachusetts in 2016 with a degree in animal science, would have been at Fossil Rim a bit longer, but she saw an opportunity she had to capitalize on.
"I'm leaving a couple of weeks early because I got hired as a temporary hoofstock keeper aid at the Lee Richardson Zoo in Garden City, Kansas," she said. "I'll get to work with giraffes, black rhinos, takins, Bactrian camels and other hoofstock. I'm really excited; this is the next step for me.
"My six-month term as a seasonal keeper at the Columbus Zoo was a paid position, so after this time at Lee Richardson Zoo, I will have one year of paid AZA experience. That's what I see on a lot of full-time job postings as a minimum requirement."
Looking long term, Milligan wants to be an animal care specialist in an AZA facility. She loves working with hoofstock, and that is the realm in which all of her experience has been thus far.
"As far as my time at Fossil Rim, I will lean on the research aspect of this internship going forward," she said. "For my interview at Lee Richardson, I talked about my scimitar calf project a lot. Plus, there are all of the unique husbandry experiences here that I couldn't get at a traditional zoo – neonate exams, taking care of so many different animals in a large natural setting."
Considering how she found it beneficial, Milligan said she would recommend the hoofstock internship to others.
"I think the only way you will know if you like this and if you are good at it is if you give it a try – come experience it," she said.
For that matter, she believes first-time guests to the park are in for a treat.
"This place feels like being in a little slice of Africa," Milligan said. "You forget you are in Texas when you see these exotic species everywhere. I'd encourage people to ask questions if they want to know more about this place, the animals and especially the conservation efforts. Anybody who works or volunteers here would be happy to answer their questions."
-Tye Chandler, Marketing Associate