C2S2 2017 meeting draws diversity for united cause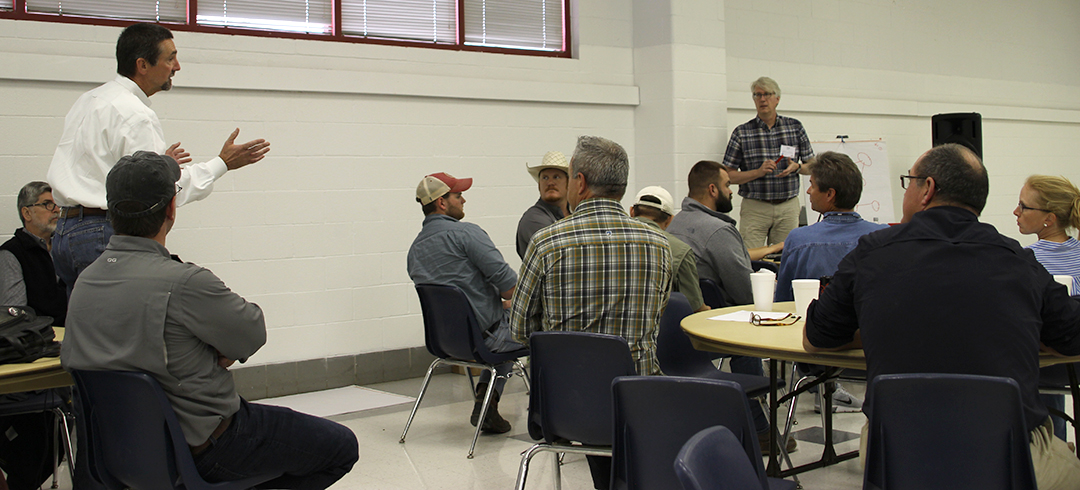 People and organizations with differing backgrounds and expertise joining forces for the benefit of the animal kingdom – that is at the core of what Conservation Centers for Species Survival (C2S2) is all about.
Members of the organization, along with other interested parties, converged on Glen Rose, Texas, for the C2S2 Annual Meeting on April 12-13. It was hosted by Fossil Rim Wildlife Center at the Somervell County Expo Center.
C2S2 is comprised of full members African Lion Safari, Austin Savanna, Center for the Conservation of Tropical Ungulates, Fossil Rim, Omaha's Henry Doorly Zoo and Aquarium, Smithsonian Conservation Biology Institute, the Wilds, and White Oak Conservation. It also involves affiliate members Disney's Animal Kingdom, Endangered Wolf Center, Nashville Zoo, National Zoological Gardens of South Africa, Tampa's Lowry Park Zoo and Taronga Western Plains Zoo. Founded in 2005, C2S2 became a 501(c)3 nonprofit in 2015.
This was the largest-ever C2S2 annual meeting.
"Most institutions sent at least three representatives," said Katy Palfrey, C2S2 CEO, who was attending her third C2S2 gathering. "Our attendance was up 46 percent from 2016."

Day one of the meeting was geared toward presentations, while day two focused on group discussion.
"We structured the meeting around our three-step process for all species," Palfrey said. "Grow – growing populations in space. Optimize – optimizing populations in space. Return – returning species to the wild whenever possible.
"This is an unprecedented, diverse group of folks here to have these discussions. We are bringing together three major stakeholder groups who don't always have a lot of communication – particularly the private landowners in Texas and beyond – with these zoos and conservation centers."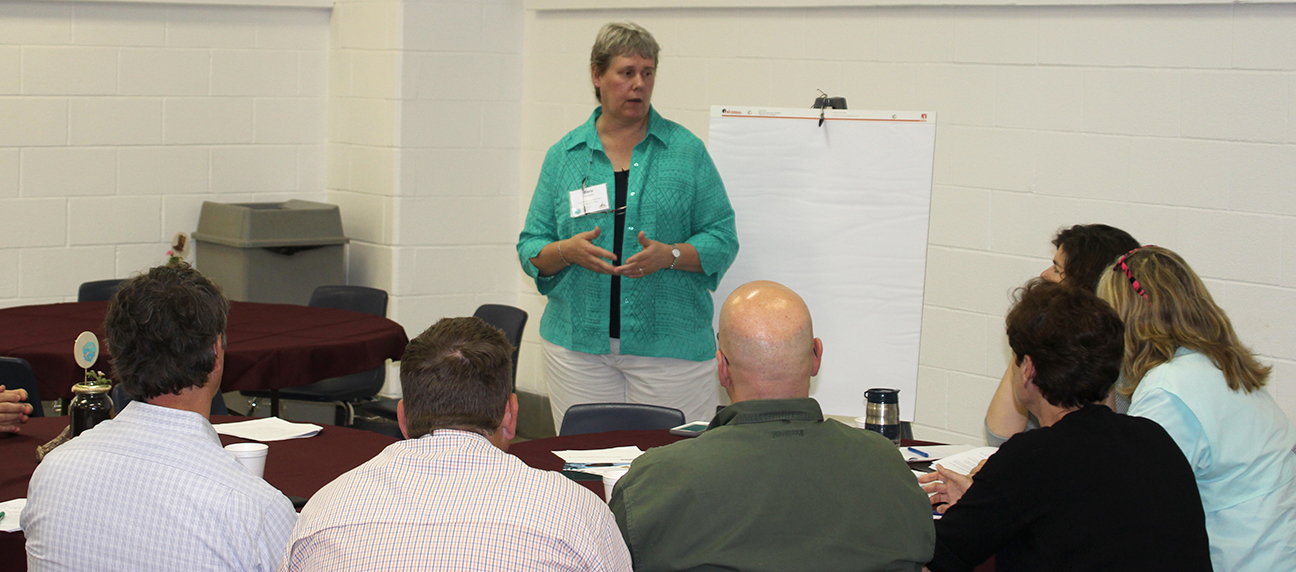 Speaking of "bringing together," Palfrey has learned over time just how important that concept is to C2S2 at its core.
"I've found that we really are playing the role of organizer and facilitator among different groups, and it's a much-needed role," she said. "If a group of constituents is interested in a particular species, but they don't know how to get that off the ground, our ability to put them in touch with those who can help them makes a big difference. The opportunity for conservation centers has to do with (land) space and expertise. In order to progress, it was important for us to understand the need for more partnerships between these centers, private landowners and zoos, while also considering what each has to offer.
"Dan Ashe, who is president of the Association of Zoos and Aquariums (AZA), said 'you have 80 percent of these topics we'll all agree on and 20 percent we won't. We have to focus on that 80 percent and still have conversations about the 20 percent.' By day two of this meeting, we had people who might have never even otherwise met talking about collaborating for a species."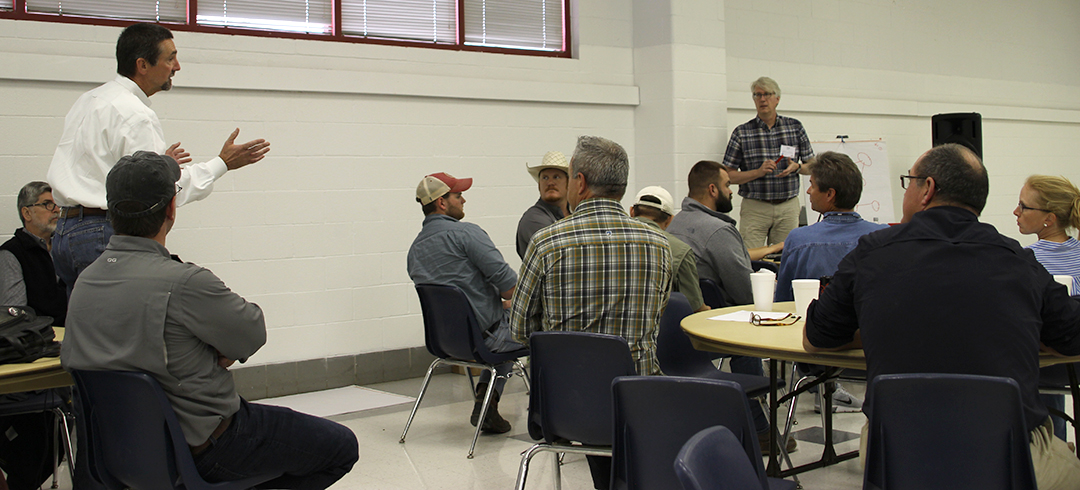 The increased involvement of private landowners has been huge for the continued progression of C2S2. They were quite vocal during the discussions of Source Population Alliance, which is a program operating under the C2S2 umbrella since 2014.
"While landowners were mainly here for Source Population Alliance (SPA) matters, it was extremely beneficial to have these folks participating in all the discussions," Palfrey said, considering the Alliance is primarily a hoofstock-centered program thus far. "For example, we were delighted to have private landowners in the conversation about actions for red wolves. There are concerns for folks who have livestock about red wolves, so having landowners' perspectives in the mix will help us determine how best to move forward. And having people from the Endangered Wolf Center, one of our newest members, on hand to talk about red wolves was great.
"Right before this meeting, we met with the southern black rhino (SBR) executive committee of the International Rhino Foundation. They are enlisting our help regarding the ex situ population of SBR. For these two species in particular (red wolves and SBR), we need private landowners to start having populations on their land, and I think there is a lot of excitement from all sides about the opportunity."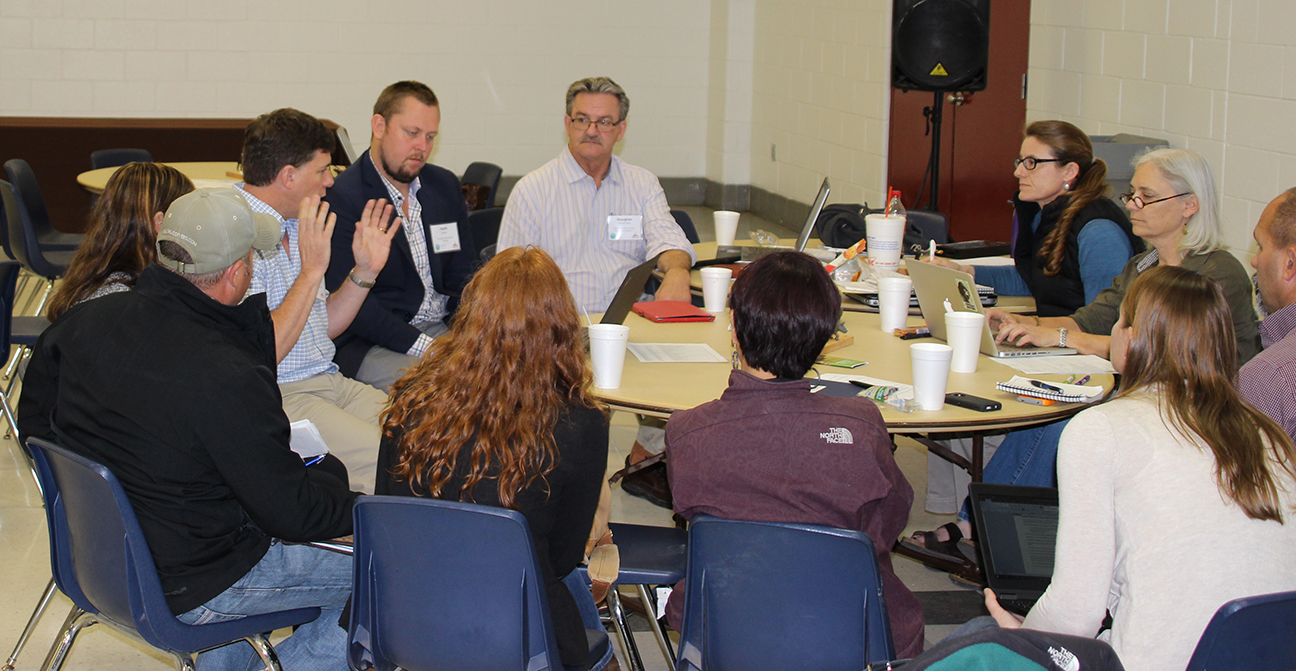 Kevin Reid, a private landowner who was attending his fourth C2S2 meeting, was very enthusiastic about what can come of this partnership development. He is the owner of Morani River Ranch, which is home to more than 80 wildlife species – including SPA-focus animals like sable antelope, scimitar-horned oryx, addax and addra gazelle. Reid also represents the nonprofit organization Stewards of Wildlife Conservation, which develops all of the wildlife management and conservation plans for the ranch.
"That discussion in the working group for SPA was a great example of why we are involved in SPA and C2S2," Reid said. "The collaborative effort of a whole bunch of really smart people from different backgrounds – zoos, genomic scientists, private ranchers, breeding centers – all in the same room debating the best practices with the focus being 'what is in the best interest of the wildlife?' In my history of wildlife conservation, this is the best organization I've ever found for this process. People aren't defensive; they are truly trying to share information openly."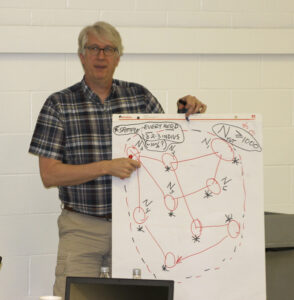 Reid talked about how the different players involved in SPA have a wide variation in terms of numbers of animals, as private landowners actually have the largest numbers of hoofstock in most cases. He said SPA participants have toured each other's facilities and ranches, as they learn about what methodology is leading to the most success in animal health and reproduction.
"We have to be willing to share info and collaborate, which unlocks the power of SPA and C2S2," Reid said.
An example of the discussions at hand came up regarding blood samples needed by the genetic scientists.
"It's more of a challenge for a rancher getting a sample than at a zoo," Reid said. "We discussed the topic, as we look for ways to accomplish goals without putting animals at risk."
While many attendees might prefer the merits of the group discussions, Reid really looks forward to the individual presentations each year.
"Those are my favorite part of this annual meeting, because I learn a lot every time," he said. "Since I became involved with C2S2, I've heard about more new projects from new participants each year – really exciting stuff. Even if you aren't involved with that particular species or program, it's inspiring for you to do more with your own programs – because you see how connected we really are."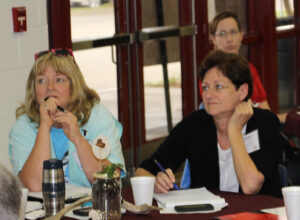 As issues have come up with his animals at Morani River Ranch over time, Reid has seen this C2S2 connectivity step up to meet the challenge.
"You build relationships during this in-person interaction," he said. "If we have some trouble, we can call someone in another state who has more experience on the matter. They'll drop what they're doing to come to your rescue, which is pretty powerful. The care of the wildlife is the priority."
As C2S2 Board Chairman and a senior scientist at Smithsonian Conservation Biology Institute (SCBI), David Wildt, a founder of C2S2, has attended every meeting since 2005 and can really speak to the organization's evolution.
"C2S2 has changed from being a small organization of five breeding centers under the umbrella of the AZA – sort of a club-like environment – to an all-inclusive organization," Wildt said. "Now, we have a lot of smaller organizations, some traditional urban zoo involvement, the private sector interested in endangered species and conservation breeding centers. We're a flexible organization that isn't big on a lot of rules and policy. We believe in progress through meetings like this right here in Glen Rose.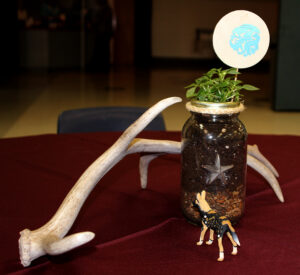 "It started as a group of friends. Now, we are building on those friendships and bringing new friends to the organization."
Wildt noted how great it was to see to see scientists interacting with ranchers for the first time during the group discussions.
"When scientists can better understand the other parties involved, they can adapt their thinking and methodology," he said. "This meeting is an opportunity to look at each other's strengths and weaknesses. We are all in it for the common good, and if we pool our efforts, then that single entity is stronger in its ability to save species on a grand scale, as well as increase scientific knowledge through study and breed animals for release back into nature."
Whether it is the GPS collar study that was conducted at Fossil Rim in advance of the 2016 scimitar-horned oryx reintroduction to Chad or the creation of the Songbird Survival Program with a focus on the loggerhead shrike, Wildt pointed to initiatives that originated from C2S2 meeting discussions.
"In these discussion groups, that really is where we get into our goals for the future," he said. "They are so important, because everyone gets a chance to speak up."
Like Reid, Wildt drove home the importance of the partnerships that Palfrey, C2S2 Program Manager Cynthia Bennett and Program Coordinator Kristen Culp work so hard to facilitate.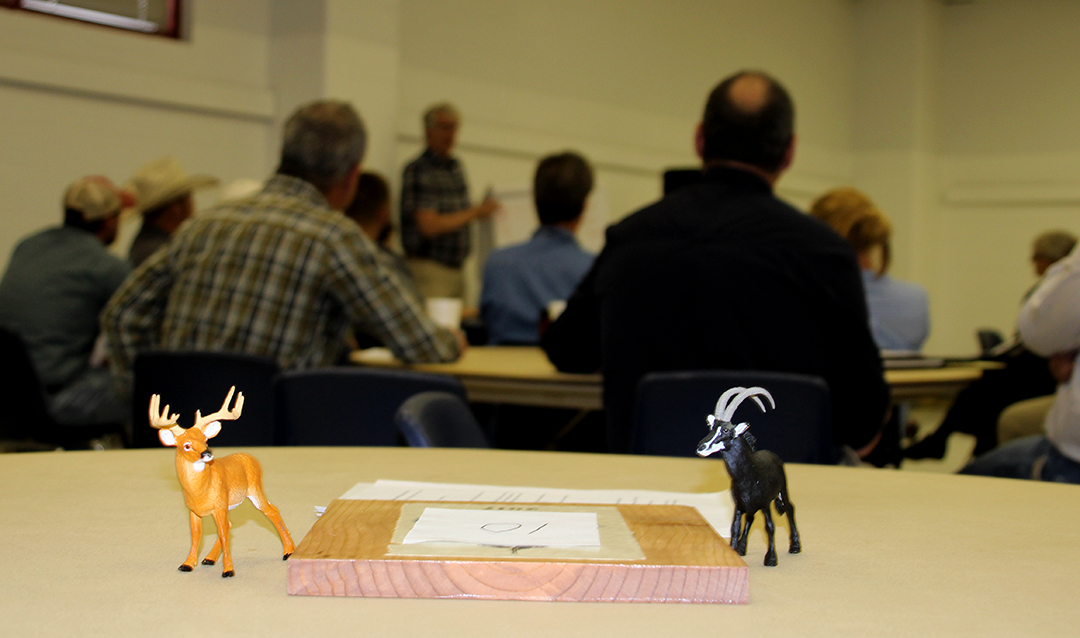 "Fossil Rim and SCBI both have reputations for what they've achieved on their own, but if you put all of these C2S2 organizations together, getting interested community people involved along the way – it's amazing what we can do," he said. "I think people in the private sector get interested because they are passionate about natural resources and biodiversity conservation. It's important to help people make the connection for the work being done in different places in the world for projects like reintroductions. The video updates provided by the Sahara Conservation Fund of those American-born scimitar-horned oryx thriving in Chad are a great example."
With Fossil Rim being both the host of this year's meeting and C2S2's "home base," the occasion was a big deal for the wildlife center. For example, animal care staff members worked in rotation so they could care for their respective species at Fossil Rim and then head to the expo center to participate in meetings. Fossil Rim also hosted an "icebreaker" gathering the evening before day one of the meeting so everyone could get better acquainted.
Tessa Townsend, a carnivore care specialist, attended the C2S2 meeting for the first time.
"It was an incredibly inspiring and motivating experience to converse with experts in our field about improving conservation efforts," Townsend said. "As a novice in animal care, I was extremely thankful for the opportunity to connect with some of these experts and gain some new role models. I especially loved the enthusiasm from ranchers and private landowners wanting to join the cause and who could really make a difference by collaborating with C2S2."
Culp was quite busy in the days leading up to the meeting to make sure every detail had been addressed.
"I want to extend a huge thank-you to everyone who helped this week," she said to Fossil Rim staff. "I want to extend a special thanks to Donna (Steakley) and Nick (Itayem) for their major help with the two evening events and the board meeting, as well as David (Whiting) for coordinating the tour."
Executive Director Dr. Pat Condy and Hoofstock Curator Adam Eyres both noted how impressed meeting attendees were with Fossil Rim as a facility, as well as its staff, volunteers, interns and the meeting itself.
"The tour of Fossil Rim was a highlight for everyone I spoke to and that was a great way to see the park," Eyres said. "The icebreaker was well-received and appreciated, so thanks to those 'party planners' and staffers, interns and volunteers who made it work so smoothly."
"My sincere thanks to all those who helped in one way or another in hosting the C2S2 meeting," Condy added. "It was the largest-ever C2S2 meeting, and a very interesting one at that."
C2S2 is currently looking to hire an SPA program manager, as well as an executive assistant. For more information about the organization, check out conservationcenters.org.
"I think this meeting has allowed us to round out our portfolio in a lot of ways," Palfrey said. "We have developed some single species programs into models that can be applied to address a larger spectrum of species with similar characteristics. There's no way you can achieve this connectivity without having all these folks in the room. The diversity of people and organizations represented here are working together to save these species in a profound way."
-Tye Chandler, Marketing Associate