United Co-op delivers for newborn giraffe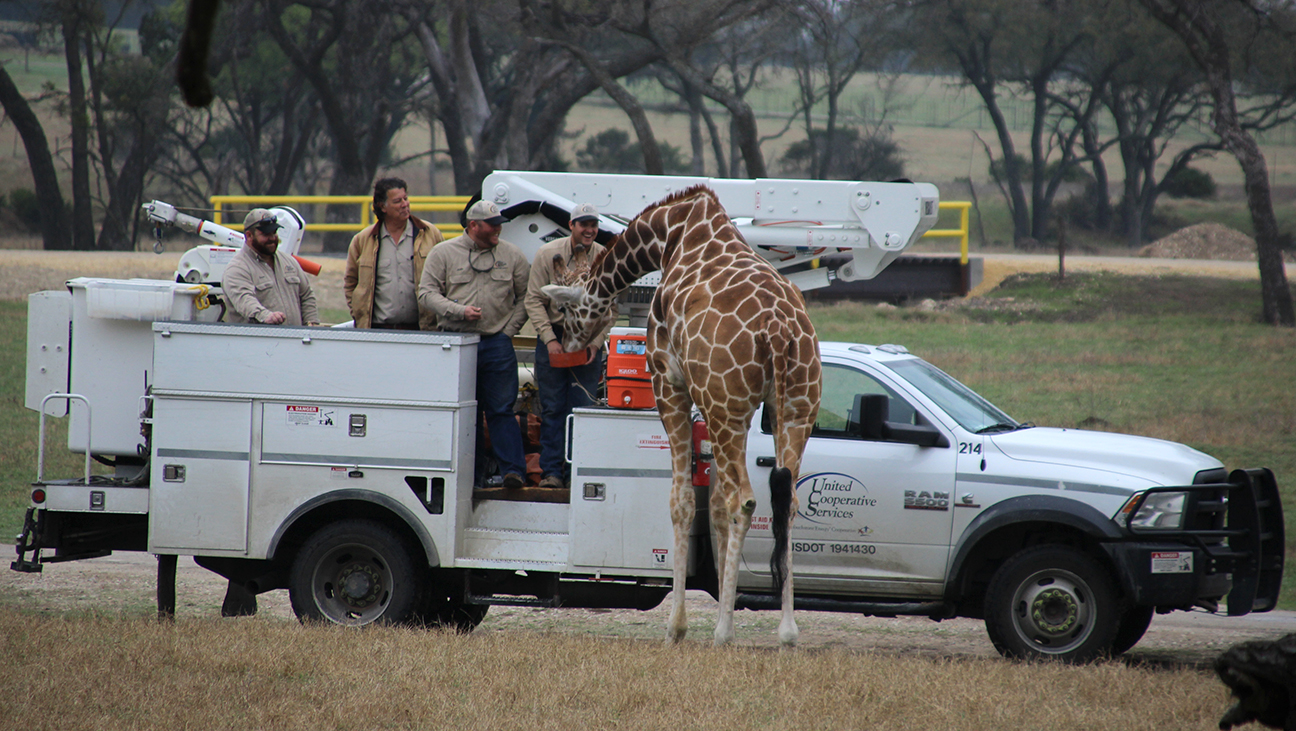 It was a rainy, cold January day at Fossil Rim Wildlife Center, but something special was happening in the giraffe barn.
At the time, the barn activity was unbeknownst to Louis Pienaar, Fossil Rim support services co-manager, when he discovered trouble at the park's Overlook.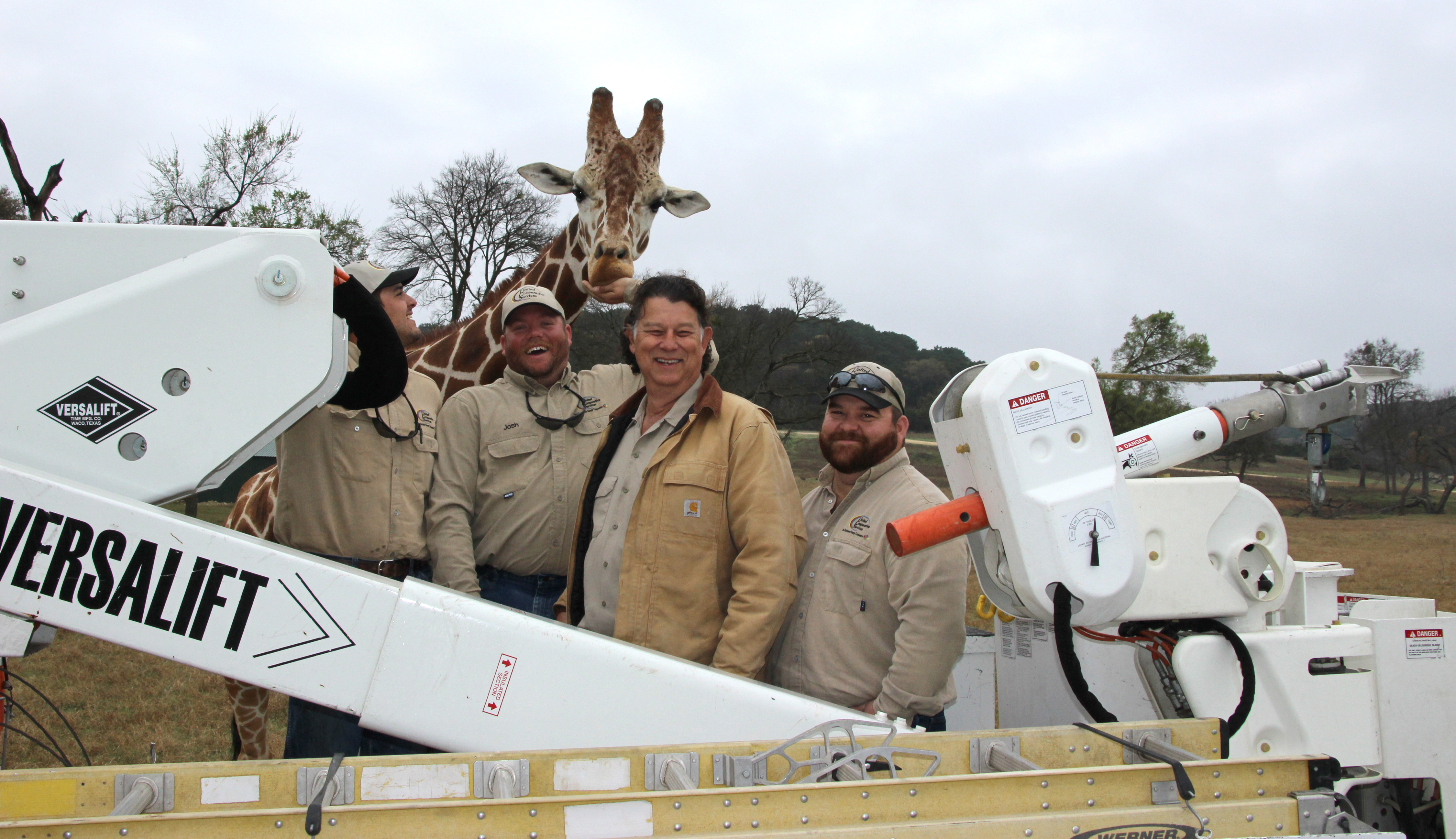 "We were cleaning out brush while working on the new Activity Center, and by accident we hit the guidewires on the (electric) pole, but didn't realize it at the time," Pienaar said. "It snapped one wire and the other was hanging by a thread. The next morning, it was discovered and I thought it was an emergency, so I contacted (United Cooperative Services Field Service Agent) Jesse Whitt. He always comes out to look at what we need to have done and he maps it out.
"Jesse was there only about 10 minutes after I called him. I explained to him what happened, and then he had a crew (Josh Koopman and Brad Morrow) out there in about 15 minutes. Jesse said he needed to cut the power, because if the second wire came down it could knock out the power at the Overlook and take out our internet service throughout the park, plus affect people who live nearby."
Whitt, a Meridian resident who has been with United Co-op since 2010, recalls that morning well.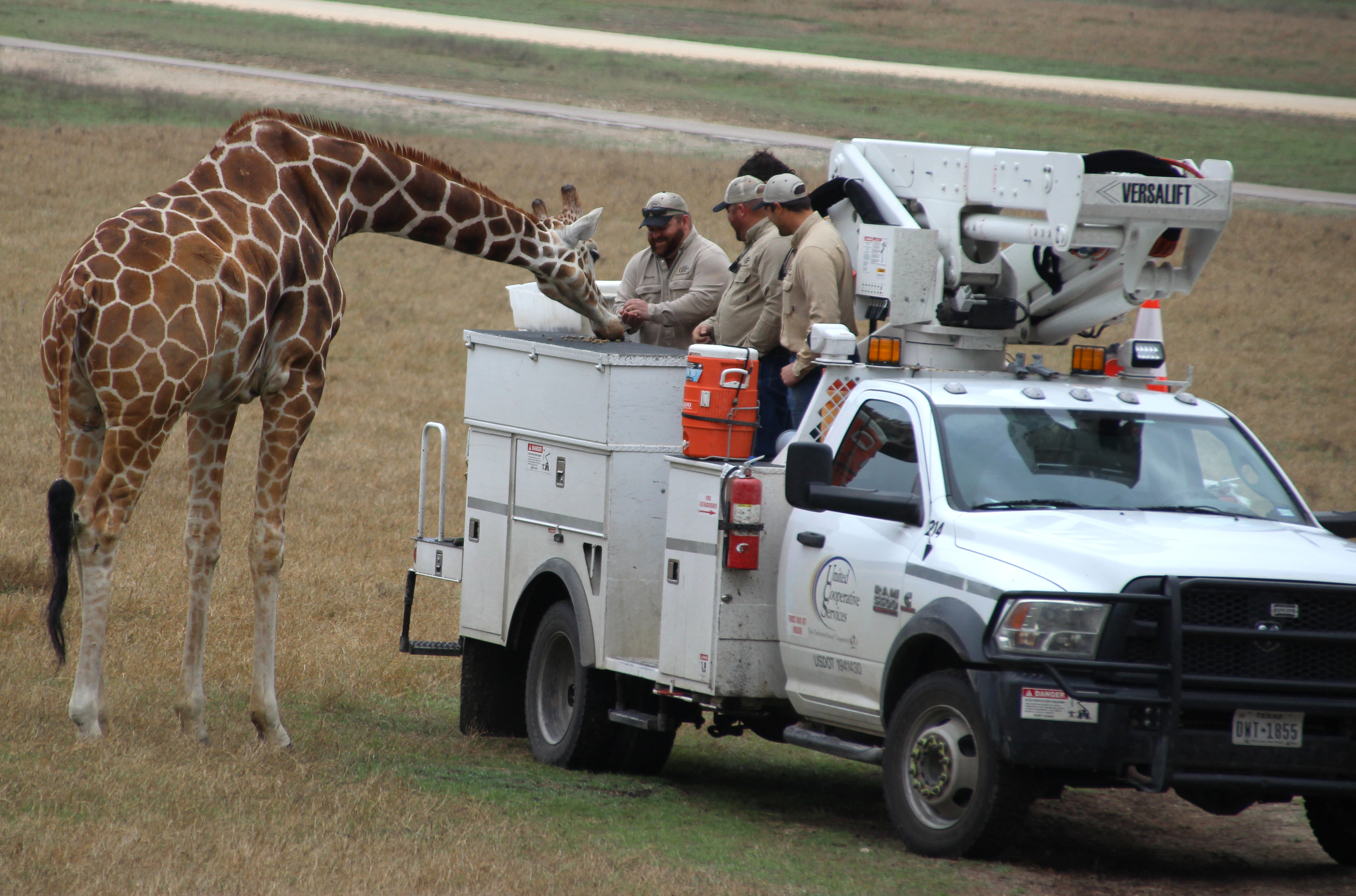 "It's always important to respond to a call quickly," he said. "The faster you get there, the faster you get the lights back on. One of the (Fossil Rim) volunteers had hit a guidewire and knocked the neutral (wire) down. The primary (wire) was barely hanging, so we had to kill it for Josh to fix the problem."
While Whitt went to get started, Pienaar soon received big news.
"I made an open radio call and told everyone the situation – that the power at the Overlook and the giraffe barn needed to be shut down," Pienaar said. "Jesse had already gone to open the breaker, but (Fossil Rim COO) Kelley (Snodgrass) responded that a giraffe birth was happening right at that moment. They were using a hands-off approach from the animal care office and observing with our cameras in the barn. Then, the power went off.
"I told Jesse the urgency of the situation, and he said they would work as quickly as possible. Just 30 minutes later, they had the power back up and running. It was amazing to see how fast Jesse's crew got out here, and then how fast they fixed the lines.
"The birth went well, they continued to monitor it, and everyone was happy. It was a phenomenal response with what was at stake. Jesse has become a friend I can count on."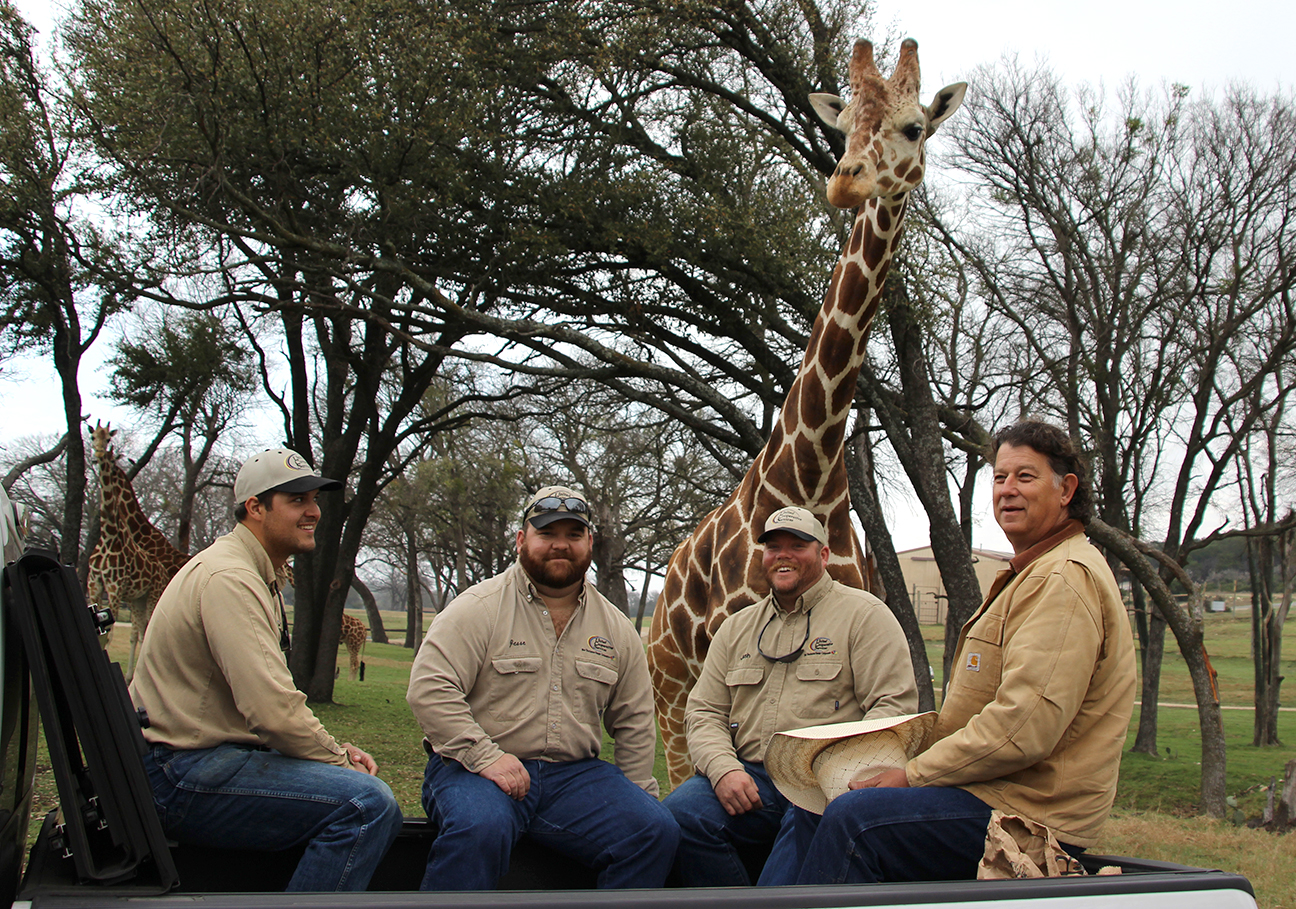 According to Koopman, he knew the situation was important, but it did not affect his tactics.
"We carry the same urgency for every call, so these particular circumstances didn't change our approach," said the first-class lineman and Stephenville resident who has been with United Co-op since 2007.
Snodgrass appreciated the response.
"They had the power back up just before we could arrange auxiliary power," he said. "They did a great job of working very quickly."
The co-op crew felt good about helping Fossil Rim's newest arrival. The giraffe in question is "Opulence" and was born on Jan. 13.
"It makes me happy that we got the video cameras turned back on so the staff could continue watching the birth of the giraffe," said Morrow, an apprentice lineman and Stephenville resident who has worked for United Co-op since 2015. "I believe we had a pretty good response time and handled it the best we could in the safest way possible. We always prepare for the unexpected, but when you go to Fossil Rim you wonder what you're dealing with."
"It's a good feeling to know we helped when that calf was being born," Whitt said. "It's neat that we were doing our jobs and a little giraffe came right after we were done. We've worked with Louie on several other projects, so we know him pretty well."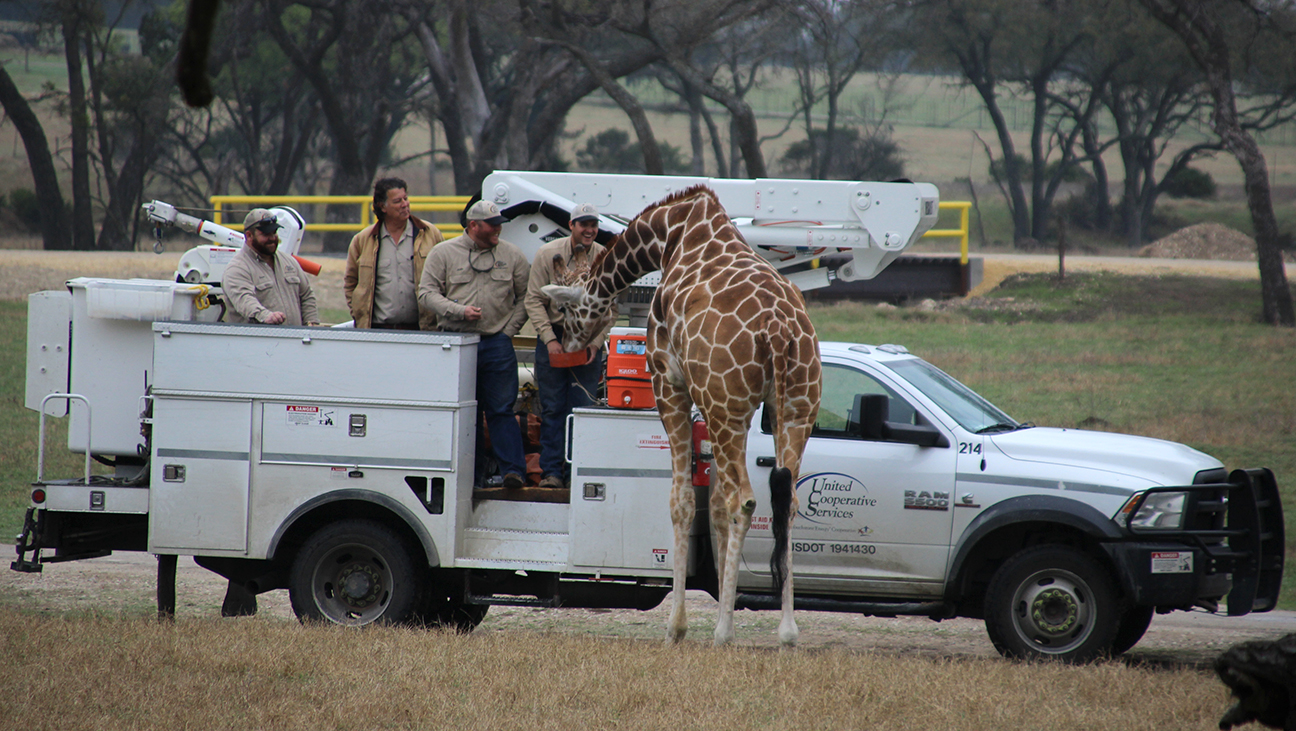 Pienaar also praised Ted Gebhardt, another United Co-op employee he works with often.
"Ted is the supervisor, but one day when we lost power to the EcoCenter he showed up in a truck by himself and fixed it," Pienaar said. "That's what I call customer service. These guys do the best they can while working quickly, they are always on time and very reasonable with their pricing.
"With all the construction we've had going on here, we needed help from United Co-op about six times in January and February alone. They are presented with challenging situations out here."
United Co-op, which has served Fossil Rim since day one, provides power to a 14-county area, covers 80,000 electric meters and is based out of Cleburne. In 2016, it had the highest customer service rating in the nation across 47 industries, according to the American Customer Satisfaction Index.
"I don't think those higher in the company are pressuring us for that rating," Koopman said. "Customer service is our number-one priority in my mind. I think they hire the type of people who want to do what is right for our members.
"I enjoy everything about working for United Co-op. Helping people out is my main joy. Where would we all be without electricity?"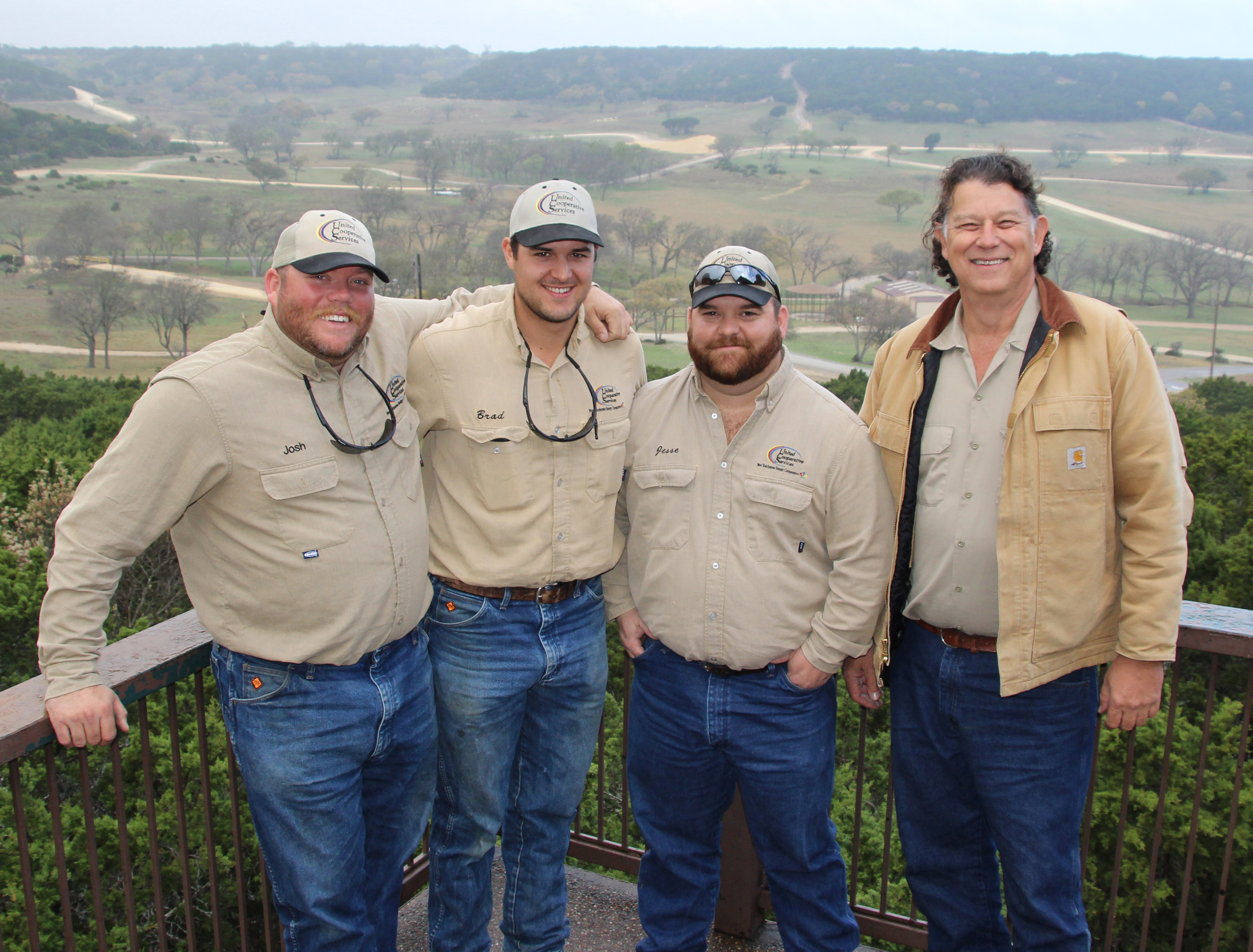 To Morrow, customers expect a performance level that leads to such a strong rating.
"I'd say first-class service is the expectation, because we will find a way to fix any issue," he said.
When asked about other strange circumstances inside and outside Fossil Rim during work calls, Koopman had plenty to say.
"Any call we get could have some unusual circumstances," he said. "From tin roofs wrapped up in power lines to a trampoline laying on top of a pole to a milk truck running through a pole to poles damaged in a fire – the jobs we do during the day are practice for the (more demanding) calls we get at night. We go to other co-ops and help them out, so we've pretty much seen it all.
"As far as Fossil Rim goes, I remember one night we had to go to the bamboo patch there about 2 a.m. because a powerline was down after the tornado in April of 2015. Some of us in the company had worked more than 24 hours straight at that time. This was one of our last calls of that night.
"We were tired and it's hard to maneuver in 20-foot-tall bamboo, which you never think you'll come across in Texas. But there's no going home until everybody goes home. That's not a company rule; that's our rule."
To learn more about United Cooperative Services, check out united-cs.com.
While these men are used to seeing Fossil Rim on the job, it sounds like visiting as civilians is in the cards.
"I'm planning on bringing my kids out here soon," Whitt said.
-Tye Chandler, Marketing Associate