Texas trip pays off for future vet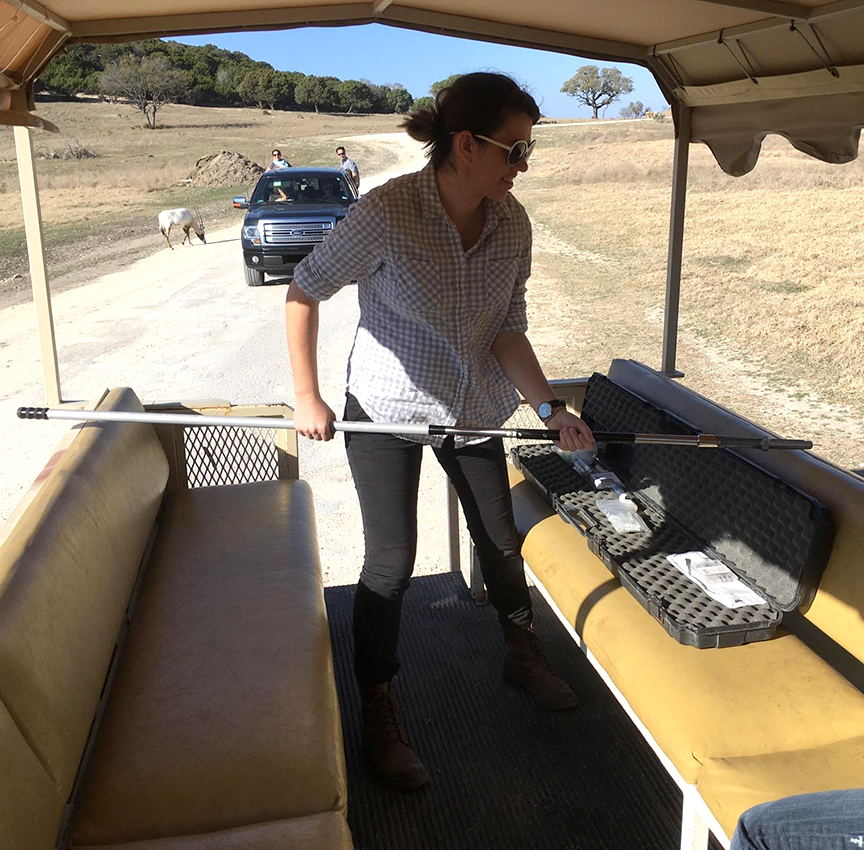 Nicole Brooks is no stranger to traveling, and her winter trip to Texas may very well kick-start her professional career.
Brooks was the veterinary preceptee at Fossil Rim Wildlife Center from Jan. 1 until Feb. 10. Born in Massachusetts and raised in Florida and Rhode Island, Brooks has lived in several other states, as well.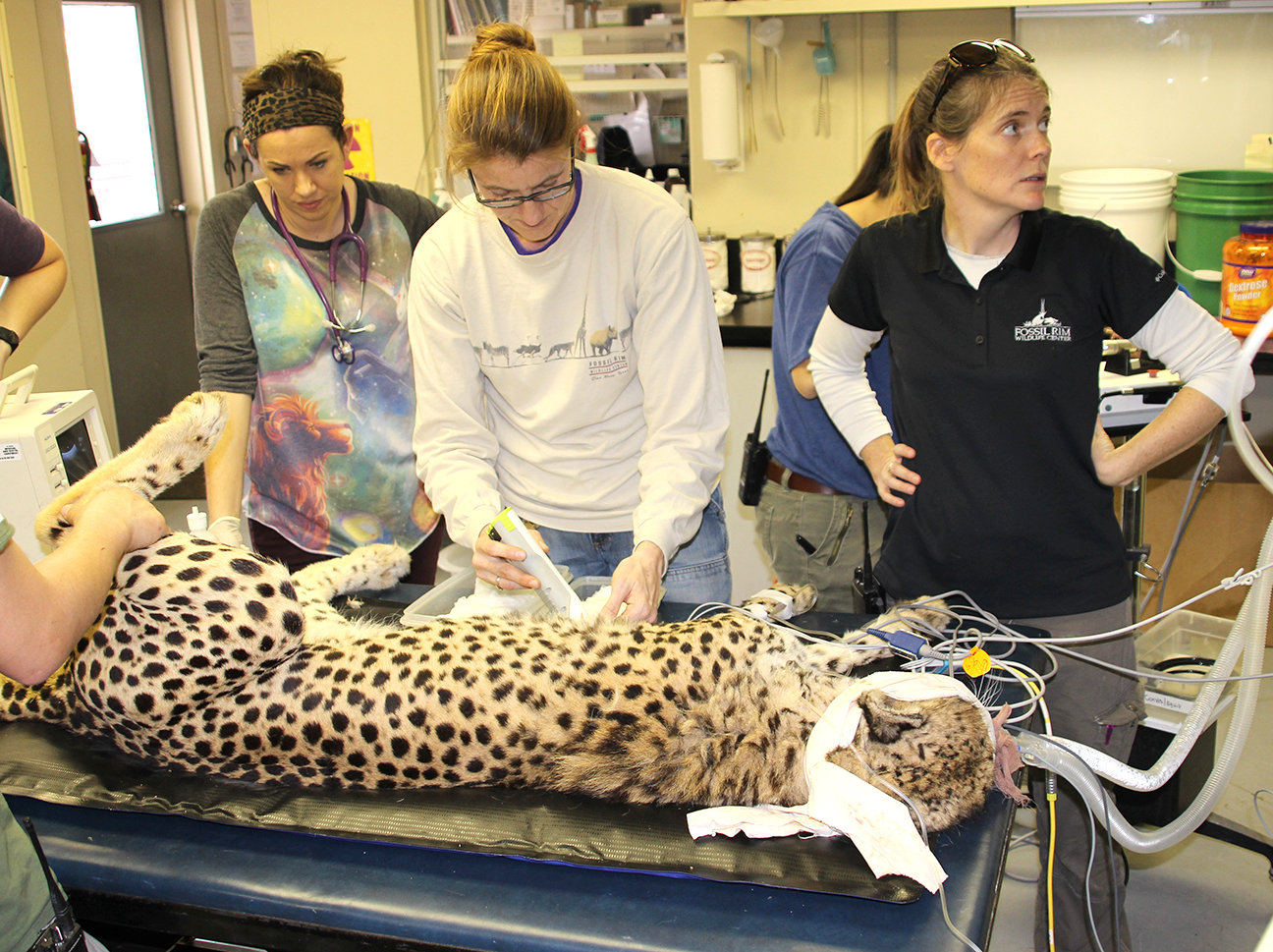 "Moving to Texas for this opportunity was pretty convenient, because I have family in San Marcos," she said.
After graduating high school in 2008, Brooks is on the doorstep of a professional opportunity.
"I spent three years of vet school in the Caribbean," she said. "I'm doing my clinical year at Iowa State now, and I will graduate in May as a doctor of veterinary medicine."
As Brooks explained, many students discover externships like this one at Fossil Rim via word of mouth.
"I was in line getting coffee before an exam, and someone nearby mentioned Fossil Rim," she said. "It sounded really interesting, so I looked into it. It seemed like a great place to gain experience."
The wildlife aspect was a key to her interest.
"I was really excited, because I'd never done any kind of wildlife or zoo work," she said. "I didn't really know what to expect, but it's been a lot more hands-on and busier than I thought. Some people go through zoo rotations and do maybe one procedure the entire time, while we did that almost every day. I think for someone interested in zoo medicine, conservation or research, this is a really great opportunity."
One of her favorite experiences at Fossil Rim came about soon after arriving.
"I really liked feeding the baby (white) rhino the first day I got here," she said. "I know rhino conservation is a huge thing right now and that breeding them is very difficult, so it was a very cool opportunity. I would also point out when I got to be part of transporting a cheetah.
"I was sitting in the (animal health) van with a live cheetah, and it was unreal to think there was an exotic carnivore right there. Then, I got to assist in its health exam."
Brooks worked alongside Dr. Holly Haefele and Dr. Julie Swenson daily at Fossil Rim.
"They have been amazing, "she said. "They both bring different perspectives to the table. I think the most important thing for me was seeing how they deal with different problems, how they weigh pros and cons, and how they bring two ideas together to come to the best conclusion. Everything here is well-managed.
"If something didn't go as smoothly as possible, we always talked about why it didn't and what we could've done. A lot of vets will just move on to the next project, but they walk through it and think about it, which is really valuable. Seeing their interactions will definitely help as I work with other vets, especially considering this was my first externship."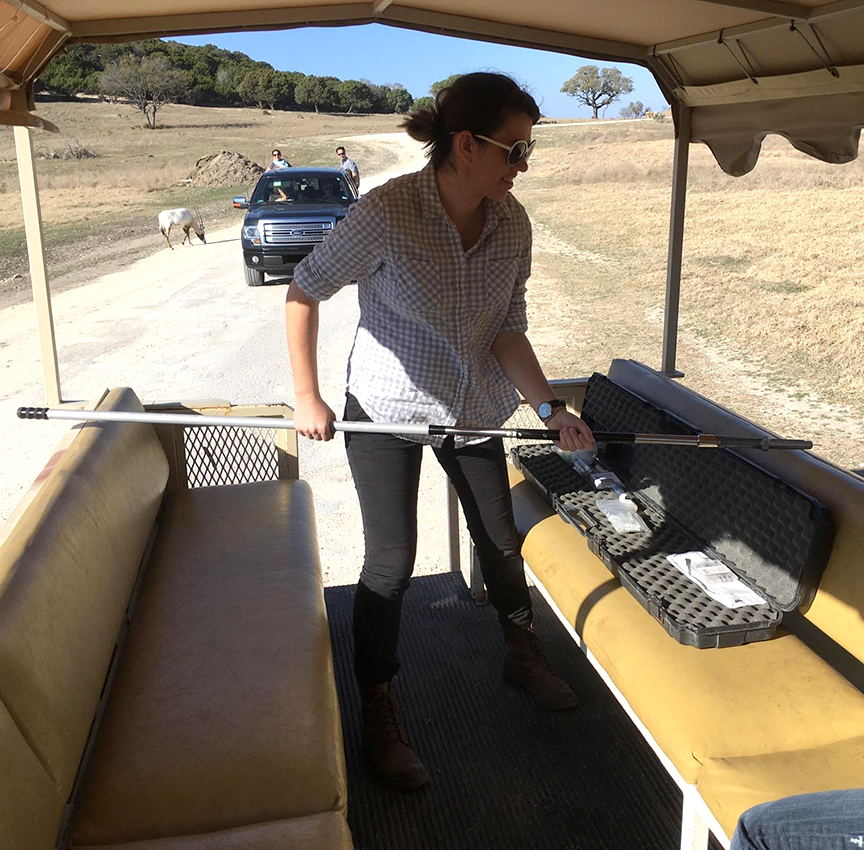 During her last week at Fossil Rim, Brooks gave a presentation to staff, interns and volunteers about moxidectin – a dewormer used at Fossil Rim – and how it could be most effectively administered, as well as reviewing some clinical findings on side effects.
"It is difficult to treat individual animals when you don't have a lot of research on each one," she said. "We've had the debate – is it safer to immobilize each one and give them the drug – are we even dosing it appropriately? Or do we deposit the drug intramuscularly with a dart? That's not ideal, but these are animals you can't put your hands on without immobilization."
Although much of the Fossil Rim experience was new to her, Brooks was pleased when she did encounter some familiarity.
"We had an ophthalmologist come in to look at one of the zebra's eyes," she said. "I've had an ophthalmology rotation already, and it's something I'm really interested in. Also, I see a lot of carryover between exotics and more traditional animals that vets work with, in terms of the drugs that are used or medical issues that arise."
As she looks ahead, the potential career path for Brooks has widened after her time at Fossil Rim.
"I came in with no wildlife experience, so I was uncomfortable dealing with animals I hadn't seen before," she said. "Now, I know how to prepare in many of those situations. I decided to do this rotation mostly because I'm interested in all species. My goal is to be a mixed animal vet, but if I could expand that, I would love to."
Much like her future job description, Brooks is keeping her forthcoming location wide-open, as well.
"I've been applying all over the country – USDA work or maybe mixed animal private practice," she said. "It's still up in the air where I decide to go, and the range of positions I'm interested in has broadened a lot to now include wildlife."
While their purpose for coming to Fossil Rim may differ, Brooks thinks everyone should make the trip.
"You should definitely visit Fossil Rim," she said. "You can drive through at your own pace. You can learn all about it ahead of time via the website or learn in the moment. It's a unique experience you can't get at a zoo.
"For vet students looking for externships, I highly recommend this one. You get a lot of hands-on experience with excellent teachers."
-Tye Chandler, Marketing Associate