Fossil Rim diversifies recycling efforts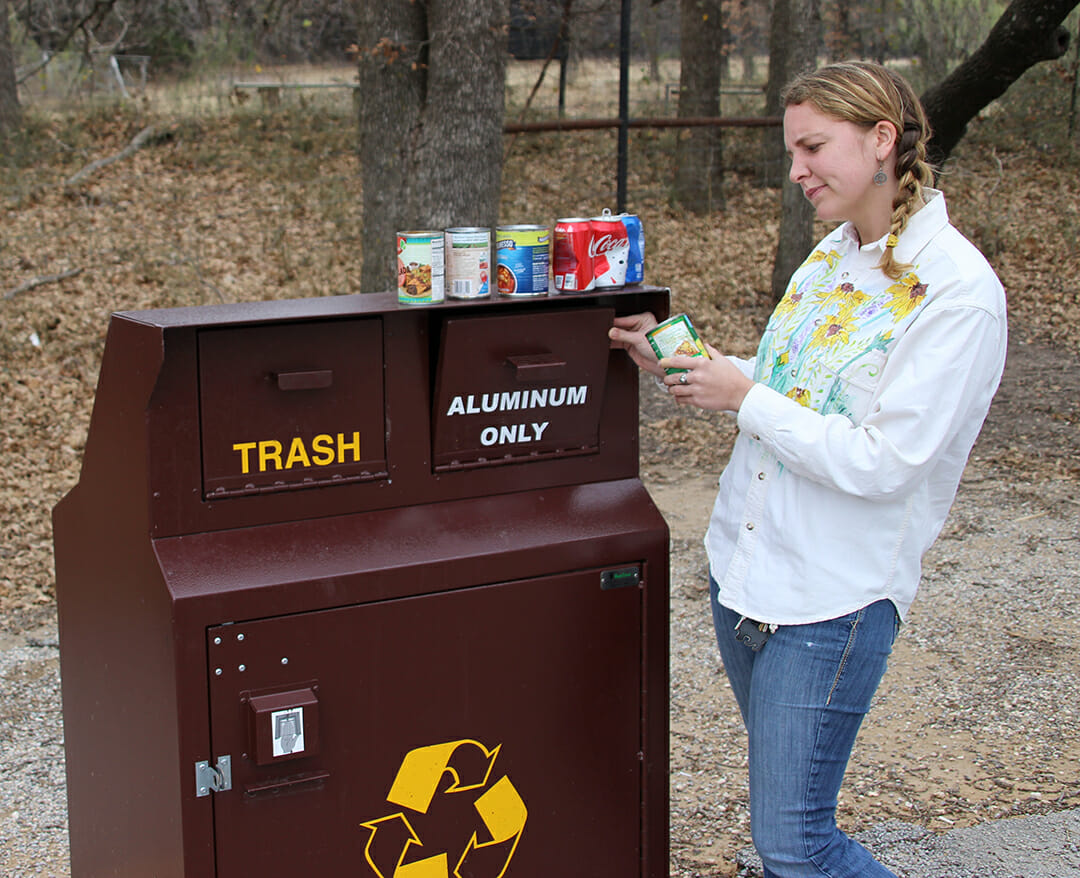 Thursday, Jan. 19, 2017 is National Tin Can Day, and the occasion is more relevant than ever before at Fossil Rim Wildlife Center.
Fossil Rim has been recycling aluminum cans and cardboard for years, but more materials are in play since Caitlin Pyle was hired as recycling and waste conversion coordinator. Beginning in mid-February, Fossil Rim will have a recycling compactor that allows the facility to also reprocess paper, feed sacks, No. 1 plastic (bottles), No. 2 plastic (jugs) and, yes – tin steel cans.
"The ability to partner with GTR Resources in Cresson (Texas) has given Fossil Rim the ability to greatly diversify our recycling reach, which we've wanted to do for a long time, but can be difficult in a rural area," Pyle said. "This is very exciting for us."
Guests may notice some of Fossil Rim's combination recycling and trash receptacles moving to different locations and getting new signage in the months to come.
"One of the great things about this new program is the aluminum, plastic and tin (materials) can all be sorted into the same bin," Pyle said. "That removes a lot of operator error and guesswork from the sorting process."
Some people may not realize how significant tin steel food cans are in America today. They are the most recycled package in the country at a rate of 71 percent, plus they can be recycled repeatedly without a loss of quality.
Americans use more than 100 million tin steel cans each day, and more than 600 are recycled every second nationally. Recycling 2,000 pounds of steel cans conserves 2,500 pounds of iron ore, 1,400 pounds of coal and 120 pounds of limestone for use by future generations. Every pound of steel cans recycled conserves enough energy to power a 60-watt lightbulb for 26 hours.
"Tin Can Day is a time to celebrate the invention of tin cans in 1810, because this was a huge step in the preservation of our food," Pyle said. "Tin cans are still very important today, since food that is canned is food that isn't wasted and sent to the landfill."
Pyle will be holding educational talks and events about recycling for Fossil Rim guests, staff, interns and volunteers. She will strive to implement the full recycling plan over the next three years with the help of Fossil Rim Director of Education Tessa Chenoa Ownbey and Project Manager Louis Pienaar.
"At Fossil Rim, we are going to increase our positive impact as environmental stewards, doing our share to protect the world so that we – and all of the animals we care for here – will continue to have a great place to live," the team said.
-Tye Chandler, Marketing Associate