Lloyd begins rhino career as studies roll on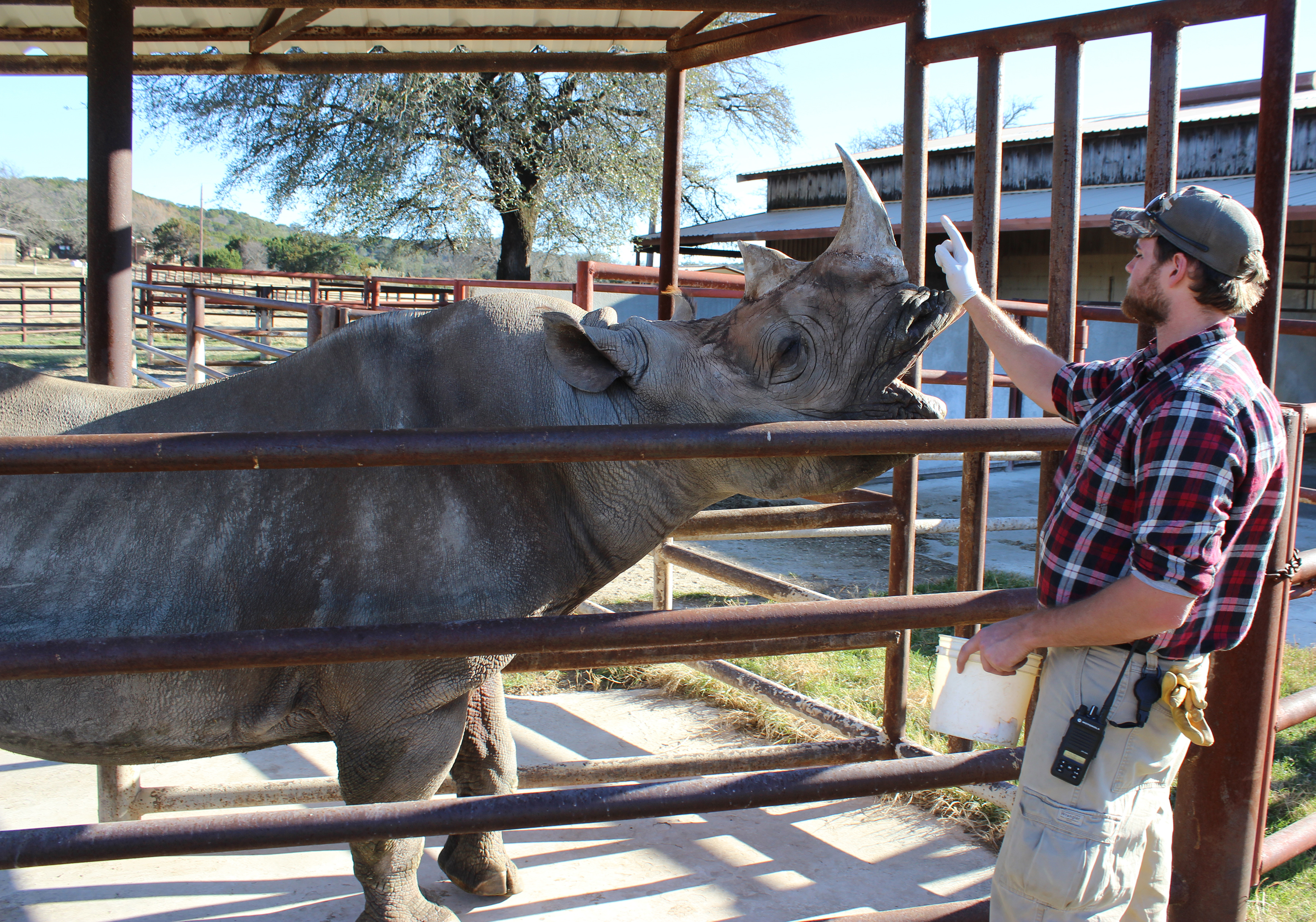 Tim Lloyd may have scored his first paid position in animal care, but that has not slowed down his quest to keep learning as much as possible about the mighty rhinoceros.
The native of Harpers Ferry, Iowa was the black rhino intern at Fossil Rim Wildlife Center from Aug. 15, 2016 until Jan. 1 of this year.
"I grew up on a dairy farm, so I always knew I wanted to work with animals," he said. "In college, I began to pursue being a veterinarian, but my interest shifted to animal science and livestock. From there, my focus changed to exotic wildlife and the husbandry aspect of it."
He graduated from Iowa State with a major in animal science and a double minor in animal ecology and environmental science.
It was one of those "small-world" situations that helped bring Lloyd to Texas.
"My mom actually has a friend who lives in Glen Rose and told her about Fossil Rim," he said. "After mom told me, I thought I'd try to apply for the black rhino internship and work with a third rhino species."
Lloyd had already begun to build rhino experience during his previous internship at Omaha's Henry Doorly Zoo.
"I worked with their reticulated giraffes, white rhinos and Indian rhinos," he said. "From there, my interest in rhinos grew."
Like Fossil Rim, Henry Doorly Zoo is a member institution of the Conservation Centers for Species Survival (C2S2).
"I know C2S2 institutions are very important," Lloyd said. "The Henry Doorly Zoo created a very large exhibit for elephants, giraffes and rhinos. Then, at Fossil Rim you see wide-open areas for herds to roam."
As Lloyd learned at Fossil Rim, black rhinos are quite different than the species he had already come to know.
"Black rhinos are a lot more aggressive than other rhino species," he said. "Plus, they are solitary animals, as opposed to white rhinos. Male black rhinos have their own territories, and females are either solitary or with a subordinate female. Males and females only interact for up to a few weeks during breeding."
On that note, Lloyd gave a presentation on his observations to Fossil Rim staff and volunteers on Jan. 2 – his first day as a paid hoofstock apprentice.
"I began by observing two southern black rhinos put together for the first time," he said about his project on black rhino reproduction. "There was constant fighting. The female was very aggressive, and they failed as a breeding pair. After multiple tries, they were separated and he was placed with a proven breeding female.
"That made a big difference, as they bred within a week and we hope it was successful. There was far less aggression on her part, and it helped him learn what to do."
When the original pair was reunited, Lloyd noted "improved interactions."
"She was still aggressive, but he was calmer in his approach and so there was less fighting," he said. "It was interesting that she was most receptive to his contact when they were separated by a fence."
Prior to his presentation, Lloyd read the notes of previous black rhino interns to gain a better understanding of the history of the species at Fossil Rim.
As hoofstock apprentice, Lloyd will always spend some portion of his day caring for Fossil Rim's rhinos. That includes cleaning up the middens, or substantial dunghills, in their yards. From a broader perspective, he will be on call to help out any other hoofstock staff member as needed.
"I'm still learning a lot about my duties here," he said. "I'm also going to Tarleton State University, working toward my master's in rhino reproduction. For me, the important thing there is to continue to learn more about rhinos and meet more people in that field."
Although his career is only beginning, Lloyd considers it a big step to see "where my life is headed."
"This is my first wildlife job since I graduated in May, and I like it so far," he said.
The apprenticeship requires a stable schedule each week.
"(Hoofstock curator) Adam (Eyres) and (C.O.O.) Kelley (Snodgrass) helped me plan my work schedule of four days per week around my school schedule of three days," Lloyd said. "I'm their first apprentice in a number of years. I'm studying rhinos in school and working with them on the other days, so it's a great way to get experience while I keep learning."
Lloyd credited the team approach of the animal care staff.
"The hoofstock crew has been very helpful," he said. "Adam and (lead rhino keeper) Justin (Smith) always have information on rhinos, so I can go to them with questions. I try to help all the hoofstock staff the best that I can."
The plan is tentatively to maintain the apprenticeship for one year and then see where things go from there.
"The internship was a great experience, and I'm very glad I took it," he said. "Now, this is a big change in my life and it's very helpful to better understand what I'm working toward."
After a few months on the scene, Lloyd has come to realize why Fossil Rim has so many enthusiastic visitors.
"This a very nice place," he said. "It's one of the only places where you can see a full herd's natural behavior, such as grazing, sleeping and playing. I definitely recommend seeing both of our rhino species.
"It does cost a bit more to see the black rhinos, but they are critically endangered. You'll learn a lot about rhinos on a tour here."
-Tye Chandler, Marketing Associate