Fossil Rim camps offer something for everyone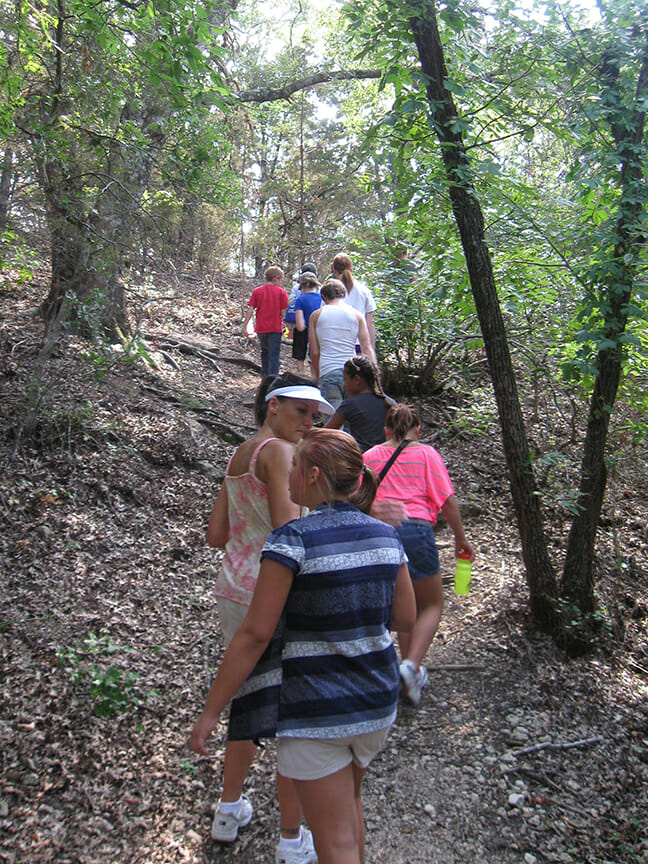 Wolf Ridge Nature Camp promises to deliver a howling good time at Fossil Rim Wildlife Center, if past feedback is any indication.
"When groups come back each year, it is a validation that we are doing something right," said Ellie Helton, Fossil Rim camp manager. "The mission of the education department is to deliver meaningful public education to every group that comes to our camps; I believe that is exactly what we are doing."
There are overnight camps for schools, scout troops that aren't pursuing badges or numerous other groups such as 4-H members. Variety is provided based on the combination of three programs chosen from numerous options.
There are also overnight badge camps designed specifically for Girl Scouts or Boy Scouts.
"We offer a unique opportunity for scouts because they are able to earn badges, as well as learn what a wildlife facility is like," Helton said. "Sometimes it is difficult for these kids to get such an experience in nature when they live in an urban area."
Helton touched on some of the numerous badge options.
"My favorite badge to teach is the Geocaching badge for Girl Scout Juniors," she said. "We take them out on the trails, as well as put together a fun scavenger hunt where they use GPS navigation to find all of their items. It is also easy for scouts to earn animal and habitat-based badges out here; because that is part of the foundation our curriculum is built upon."
Regarding Boy Scouts, Helton said Fossil Rim has the perfect venue for earning the Outdoorsman badge, among others.
As for the program options, Helton highlighted some that have proven to be hits and discussed upcoming changes.
"The kids love to shoot blow darts, and they are fascinated about how we capture our animals," she said. "In our Capture Techniques program, they get hands-on experience of what our veterinary staff does. I think that is what draws them to that program the most.
"Another popular program is our Tracking class. Kids get to learn about animal signs and put that knowledge to work on the nature trails."
Helton talked about the debut of themed camps this year.
"These camps have an overarching theme that is supported with three programs assigned to it," she said. "The themes range from Bugs to Growing Native Plants to becoming a Keeper In Training. These themed camps will make the programs chosen more cohesive to give the kids a better understanding of that topic by the time they head home. These themed camps are booked the same way as regular camps, but it takes away the complication of going through our program list and deciding which ones fit together best."
The amenities at Wolf Ridge Nature Camp are similar to an upgraded safari campout.
"We've been busy with ongoing renovations," Helton said. "Our newest cabins will have bathrooms in them, as well as heat and AC, which makes Wolf Ridge perfect for those who love to camp and those who prefer to be at home away from home. For people looking for the full-on camping experience, we are in the process to allow tent camping in the upcoming year. This will allow groups to come and set up as many tents as they would like for a flat grounds fee."
Guided nature hikes are a staple of the Wolf Ridge experience.
"Our hikes are one of the first things we do at every camp," Helton said. "The kids are getting off the bus or out of their cars, and they are ready to move. They get to see some of the native plants and start to get an idea of what Fossil Rim is all about. For kids who have never seen some of the traditional Texas plants before, such as the yucca plant or Ashe juniper tree, so it is fun to introduce them to these plants that are so close to a Texas outdoorsman's heart."
The ever-popular guided tour is done for campers as well.
"As educators, we could teach until we are blue in the face, but the animals are what bring the people to Fossil Rim," Helton said. "Each camper gets to take a tour through the park in one of our vehicles with a cup of food. The guided tours allow our campers to have an experience with animals that they may have never seen in this type of setting."
S'mores are a tasty option for overnight campers.
"We always try to end the night with a campfire," Helton said. "Whether it is in one of our fire rings or inside our stove, there will always be a fire to roast marshmallows over."
Speaking of food, mealtime can be downright delicious at camp.
"The Overlook Café caters lunch and dinner for our camps, so it isn't your average camp meal," Helton said. "The best way to end a day of conservation education is with a warm plate of lasagna with buttery toast. In the morning, the menu normally consists of eggs, sausage, hash browns and biscuits. Groups also have the option to buy sack lunches for camp, and they consist of a sandwich, chips, animal crackers and a drink."
The camps are generally run by Helton and the education interns, but education staff members Katie Hunholz, Mark Phillips, James Morgan and Tessa Ownbey, director of education, also contribute as needed.
"It takes a lot of hands to run some of our camps, and I could definitely not do it alone," Helton said. "The education team is high-energy and driven to continue to make camps bigger and better."
Helton stressed the importance of planning well in advance to partake in the Wolf Ridge experience.
"Camps fill up very quickly, especially in the spring and fall," she said. "To ensure that you are able to schedule the exact day you want, we suggest you book your camp at least four months in advance. This also gives us plenty of time to plan and make your camp the perfect experience for your group."
For more information on the overnight experience at Wolf Ridge Nature Camp, email education@fossilrim.org or call 254.897.2960.
-Tye Chandler, Marketing Associate