Monson morphs internship into hoofstock career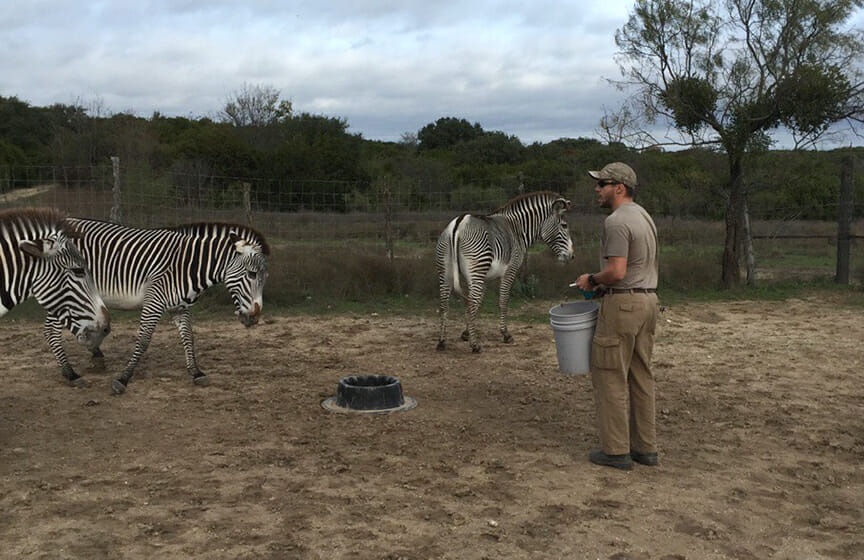 It is always nice to begin your target career before your collegiate efforts are complete.
This is the enviable situation Mike Monson finds himself in at Fossil Rim Wildlife Center. Set to earn his Master of Science degree in biology from Cleveland State University before 2017 arrives, the Connecticut native began his tenure at Fossil Rim Dec. 12 as an animal care specialist – hoofstock.
"It's exciting," Monson said of his position at Fossil Rim. "I get to continue doing what I've been doing the past three months, but now I have more long-term goals of working at Fossil Rim to support conservation efforts as a full-time staff member. Back in Cleveland during college, I knew I wanted to end up somewhere like this."
The "three months" are in reference to his Hoofstock Behavior and Husbandry Internship at Fossil Rim from Aug. 22 to Dec. 11. Monson recalls his summer arrival to Fossil Rim and to Texas in general.
"For one thing, it was a lot hotter than I expected," he said jokingly. "It made me see how much Fossil Rim can do with a small staff compared to a traditional zoo. There are five animal care specialists, two interns and an animal care support staff member for about 1,000 (hoofstock) animals here, as compared to five keepers for about 50 animals during my time at the Cleveland Metroparks Zoo. It's amazing to see how a C2S2 (Conservation Centers for Species Survival) institution operates differently."
A chance meeting in Illinois led Monson to Fossil Rim.
"I met (Fossil Rim animal care specialist – hoofstock) Molly (Shea) at the (2016 International) Giraffid Conference, so I had the opportunity to talk to her there and learn what Fossil Rim was about," he said. "That led me to apply for the internship. The first couple of days here stand out to me, because there was a lot to sink in – learning all the species names, feeding procedures and such. I had a little bit of experience with giraffes, zebras and bontebok before coming here, but the way animals are managed here is completely different from what I'd experienced at a zoo."
During his college years, Monson was a consistent presence at the Cleveland Metroparks Zoo – the location of his other internship.
"I did my master's thesis on a diet change with their giraffes, beginning my research in the fall of 2013," he said. "I worked with a familiar animal care team of people, because I'd been volunteering at the zoo for years, which made it a very comfortable situation. I finished my thesis in June 2016, and did my internship at the zoo from June to August."
At Fossil Rim, Monson now steps in for Michael Birt, former animal care specialist – hoofstock, who has taken a position working with interns, research and marketing at the wildlife center.
"I'm still transitioning and being taught the smaller, finer details," Monson said. "I'm taking on a lot more responsibility. When I was an intern, Michael was accountable for me and himself, but now I'm accountable for everything that happens. The rest of the hoofstock staff members trust me."
Like his coworkers, Monson has his areas of focus.
"I'm trained to work all the pastures, but we each have areas we specialize in," he said. "Michael knew the pens (by the vet clinic), Retirement Pasture, Grevy's (zebra) Pasture and Buffer Pasture very well. I will deal with all types of animals in the pens, as they will come from all different areas of the park."
Monson shared his thoughts on the other members of the hoofstock staff.
"Well, Molly told me about Fossil Rim in the first place, so I definitely credit her for that," he said. "Becca (McLachlan) has a lot of experience at multiple C2S2 institutions, so she's been a great help. Justin (Smith) knows a lot about working with animals and shares a lot of details that can be helpful. Adam (Eyres) and Kelley (Snodgrass) both have decades of experience, so there is always something new to learn from them.
"Michael did a really good job explaining to me why certain things were done. By the end of my internship, he'd elevated my (knowledge) base so that I felt comfortable transitioning into his position. He progressively built up my duties during that time.
"Everybody on the staff brings something to the table and has different experiences to share, which helps all of us and allows for a lot of good ideas within animal care."
There is also the aspect of teamwork with Fossil Rim staff beyond the animal care department.
"I've seen how the different departments here really help each other to get things done," he said. "People feel comfortable asking for help when they need it, and I think that's helped create strong community support, which is shown by our volunteers."
The interaction between the animal care and animal health departments is absolutely essential to the facility's success.
"(Dr.) Holly (Haefele, director of animal health) was one of my supervisors for my research project, so I was communicating with her often," Monson said. "And I communicate with the vets in general often because they need to check the status of different animals. We work with the animal health department a lot."
At the conclusion of his internship, Monson made a project presentation to Fossil Rim staff and volunteers.
"The staff here is always trying to improve the level of animal care they provide, so it makes sense to have research projects that help inform management on how to best manage these species," he said. "I think it's pretty cool that they trust interns enough to utilize their project findings in management decisions. Essentially, I found that a spring birthing season is better than a fall birthing season regarding the survivability of young sable (antelope).
"Because we rotate intact and vasectomized bulls in the herd, they can target a certain timeframe (for conception and thus births). It's great to have the data to support the decisions made.
"Dr. Jane Packard has been a great help in advising me on my research here. She brings a lot of experience working with Fossil Rim and has published several scientific articles based on the work done here."
The term "hoofstock" covers a wide array of species, and Monson is pleased his career will focus on this segment of the animal kingdom.
"I like the variety of animals that hoofstock covers, and how they adapt to different environments," he said. "Two animals that can look very similar may require very different care. With so much open space at Fossil Rim, you see so much more social behavior from the hoofstock here. I had previously been around a herd of four antelope, and obviously these herds are much larger.
"Fossil Rim has such good breeding success because of that space, which is great for these species overall. It's fulfilling the mission of a C2S2 institution."
Monson was asked what he thinks of Fossil Rim's mission in particular.
"I think it is great what Fossil Rim and C2S2 members like it are trying to do," he said. "The way they manage their animals provides opportunities to observe breeding and social behaviors you don't see at a traditional zoo. Then – you consider the efforts Fossil Rim made for the scimitar-horned oryx reintroduction to help a species survive – it doesn't get any more important than that."
One who enjoys the subtleties of animal behavior, Monson recommends a visit to Fossil Rim for anyone of a similar ilk.
"You have time to look at every single animal, which gives you the chance to see those herd behaviors," he said. "You see the interactions between different species, which is really cool."
-Tye Chandler, Marketing Associate