Smiles speak volumes at Dream Day 2016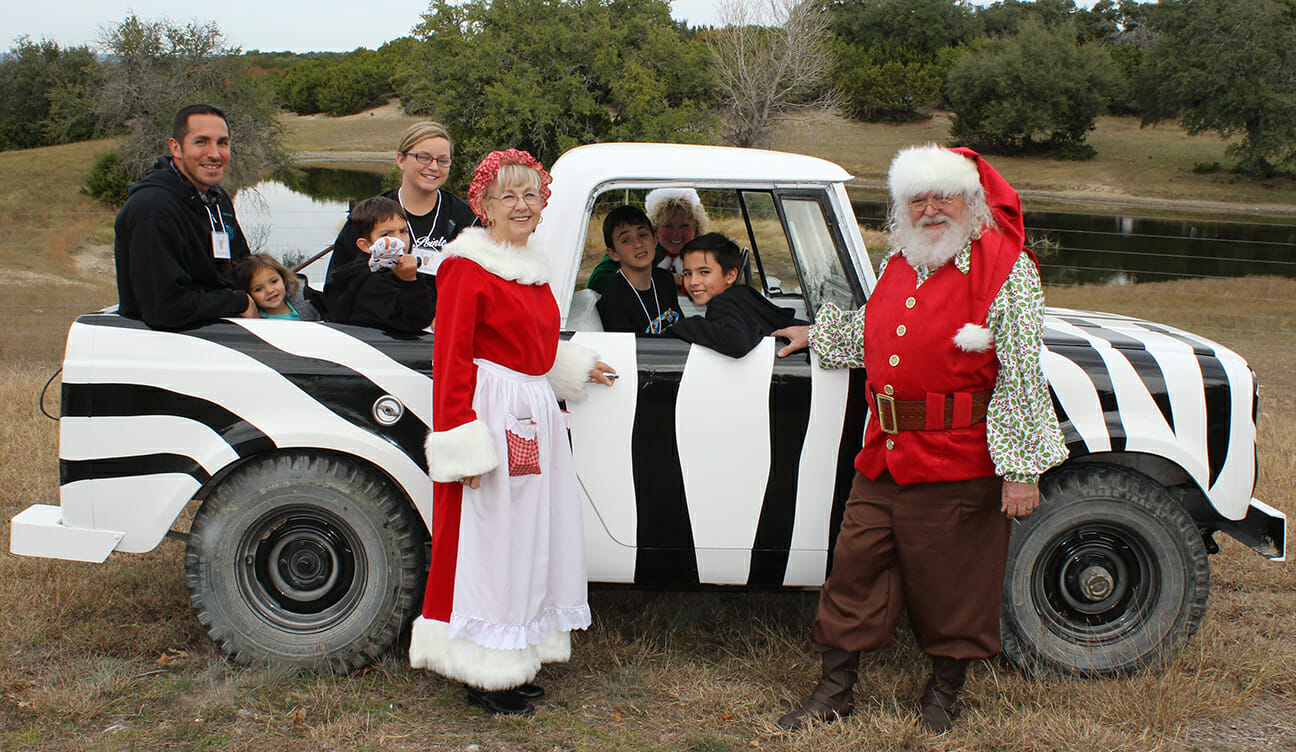 Each year in early December, Fossil Rim Wildlife Center tries to create a memorable occasion where the forecast calls for fun during its "Dream Day" for a select group of local children.
For the 10th anniversary of Dream Day, the wildlife center hosted Isaac Turner (age 13), Quinn McClure (8), Logan McClure (6) and Penny Hughes (6), plus their families. The children have been diagnosed with autism spectrum disorder (ASD), which affects one in 68 youth.
"Every child is awesome," said Lynn Rogers, Fossil Rim development coordinator. "The thing about autism and each person on the spectrum – they aren't the same child every day, in terms of where they are on the spectrum. It's very important to greet these kids. Say 'hello' to them so they know you are including them in conversation, and be affectionate if they are receptive to it."
All of the young guests seemed to enjoy the event very much, if their expressions were any indication. The day began with the families arriving at the park entrance, as they were met by Santa, Mrs. Claus and the Elf riding atop a Somervell County firetruck.
"It's exciting," said Shirley Smith, who plays Mrs. Claus, of the grand entrance. "There's still a kid inside me saying 'what, I get to ride on a firetruck?' Just to see the faces of the children and their excitement is wonderful. The parents are enjoying it, too. It's a special day."
Smith, who worked at Fossil Rim in 2006 and has been a volunteer since then, was in her Mrs. Claus outfit for her sixth-straight installment of Dream Day.
"One of the things I really try to do is stay back and let Santa be the priority," she said. "That's who the kids are really here to see, and I know that. Not all kids know what to think of Mrs. Claus, so I always ask ahead of time if I can have a hug.
"When (fellow volunteer) Sara (Paulsen) joined 'Santa' Dan (Broyles) and me as the Elf, it took us to another level. As for Dream Day, it is about these children coming out to enjoy a magical place."
Before the families headed off for a guided tour, Fossil Rim's Dr. Pat Condy, executive director, addressed the gathered crowd. He encouraged the families to enjoy the day and thanked all of Fossil Rim's cosponsors for the event: Glen Rose Veterinary Clinic, Lake Pointe Academy, Luminant, LDL Education Resources Foundation, Glen Rose Medical Center, and Texas Parks and Wildlife.
"It's encouraging to see the consistent support from our community sponsors," said Rogers, who organized the festivities. "They step up and help us out at the end of the year when they've already given so much. It means everything to be able to count on them as we enjoy this special celebration with these families."
Just in case anyone was a little chilly on this December morning, Tours Manager David Whiting and Chris Paulsen, a volunteer, tracked down the open-air van early on during the tour in the Main Pasture to provide blankets. For Beverly White, a volunteer, her role for the day was notable as tour guide to teach the families about Fossil Rim.
"This is my second time to be part of a Dream Day tour, but the first time I am the guide," she said. "The kids look like they're having an amazing time, but I even like looking at the parents. It seems like they are relaxed and having fun.
"When they caught up with us to bring blankets, it was one of the many examples of the group effort at Fossil Rim. People feel like a part of something bigger than themselves and feel a passion, no matter what role you play."
With several of the guests enjoying their first visit to Fossil Rim, White recalled what it was like for her.
"We started coming here in 1996 with our two youngest daughters, and just to watch them seeing animals in their natural setting – I see the same excitement in these kids that I saw in my daughters," she said.
After some of the pastures had been visited on tour, the van headed to the EcoCenter. There, the children built enrichment items for some lucky goats and a pot-bellied pig at the nearby Children's Animal Center.
"We were talking to him about going to see the animals and that it would be a very special day for him," said Kiason Turner regarding his son, Isaac. "I think he understands all of it. For him, the challenge is being able to communicate. But he's been very excited about coming today; you could see it on his face.
"He really enjoyed seeing the giraffes and also feeding the ostriches when he put the food pellets along the rail of the van. He was a lot smaller the last time he visited here."
Isaac's three younger siblings were also there to enjoy the day with him.
"This was the first time for some of my children to visit Fossil Rim, but they're all having a great time," Turner said. "Isaac is a good big brother; at times, he'll make sure they have food for the animals and that they can see everything that's going on."
As he watched his children construct their enrichment item, Turner was a happy dad indeed.
"This is incredible," he said. "I love what Fossil Rim is doing with Dream Day. I didn't know anything about it before, but I think it is outstanding what they're trying to accomplish. Plus, this place is right in our backyard."
Karen Buren had similar sentiments of joy, as her granddaughter Penny was frequently all smiles.
"Penny has been here once before," Buren said. "We kept telling her it was Dream Day; she would go to the zoo and see Santa Claus. So she talked about it a lot, for sure."
A comment Buren made gave credence to what Smith had stated minutes earlier.
"Penny loves the animals, but she's fascinated with Santa," Buren said. "We moved to Glen Rose a couple of years ago, and we often bring our guests here. It is awesome to see these kids this happy. This is a great thing to do for them and a special day."
For Ellie Helton, Fossil Rim camp manager, she helped oversee the construction of the enrichment items. The 10th version of Dream Day marked the first for the new staff member.
"It's cool to see all the kids get engaged in a way that might be difficult in a huge group of people, compared to our event for a Wish with Wings, for example," Helton said. "Even with the educational programs we have, the tour is always the highlight. It's Fossil Rim, so it's the animals that are the stars of the show. The enrichment is super fun because the kids can make something for the animals and then watch them enjoy it."
Helton appreciated the all-hands-on-deck approach from the staff.
"Being new here, I don't know a lot of people," she said. "This event has allowed me to meet so many staff members and volunteers and see how other departments function, plus the teamwork between departments is so important for us. We came together to get it done."
After the animals tore up their enrichment items in delight as they searched for hidden treats, the tour resumed. White made sure to inject humor into the excursion, as evidenced by her comment about nearby zebras.
"Now, as women, we would never wear horizontal stripes on our rumps," she said to more than a couple of chuckles.
After feeding a giraffe on top of Cheetah Hill among many other experiences, the tour wrapped up and the van headed to Foothills Safari Camp for lunch and the presentation of presents. The children dined on longtime youth favorites like pizza, chicken tenders and French fries before each gleefully took their turn on Santa's knee to see what their first wrapped gift of this holiday season would reveal.
After some festive family pictures inside Paulsen's zebra-striped truck with Santa and his crew, the guests hopped back in the van and were transported to the Front Gate to conclude a day dreams are made of.
"It takes a lot of our staff to cover all the bases – gifts, food and carry out all aspects of each year's Dream Day plan," Rogers said. "Teamwork is very impressive here. Even if we don't always normally interact with each other across departments, the most crucial part of making Dream Day a success is coming together for a common cause. It's touching to see the enthusiasm from our staff, sponsors and in-kind sponsors alike."
-Tye Chandler, Marketing Associate