Newby shares insight on Sahara Conservation Fund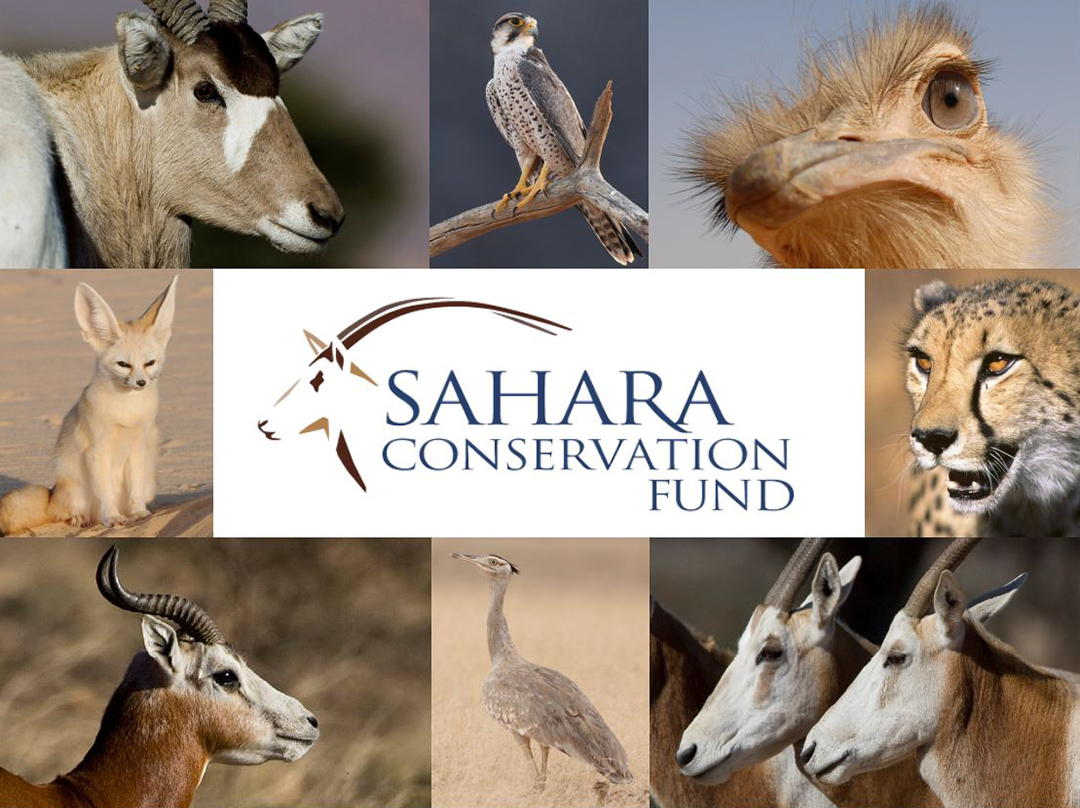 The Sahara Desert may be on the other side of the world, but it seemed much closer to Fossil Rim Wildlife Center thanks to a special visitor Sept. 12.
John Newby, founding CEO of the Sahara Conservation Fund (SCF), blended a broad overview of the organization with very specific details for Fossil Rim staff, interns and volunteers.
"It's great to be back at Fossil Rim," he said. "It's been more than two years since my last visit. I'm very thankful for the support we get here. Not only is Fossil Rim a technical partner, especially on the scimitar-horned oryx reintroduction program, but also Fossil Rim has provided valuable core funding for a number of years to help keep our organization going."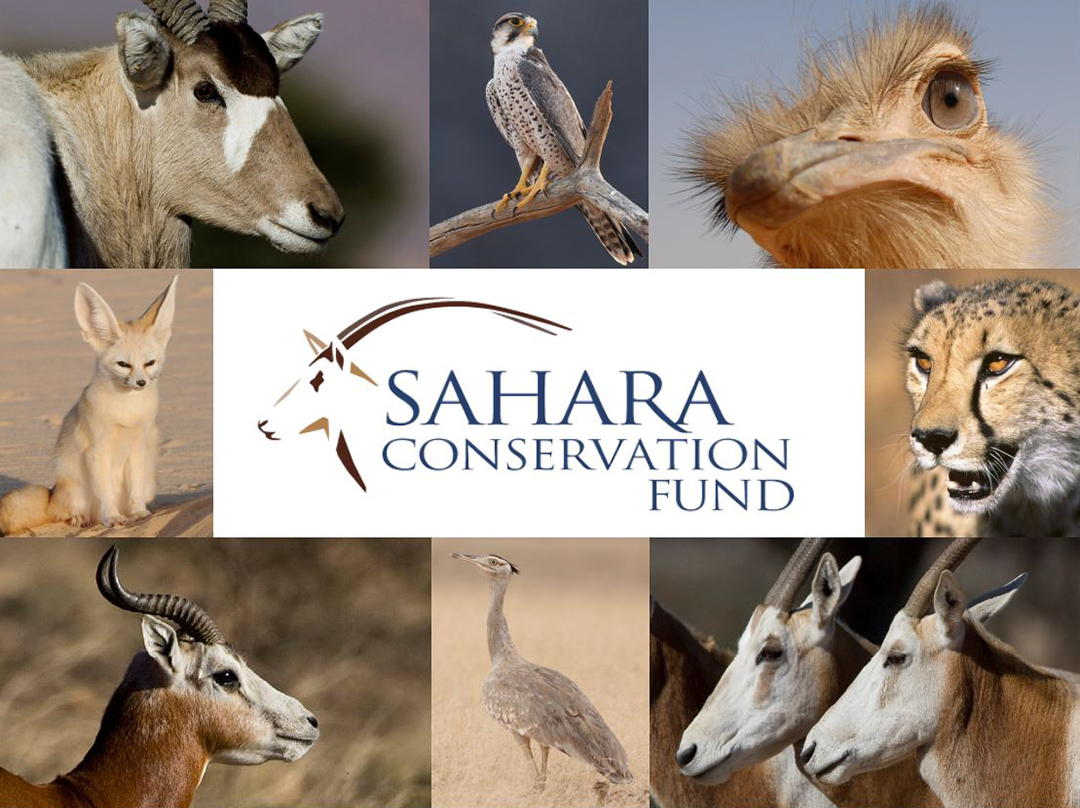 Located in North Africa, the Sahara is the largest desert on Earth at approximately four million square miles, or about 20 percent of the continent's land.
"Some parts of the world get ignored, which can be the case for a desert," Newby said. "That's one of the reasons SCF exists – to save endangered species that don't get global attention. There's a lot of natural beauty in some deserts, but people tend to use terms like 'barren wasteland.' We try to show people these places are worthy of our interest as conservationists.
"There is a lot of sand, but also a lot of wildlife diversity. The Sahara has mountain ranges covering nearly one-third of it, and thus some water. There are even a few places where crocodiles can be found."
SCF was established in 2004 in order to make the region a priority conservation zone. It is registered in the U.S. as a 501(c)3 nonprofit. The organization's administrative home in America is at the Saint Louis Zoo, which Newby calls a "great longtime supporter."
He said the wildlife has adapted to the uncertainty of when and where it will occasionally rain through the mobility of migration. Adaptations to desert life include plants, as well.
"Within 48 hours of rain, plants have started to germinate and will grow well if water is present," he said. "When a plant becomes stressed due to lack of rainfall, it will start producing flowers and seeds very quickly. They are driven to produce for the next generation, and many of these seeds are so tough they can last for decades in some cases."
Since some portions of the Sahara may only receive rain 2-3 times per year and hundreds of miles apart, the larger desert species are very "space hungry." Any obstacle to that movement is detrimental to survival, such as a road or fence, for example.
"A protected area was recently established in Niger that's the size of Indiana," Newby said. "It's virtually impossible to properly manage that area, but it's great for them to have the vast space."
Surrounding the Saharan region is a relatively thin strip known as Sahel, which includes more plant life and thus greater wildlife variety. Newby compared the Sahel to the grassland prairie of the American Midwest.
Newby discussed reptiles of the Sahara, including the African-spurred tortoises like the pair at Fossil Rim's Children's Animal Center.
"Some reptiles in the Sahara will hibernate during the hottest months of the year," he said.
He mentioned there are more resident bird species in the Sahara than someone might think. Some species SCF works to protect are lappet-faced vultures, endangered North African ostriches and Nubian bustards.
"Lying between Europe and tropical Africa, the Sahara is crossed twice every year by millions of migrating birds," Newby said. "Most capitalize on the seasonal abundance of seeds and insects."
Carnivores under the SCF umbrella range from the very small – fennecs – to larger species like cheetahs and striped hyenas.
"Some people raising livestock will try to poison those larger carnivores and end up primarily killing other animals," he said.
Beyond the Saharan cheetah, the other three critically endangered species of SCF concern are actually all hoofstock varieties that can be found at Fossil Rim: scimitar-horned oryx, addra (dama) gazelle and addax.
"There are great collections of these ungulate species at Fossil Rim," Newby said. "These are so important, because without captive populations these three species in particular would be virtually extinct. It's fantastic for these species to find representation at Fossil Rim, considering this place gets nearly a quarter of a million visitors per year."
Scimitar-horned oryx were only reintroduced into the wild in August, and Newby said addra gazelle and addax are the next two hoofstock species in line to be threatened with extinction.
A scimitar-horned oryx is actually the logo of SCF for multiple reasons.
"It's a symbol of hope, but also recognition of its status as a species that had been extinct in the wild until recently," he said.
Newby provided an update on the scimitar-horned oryx reintroduction in Chad Aug. 14, which came from a larger collection in Abu Dhabi that Fossil Rim contributed to.
"It's the wet season, so they have water and vegetation," he said. "It's going to be really interesting to see how they adapt to the dry season. We left gates open and a permanent water source in the holding pens, so they can come back if they need or want to. Otherwise, they'll function on their own as wild animals."
Among the 23 released, a group of 21 are roaming the Sahara, while a male-female pair chose to remain at the release site.
"We are not worried that those two animals didn't leave, because now if anyone visits the release site, they will be able to see actual oryx in Chad once again," Newby said. "Plus, they'll have another chance to leave during the release of future groups. We let this group choose when to leave, because we want them to keep favorable sentiment about the release site. Then, hopefully they feel comfortable to come back."
Newby anticipates the next scimitar-horned oryx release to occur in November with another one to possibly follow in January.
"We hope to release up to 250 over the next three years to pump up the population and have them reproducing in the meantime," he said. "We are learning how they adapt to this difficult environment and how strong their natural instincts still are as we go along."
On a personal level, Newby is very encouraged about this reintroduction thus far.
"I told the President of Chad this is a homecoming for his animals, because that's where the world's captive scimitar-horned oryx originated from," he said. "'Chadians are coming back home.' The natural heritage for these native people is a key factor."
Newby expanded on the social component of conservation, which he stressed is more important than anything else.
"There are some people in this area the oryx roam who are raising livestock and sinking wells," he said. "Our job is to integrate conservation into that development. It's important for us to understand the local people and their perspective.
"We've found this oryx species has iconic cultural value, so it's been relatively easy to create common ground with the government and citizens. Many people are still alive who knew the animal when it previously roamed in the wild."
For the scimitar-horned oryx and other wildlife of the Sahara alike, Newby detailed the reasons for population decline.
"Overhunting is the big one," he said. "Wildlife is very vulnerable in wide, open spaces. Consider these hunters have four-wheel-drive vehicles and automatic weapons. The extinction process happened very rapidly for many species."
Newby also mentioned habitat loss due to livestock development and desertification resulting from climate change.
"But when it does rain it brings in more agriculture, so it's a double-edged sword," he said. "There's new development with oil extraction when prices go up. Beyond all that, civil unrest makes it more difficult for conservationists to work in an unsecure area, so having local partners is very important in potentially dangerous locations."
As it turns out, Newby was not in Texas just to visit Fossil Rim.
"I'm visiting some Texas ranches with addax as SCF tries to develop a major initiative to save the addax from extinction in the wild," he said. "Many of those landowners are both conservationists and wealthy, so I am investigating if they are willing to donate animals or funds to a reintroduction. We plan to protect the few remaining wild addax, while also injecting new animals to the mix – there's no time to lose."
Newby said the most significant cost consideration is actually shipping addax from the U.S. to Africa. He is trying to expand SCF as an organization, which means increasing its presence in Europe to pursue donations.
"Our job is to develop awareness, not only with the public, but with big development agencies having the potential to support our conservation work," he said.
Learn more about SCF at saharaconservation.org and like the organization on Facebook at "Sahara Conservation Fund." Contact SCF at scf@saharaconservation.org.
First, a scimitar-horned oryx reintroduction and now one for addax in the works – with ambitious, well-intentioned partners like SCF in the mix, Fossil Rim will continue to do everything it can to carve a prosperous path for the world's wildlife.
-Tye Chandler, Marketing Associate