New internship exceeds expectations for Rosenbaum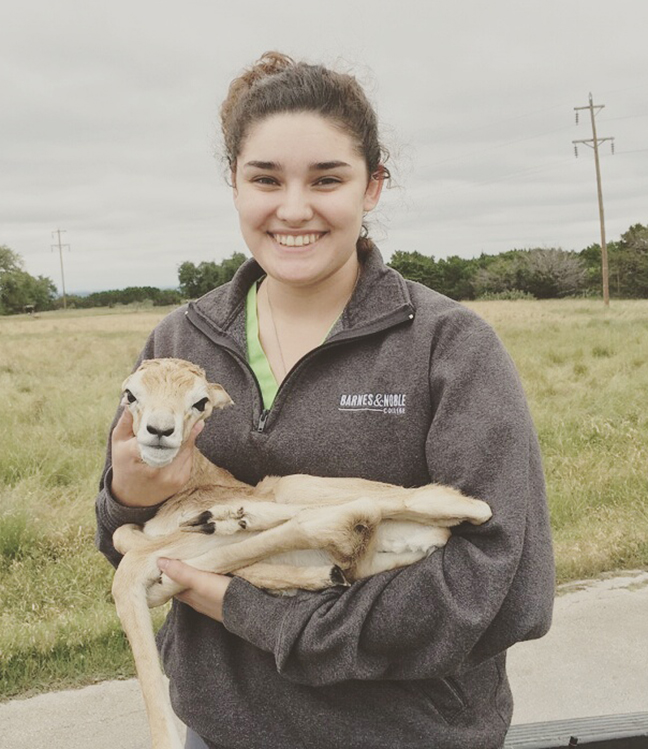 As a young twentysomething navigates his or her career path, uncertainty is often the name of the game.
When Morgan Rosenbaum arrived at Fossil Rim Wildlife Center May 16 as a veterinary technician intern, so many questions crowded her mind. Fortunately, some of the most important answers came in a hurry for the native of Beeville, Texas.
"I didn't know what to expect," Rosenbaum said. "I was very nervous, especially because it was 13 weeks away from home. What if there were factors to prevent it from being a positive experience?
"Was I going to learn or just be cleaning up? Then, I got here, and within my first two days I thought 'I don't know what I was worried about.'"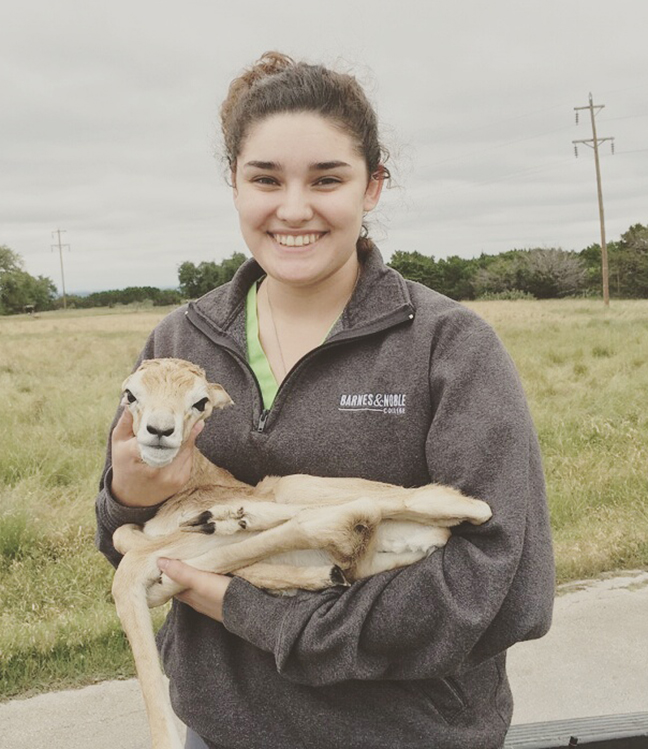 Lindsay Cosmi, veterinary technician, Dr. Holly Haefele, director of animal health, and Dr. Julie Swenson, associate veterinarian, were key figures in her swift reassurance.
"Lindsay, Julie and Holly were amazing, and the other interns I got to hang out with were great," Rosenbaum said. "I had never lived in a dorm-like situation before, and it was wonderful. When people from school have asked, I've told them how terrific it's been. It was a big surprise."
As it turned out, the surprises started well before Rosenbaum made the trip to Glen Rose from Texas A&M University-Kingsville. She had just wrapped up her junior year while pursuing her bachelor's degree in veterinary technology.
"For school, we have to do two internships – one during the summer before senior year and a second one over winter break," she said. "Each one has to last three weeks. My professor pointed out this internship, and it was the second one I'd applied for. Two weeks before my junior year ended, I got an email saying I'd been accepted here.
"It was a shock because I didn't expect to be accepted for a paid internship with housing, so of course I was going to do it. Right after that, the other facility I applied at told me their internship had been cancelled, so it was a miracle it turned out like it did."
Beyond the three required weeks, the other 10 were essentially bonus time for Rosenbaum to continue to log experience at the vet clinic and in the field. She recalled a memorable phone call to Cosmi.
"I called Lindsay before I arrived and asked how many other vet tech interns I'd be with," Rosenbaum said. "She said 'none, it's just you. You're my first one.' That was so much pressure."
Rosenbaum would remain at Fossil Rim until Aug. 12, and during that time she learned alongside three different veterinary preceptees.
"The cool thing about Fossil Rim is that in school you always hear the big separation between a vet and a vet tech," she said. "When I got here, I was lucky enough to work with vet preceptees who wanted to learn the tech's job. I've heard that the best vets at least appreciate the role of the vet tech. The preceptees did almost everything with me and wanted to learn, which helped me as I practiced teaching them.
"Oftentimes, if we were drawing blood, (preceptee) Kira (Hydock) and I would take turns. Julie, Holly and Lindsay are great about making sure we take turns so everybody gets experience. We each have a list of all the animals we've drawn blood from in our time here.
"Especially here, I do a lot of the same activities as the preceptees. I was taught in school that I would do everything the vet does except prescribe, diagnose, prognose, perform surgeries and attest to the animals' herd health."
Rosenbaum shadowed Cosmi as best she could.
"I did everything Lindsay does: entering neonate exams, fecal reports – so many fecals, filing, drawing blood, bloodwork and more," she said. "I placed my first catheter, which was cool. I would set up all the (surgery prep). There was a lot for me to do with the (Attwater's prairie chickens during chick season) – anything I could do to help."
It sounds like the first time was the charm for Cosmi as intern mentor.
"It has been amazing," Rosenbaum said. "Lindsay is literally like a teacher in school. I warned her before I got here about how many questions I would ask, because I wanted to make sure I'm doing it 100-percent right. She has never been impatient or frustrated, no matter how many times I ask.
"Like with the catheter placement, I hadn't learned it in school, but she let me watch her and then walked me through it. Even though she had 100 things to do, she stayed with me until I had it. To know I was her first-ever intern, she did great."
Considering she often learned alongside the preceptees, Rosenbaum was frequently taught by the veterinarians.
"I also told them I would have a lot of questions, and they were also patient to walk me through it," she said. "Taxonomy is something that I don't really learn in school, for example, but I got quizzed on it every van trip with Julie and Holly. I made a guide of Fossil Rim animals with the pasture location and taxonomy of each species. I have been very lucky to get to work with all three of the animal health staff."
In her final week at Fossil Rim, Rosenbaum gave a lunchtime presentation to staff, volunteers and fellow interns.
"For school, I had to pick a case study report for each one of the first three weeks I was here," she said. "I knew I was going to pick 'Sarita,' because I truly do love wolves. They were what I was most excited to see when coming here."
Sarita was a Mexican gray wolf that resided in Fossil Rim's Jim Jackson Intensive Management Area from 2006-2016.
"For my presentation, it began with Sarita's history prior to her recent decline in health," Rosenbaum said. "It wasn't an easy decision (to euthanize her), but it was the best option because of how her quality of life deteriorated in just a matter of months. My presentation was primarily about what was discovered in her necropsy."
Rosenbaum noted a couple of memorable experiences of a happier nature at Fossil Rim.
"I got to hold baby cheetahs, and that was amazing because I didn't think I would ever get to do that," she said. "Just being with the vets, Lindsay and the preceptees, joking around, was my favorite part of the day – especially in the van when I'd get picked on. You only get picked on if they love you, so apparently I'm very loved."
Essentially opposite from the senior year of a vet preceptee, Rosenbaum's senior year will be spent entirely in classrooms outside of her winter internship between semesters. Perhaps as important as anything during her time at Fossil Rim, Rosenbaum gained clarity about her future.
"I knew I was interested in a zoo or wildlife field when I started applying for an internship," she said. "Soon after I got here, I was sure becoming a veterinary technologist is what I want to do."
These days, it is hard to find a bigger proponent of Fossil Rim Wildlife Center than Rosenbaum.
"I would strongly suggest to anyone who sees my story and is looking for an internship to come here," she said. "Do it in a heartbeat. You are going to learn so much about the animals and work with amazing people. They're all teachers in a way.
"They want to teach you as much as they can. The people here love these animals without question."
-Tye Chandler, Marketing Associate