Fossil Rim merges homeschool with nature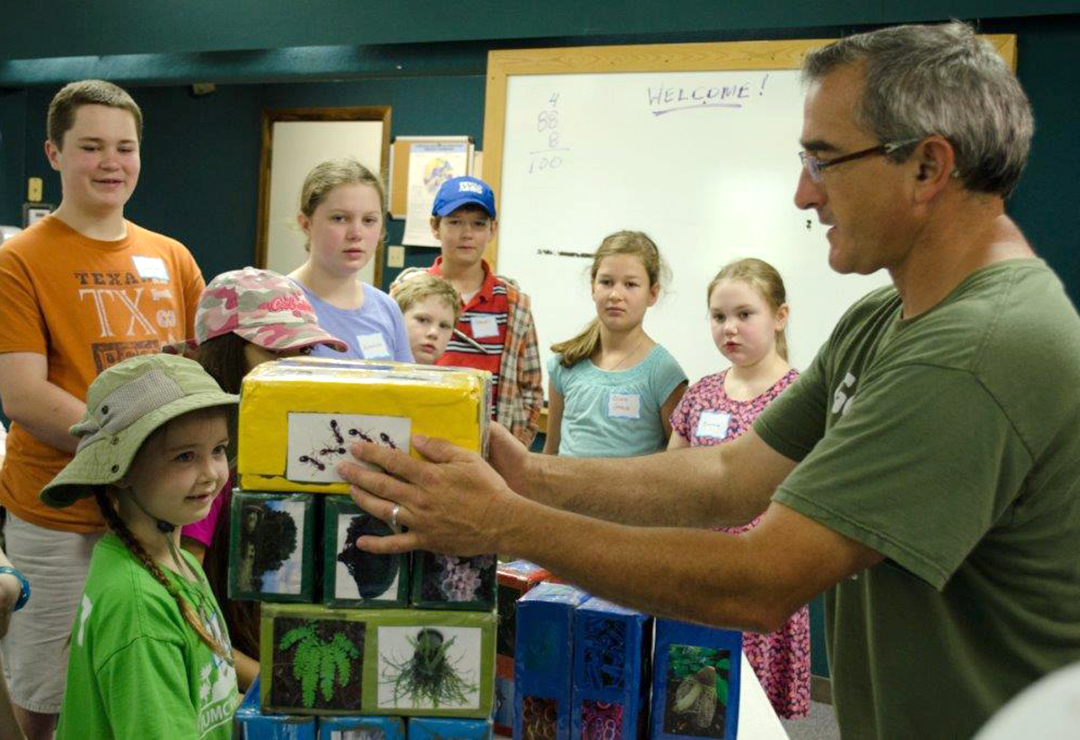 When memorable experiences meet an eager, young mind, the possibilities of homeschooling are limitless.
Mark Phillips, Fossil Rim Wildlife Center homeschool coordinator, has a special connection with homeschooling and students because he has "been there, done that." Phillips and his wife have homeschooled their four children, including two all the way through high school.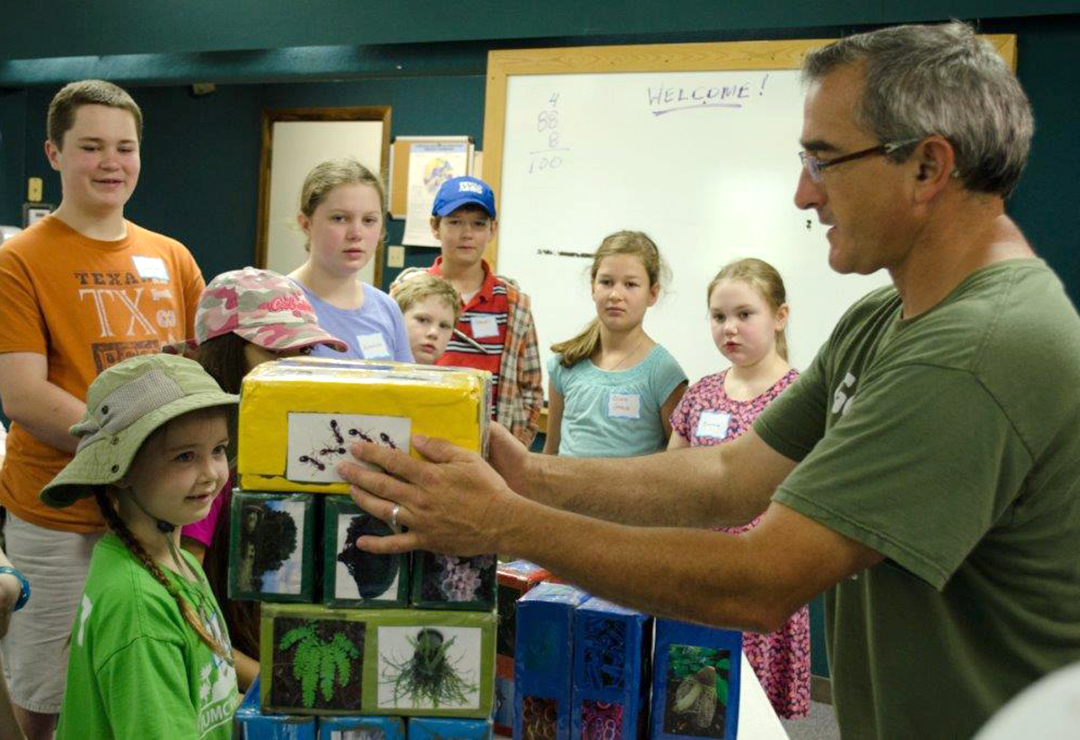 "We have homeschooled our children for 16 years now and have had a very positive experience with it," Phillips said. "Our kids share that assessment, plus they've participated in a number of the classes I teach. I always want to be quick to say that homeschooling is a huge challenge. Most often, at least with the families I've worked with, it's the mom who puts in a phenomenal amount of heart and effort into homeschooling.
"The benefits are the relationships you can nurture and the quality and depth of education you can give your children at home, as well as the 'curriculum of life' you can experience as a family. Homeschooling provides a lot of freedom to structure and schedule trips that can make for great learning and fun – something that too easily gets squeezed out of life by our busy culture."
Also working to Phillips' advantage is the experience of his department's director.
"Tessa (Chenoa Ownbey), our director of education, homeschooled her children for 22 years, and she built our program," Phillips said. "Her children are now beginning to homeschool her grandchildren. Having our program designed by someone who knows the ins and outs of homeschooling is a real strength.
"She understands the challenge of age diversity, considering I may have toddlers all the way up to high school seniors in one class. It's fun engaging all the different learning levels in a single class, but it's a challenge we must meet to fulfill student needs."
Another factor in Phillips' favor is the 1,800 acres of excellent classroom that is Fossil Rim.
"Fossil Rim is a perfect setting and community for a homeschool program on stewardship conservation," he said. "Most homeschool events start with two hours of hands-on classroom time, which our EcoCenter and Activities Barn facilitate beautifully. We almost always incorporate a short hike, and our trails at Wolf Ridge Nature Camp are ideal for that. An hour for lunch gives students the chance to check out our Children's Animal Center, Nature Store and Overlook Café.
"But to me, definitely the highlight is the guided tour, usually from 1-3 p.m., that put us in a van or bus together in the middle of 1,100 animals. Many of these species are endangered, and students get to feed them and observe them interacting with each other. Those hours in the 'classroom of nature' provide lasting memories.
"I also mentioned community because the staff and interns are a key part of understanding these animals and their situations well. Anytime I can have an animal care person participate in these classes, it is ideal. Every class I teach is more enriched just from being part of the Fossil Rim experience and learning from all that's going on here."
For homeschoolers in North Texas, Fossil Rim provides a unique opportunity to learn in nature.
"It's great to visit some of the quality zoos in the area," Phillips said. "But it's not the same as driving through our 1,800 acres and observing some endangered and threatened species living as herds much like they do – or used to – in their African homeland."
Most of the Fossil Rim homeschool events are $23 per person, although there is a broad range of options and pricing.
"Monday and Tuesday were selected as our discounted homeschool event days because they are low-volume days for our guests," Phillips said. "They fit with our ability to heavily discount the class prices and focus on those homeschool students. We can do these events on other days with special scheduling, but it becomes more expensive.If someone wants to discuss special scheduling for homeschoolers, they can email me at education@fossilrim.org."
There are two class-plus-tour events every month through the end of 2016, and Phillips pointed to some he is especially excited about.
"Rhino Reality is one of our strongest events, because you have the opportunity to see a crash (herd) of white rhinos, and often see a black rhino or two, as well," he said. "We are a breeding facility for both species and have people on staff like Justin (Smith) and Adam (Eyres) who are so involved with rhinos that there is just a wealth of information to draw from them. Sometimes, the students get to hear from them and ask them questions. We have rhinos you can get to know by name and hear their stories. All this makes for a rich curriculum and a unique opportunity."
Upcoming Rhino Reality events are scheduled for Sept. 12 and Sept. 20 from 10 a.m. to 3 p.m. on each day.
Phillips also took the time to highlight Nature Journaling, a workshop-plus-tour event set for Aug. 22 from 9 a.m. to 3 p.m.
"That's a great one designed by Tessa," he said. "Students get to explore and practice four methods of nature journaling, most of which combine writing and art. We start in the classroom and then get out in nature and do it. This has been a favorite event through the years.
"We use the extra hour for this event to welcome a sketching coach who helps students learn to draw animals by using shapes they know like ovals, squares and triangles. Kids really enjoy that. We end the day by taking a tour with 2-4 special stops where we practice our nature journaling.
"It makes for a great day. This helps journaling become part of their learning. I'll see kids later on and find out they have kept up their journaling, plus parents get into it, too."
Beyond the class-plus-tour options, there are currently two workshops available: Dissection Lab and Conservation In Action Day. Even more options are on the table in the form of two day camps: Robin Hood Day Camp and African Safari Day Camp.
Considering he was born and raised in Africa, the latter camp is especially near and dear to Phillips' heart.
"A lot of these animals we have are native to Africa and are endangered because of habitat loss, and we talk about what is happening in Africa," he said. "It's a great day of learning about the animals and habitats of Africa, and also its people, cultures and conservation issues."
Phillips hopes homeschool parents and students will check out his Homeschool Enrichment E-zine that Fossil Rim sends out monthly via email.
"We as an education staff work to produce articles, an event schedule and support information for homeschoolers," he said.
To check out a recent E-zine, click http://conta.cc/2aLbCol. To start receiving the E-zine, simply email homeschool@fossilrim.org with "Send E-Zine" in the subject line.
For further details on homeschool events, email homeschool@fossilrim.org or call 254.897.2960.
Phillips is confident students will embrace learning on the Fossil Rim campus.
"We would love for you to come experience the beautiful slice of nature that Fossil Rim is – the land, the habitats, the animals – and learn in a homeschool program designed by people who homeschool their own children," he said. "We focus on hands-on learning for kids of all ages."
-Tye Chandler, Marketing Associate