From Georgia to Fossil Rim: A future vet's tale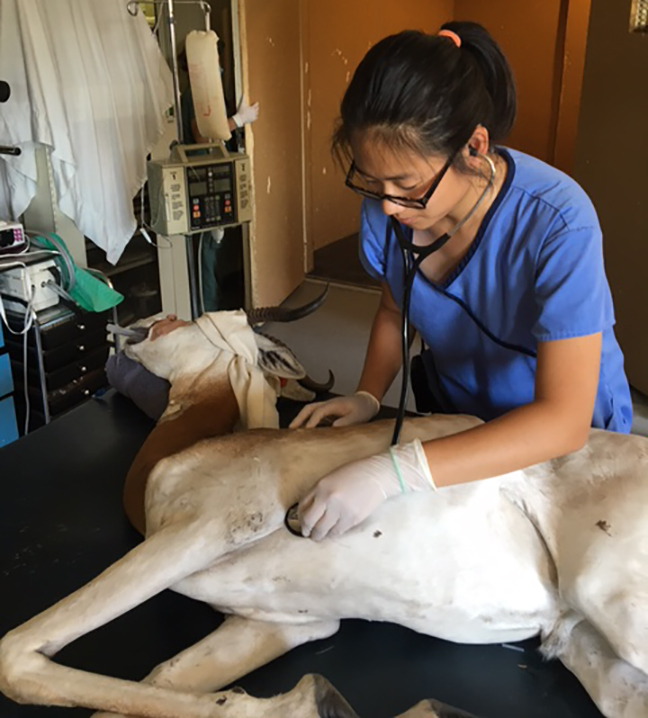 As she geared up to head down her career path, Joyce Huang decided some practical experience at Fossil Rim Wildlife Center was just what this future doctor ordered.
Born in suburban Atlanta, Huang is set to graduate in 2017 from the University of Georgia's College of Veterinary Medicine. She was at Fossil Rim from May 24 to July 1 as a veterinary preceptee.
"I'd actually heard about Fossil Rim through my professor at school," she said. "She mentioned that she did an externship when she was in school, and then I started to look into it. I read something that someone else had shared about their time (at Fossil Rim), and then I got in contact with (Fossil Rim Associate Veterinarian Dr.) Julie (Swenson) and we began chatting about the application process. My former boss had been to Fossil Rim, so he told me about it, too.
"I looked at the (American Association of Zoo Veterinarians) website's info on student externships – my decision was a combination of all these things. I started following the Fossil Rim Facebook page, so it was exciting to see everything posted up there."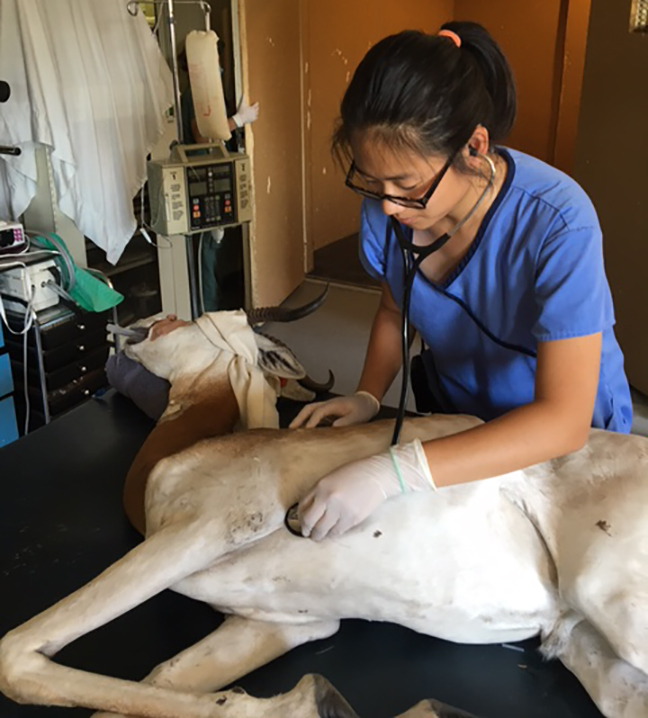 Just before she returned to school, Huang gave a presentation to Fossil Rim staff and volunteers entitled "Zola's Cub," which referred to the ill offspring of a resident cheetah.
"I did a presentation explaining the challenges we faced treating this cub from a veterinary aspect," Huang said. "For each problem the cub had, I discussed the issue in general and then specifically the treatment for this cub. This was Zola's third cub along with 'Ali' and 'JoJo,' and unfortunately she eventually had to be euthanized due to declining quality of life. Ali faced adversity of his own, but now he's doing really well."
As Huang noted, there were so many other memorable experiences during her time in Texas.
"I got to work a lot with (Attwater's prairie chickens), and I must say I didn't know what they were when I came here," she said. "I arrived after the chicks were hatched, so I got to see babies and then all the different stages up to adult. Getting to work with an endangered species is awesome."
Huang had a front-row seat to watch Swenson and Fossil Rim's Dr. Holly Haefele, director of animal health, in action and then eventually joined them as she became acclimated.
"I have an interest in anesthesia, so I like all the immobilizations we did," she said. "It was really fun being able to ride with Holly and Julie in the van as we're looking for animals. I saw the process from the start – loading the dart gun and all the precautions taken until they got their hands on the animal, and then I saw the process reversed. It's completely different from what we do in school."
According to Huang, just riding around with the veterinarians was invaluable.
"I really enjoyed our rounds in the van where Holly and Julie were talking about what we're going to do or what we just did," she said. "We also talked about procedures when we were at the clinic, so that I understood what was going on. Some days, we were busy the entire time, and then at the end of the day they'd walk me through specific things that happened. They really encouraged me to get hands-on with the animals once I felt comfortable enough and when it was safe.
"Blood draws and deworming were each an experience. They explained and supervised everything."
There was no such thing as too many attempts to apply what she was learning.
"The repetitions of the different things I learned were very helpful," Huang said. "I'd watch them, get helpful tips and then try to do it myself."
Huang also had some chances to work with Lindsay Cosmi, licensed veterinary technician.
"If Lindsay and the vet tech intern, Morgan (Rosenbaum), would find something of interest in their labs, we'd all get to see it," Huang said. "There was a lot I learned in school that I didn't put into practice until now."
She was pleased to be able to venture from animal health and into the animal care realm.
"I was also able to shadow the hoofstock morning feedings with Justin (Smith, senior animal care specialist) and the carnivore intern, Katelyn (Martin)," she said. "I wanted to get experience working with exotics, because I was used to dogs, cats, birds and rabbits from school. This was really helpful for that, plus they are free-ranging here so there's a herd management aspect."
Developing confidence is important for a budding veterinarian, but Huang embraced the reassuring, supportive atmosphere at Fossil Rim.
"I really like how everyone here was so welcoming and encouraging," she said. "Julie, Holly and Lindsay all said to ask questions or try to answer theirs, even if they seem silly. Sometimes I was right and heard 'good job,' and sometimes I was wrong and they'd ask me to think it through and try again.
"Instead of telling me, they'd walk me to the answer. Julie encouraged me to go to the different departments so I could see how everything functions here."
While she fondly recalled gaining some experience as a researcher at an aquarium in Taiwan and felt very fortunate to do so, Huang said her Fossil Rim opportunity was in a league of its own.
She can see the light at the end of the collegiate tunnel, but Huang has some unfinished business back in Georgia.
"I'm in my last year of vet school, so I have rotations in my school's hospital where I'll go through different departments to learn more specialties," she said. "I'm pursuing a degree in zoo medicine, so an externship at a wildlife center was a great opportunity. I have a little more time that I can allocate to another externship. Long term, I want to work in a zoo setting with large hoofstock and other exotics."
There probably are not many better endorsements of a Fossil Rim externship than recommending it to someone else.
"I would say definitely do it," Huang said. "The amount of acreage (1,800) is amazing and seeing how the animals go here and there, plus I got to do more than I expected. This exceeded what I was thinking it would be."
-Tye Chandler, Marketing Associate