Fossil Rim factors into scimitar-horned oryx reintroduction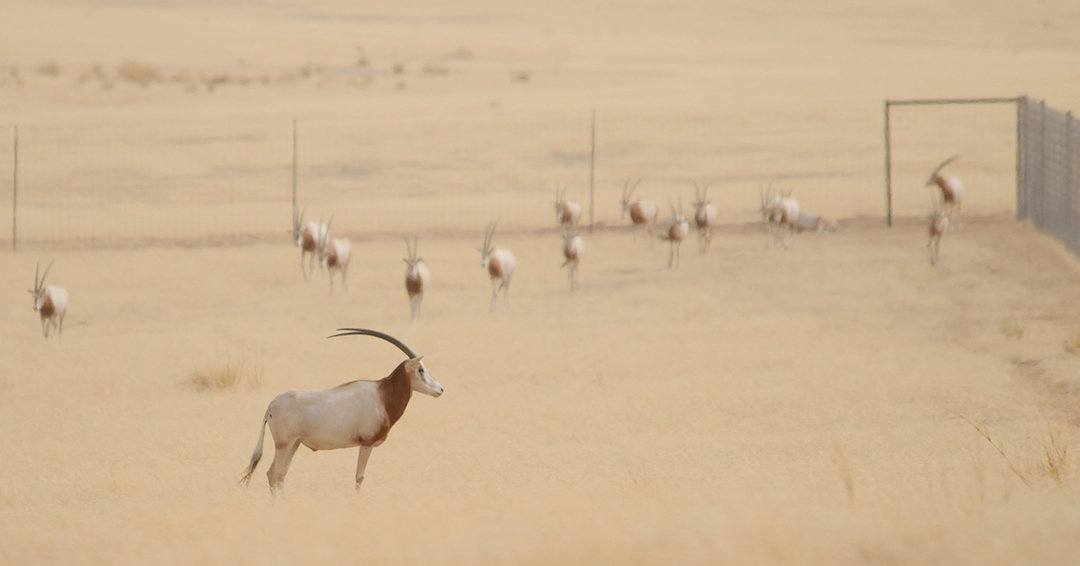 On the other side of the world, animals that have been extinct in the wild since 2000 are mere months away from roaming freely in their native land once again.
The first 25 of 500 scimitar-horned oryx set for reintroduction into Chad arrived in the country March 14. The project's driving force is the Environmental Agency – Abu Dhabi (EAD).
With the green light, participants at 17 locations across America, Europe and the United Arab Emirates (UAE) were able to begin shipping oryx to Abu Dhabi, the UAE capital, with the goal of building a "world herd." From there, the first 25 were sent to Chad.
The oryx from the UAE primarily come from the private herd of the late Sheikh Zayed, who is the paramount reason this reintroduction has become a reality. Before passing away in 2004, Zayed was the first president of the UAE, a post he held for 33 years. He was an ardent conservationist, and this project is a very tangible demonstration of the legacy he left to the UAE and the world's conservation community.
Adam Eyres, Fossil Rim hoofstock curator, has played a role in the reintroduction plan from its inception.
"(Zayed) was well-respected and owned numerous animals," said Eyres. "This project was his dream. He was a conservation-minded man, and fulfilling his legacy is the main reason this is happening."
Thus far, 18 oryx have been sent from Fossil Rim to the UAE's world herd.
"Our animals are well-adapted to being part of the world herd because they've been raised in a natural social setting," he said.
Eyres is pleased to know the oryx involved in the reintroduction hail from 17 different places in the world.
"To have oryx coming from that many locations to make up the world herd is definitely solid," he said. "It's truly a nice, deep genetic pool."
The diversity isn't limited to animals, as people from many countries have pooled their efforts in one way or another.
"The teamwork among countries and organizations for this project has been amazing," Eyres said. "The people in Abu Dhabi and Chad are actually doing the reintroduction, but the animals supplied to the UAE for the world herd have come from Europe, the U.S. and private collections within the UAE. We (at Fossil Rim) play a tiny role, but there is so much that goes into this. The logistics are complicated for the travel of the people involved and the transport of the animals, for example."
The primary person from Fossil Rim as it relates to this project, Eyres has made two trips to Chad and five to Abu Dhabi thus far.
"I first went to Chad in 2012 for the initial stakeholders' meeting during the dry season," he said. "I went back in 2014 for a wet-season site assessment to see the contrast between the two seasons. I've been to Abu Dhabi five times, and this most recent time was to bring a shipment of oryx over there. Prior to that, it was always about working out the logistics of this project, which included input on the design of related facilities.
"There are two animal care people with the EAD who spearhead all the animal-related activities. My role is to be part of the team that evaluates the conditions in Chad and also contributes as needed in Abu Dhabi."
The 25 oryx that arrived in Chad March 14 currently reside in a fenced area that is one kilometer long and a half-kilometer wide.
"That's larger than the (Fossil Rim) Front Pasture where our scimitars live," he said. "We built that area (in Chad) to accommodate 100 animals if needed. There are people protecting them, and that area is near a camp of park rangers, guards and people who monitor and take care of them."
This is an important period of adjustment for these oryx before they are planned to be released into the Ouadi Rimé-Ouadi Achim Game Reserve in central Chad approximately August 14, while collaring is slated to begin July 17. The reserve is nearly 78,000-square kilometers and covers three habitats including Sahelian wooded grassland, sub-desert grassland (66 percent) and desert.
"That's their former habitat, so it's a natural fit and still right for them," Eyres said.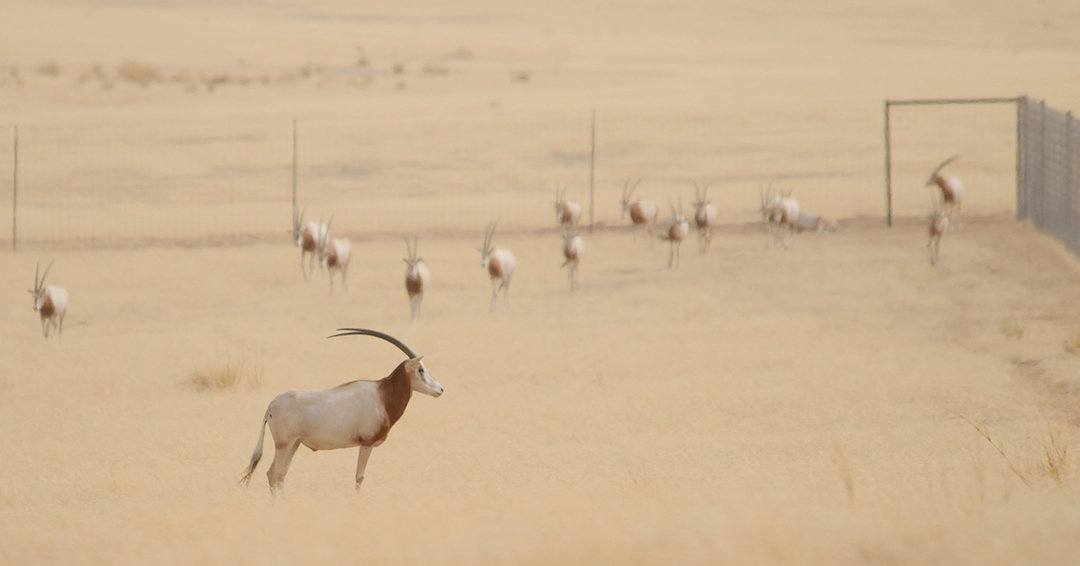 Most of the oryx in the world herd still have significant acclimation ahead for the environment in Chad.
"The herd will have to adapt," Eyres said. "There won't be the lush, green grass some of them are used to, but they will still have some green grass. It's just available in a shorter window of time each year. Plus, it will reach 120 degrees in the summer.
"Their diet will be relatively harsh now, so many are being transitioned from pelleted feed to the local browse. It's a totally different environment than the oryx from Europe and America are used to, but at least we are waiting for the best conditions (wet season) before the release."
When rainfall does arrive this summer, involved parties will converge on Chad from around the globe and prepare to execute the initial release into the game reserve.
"When the first rains come – assuming they come in that climate, of course – we'll collar the animals," Eyres said. "The results gathered by Stephanie (Cunningham, former Fossil Rim hoofstock behavior research and husbandry intern) and researchers at SCBI (Smithsonian Conservation Biology Institute) give us confidence in these collars, but we will still monitor the oryx for a month in the pre-release pen with collars on to test them and take further behavioral data."
Man is the only natural predator for oryx in Chad, according to Eyres.
"Jackals will choose to attack other species, but regardless the full-grown scimitars should be okay, and I would expect the calves to stay close to the mothers," he said. "Drought is a greater issue than animal predators."
Eyres faces the reality that the human threat remains for this species after it was driven to extinction in the wild, but he detailed how there will be significantly more measures to prevent man from preying on the oryx as compared to in the past.
"The things we have going for us in Chad are governmental support and a presidential declaration against poaching," he said. "Now, is there still going to be some poaching? Of course there is. That's why releasing 500 oryx in the coming years is the magic number.
"We've got to get a lot of animals out there, but also do a lot of education with the local people and drive home the point that this endangered species is part of their heritage. If a given oryx does quit moving, it will be evident in real time with its GPS collar, and a park ranger can go check on it. Funds have been used to increase the population of rangers, and there will also be numerous monitors trained by SCBI staff."
If one understands Fossil Rim's mission to strive for the conservation of species in peril and considers that Eyres has devoted decades of his life to caring for the facility's hoofstock, there's no question how much this endeavor means to him.
"As an animal care worker, this sort of project is what you would like to do for any of our extinct-in-the-wild or endangered species, and I think it's the coolest part of what we do," he said. "I want to see white rhinos and cheetahs go back to Africa. We have sent Attwater's prairie chickens back into their native Texas range and now these scimitars back into Chad, but that's it for now. We've done a little bit with red and Mexican gray wolf reintroductions, but most of the issues confronting these species in the wild remain, so the timing isn't right just yet."
The pride taken in the participation of this project from the Fossil Rim perspective extends well beyond Eyres.
"It's an honor for Fossil Rim to be part of this," Eyres said. "We're playing with the big dogs right now: EAD, SCBI and the Sahara Conservation Fund. We're a little institution in Texas getting to do some amazing conservation work."
A fruitful oryx reintroduction could build some momentum for the organizations involved and reinforce the power of conservation efforts.
"If this project is successful, it boosts the confidence in future hooved-animal species reintroductions," Eyres said. "We're already thinking about a reintroduction for (addra) gazelles, which have a similar habitat. If we continue to build the captive population and figure out all the logistics, it's a no-brainer. I can say that a successful reintroduction of Arabian oryx three decades ago helped pave the way for this."
-Tye Chandler, Marketing Associate