Guided tour possibilities abound at Fossil Rim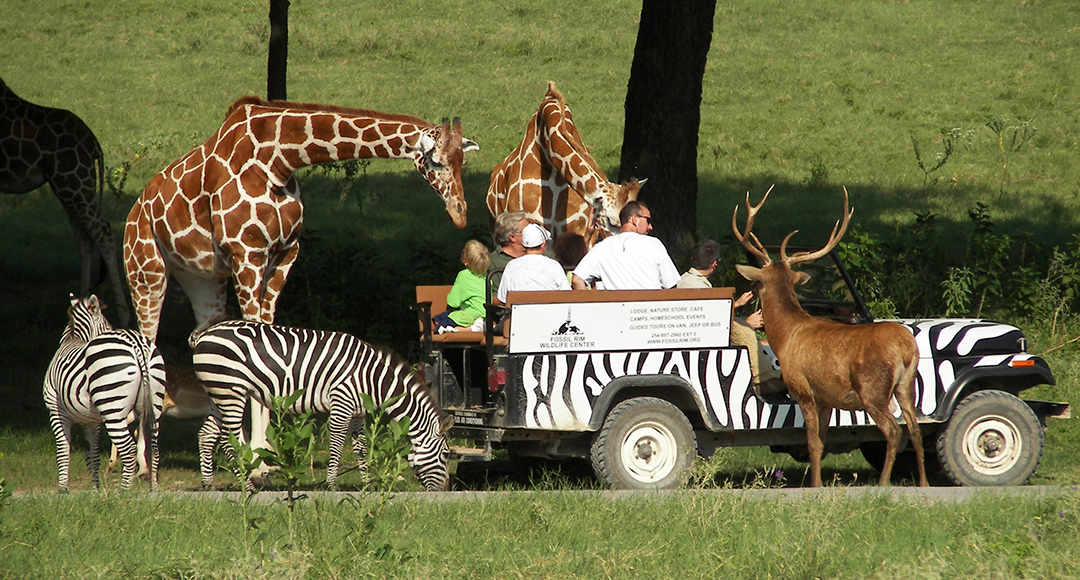 Sure, visitors enjoy driving their own vehicles through Fossil Rim Wildlife Center on the Scenic Wildlife Drive, but it is by no means the best way to experience all the park has to offer.
In fact, there are 13 different guided tours posing the opportunity to learn more, see more and do more.
"People are very surprised when they find out there are that many types of tours," said Stephanie Longinotti, Fossil Rim tourism coordinator. "A lot of them just know of the Family Tour, and then when they take that one, our tour guides tell them about all the other tours available."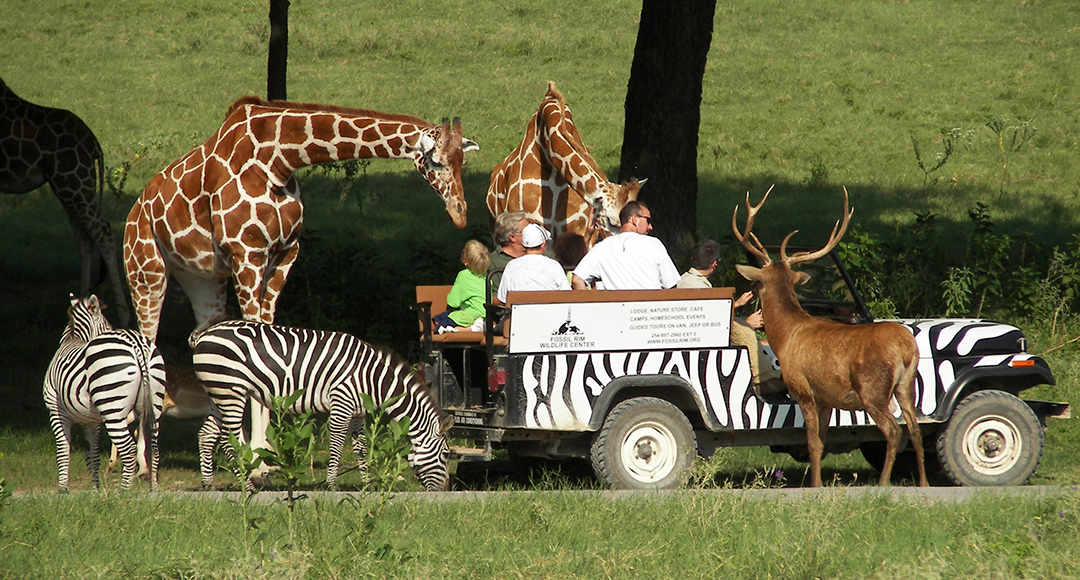 When asked why guided tours are superior to the Scenic Wildlife Drive, Longinotti certainly was not at a loss for words.
"There are several reasons," she said. "One is they can sit back and not have to drive, so they can enjoy their family. For instance, the daddy will be free to take pictures of his kids feeding the animals. Second, the tour vehicles can take some roads the cars can't go on.
"Third, everyone gets a free cup of feed on tours. Fourth, they get the advantage of an experienced tour guide who can tell them the history of the park, what animals they're looking at, stories about the animals and also answer questions. It's really not that much more expensive than paying admission to the Scenic Wildlife Drive."
As she mentioned, the Family Tour is by far the most well-known. It is available daily.
"The family tour lasts about two hours (in light traffic)," Longinotti said. "We go out at 10 a.m., 2 p.m. and after Memorial Day we'll add a 4 p.m. tour. If a family wants a private tour just for themselves, they can do that for an additional fee.
"However, sometimes I think it's fun to take a tour with other families – especially if there are kids involved. If guests take a standard Family Tour, when it is over they have 24 hours to take the Scenic Wildlife Drive in their own vehicle for free."
The most affordable tour option is the Crack O'Dawn Family Tour, an 8 a.m. tour that will next be available May 28 and then continue Saturday and Sunday mornings through Labor Day weekend.
"We welcome walkups, but we prefer that they make a reservation to ensure we have room for them," Longinotti said. "It is cheaper than a standard Family Tour, and it has ideal conditions because the animals haven't been fed yet and you'll see most of them before anyone else since we start from the Overlook. The chances for feeding giraffes are highest on that tour."
Another daily option is the Behind-the-Scenes Tour, currently scheduled for 10 a.m. to 2 p.m. This excursion brings animals into play not seen on a Family Tour, including the Attwater's prairie chicken, coati, black-footed cat, maned wolf, Mexican gray wolf, red wolf and southern black rhino, as well as a significant portion of the park's cheetahs.
"That tour lasts three hours or more, and you can get out of the tour vehicle for a closer look at some animals," Longinotti said. "All children have to be at least seven years old. They'll see animals in our Jim Jackson Intensive Management Area (IMA), which are very shy in many cases.
"All of our cheetahs that can't be seen on the Scenic Wildlife Drive are at the IMA. I'm also proud to say we aim to become the No. 1 breeder of black-footed cats in North America."
The other family-oriented tour available is the Discovery After Dark Program and Tour. The next one is set for May 20 from 7-10 p.m.
"That tour is fun because you get to see animals you don't normally see during the daytime," Longinotti said. "For instance, the bongo and kudu will usually come out of the woods and over to the vehicles, plus you see a number of nocturnal species. These tours have a guide and a driver; and the guide has a filtered spotlight they use to point out the various animals. There is no other traffic in the park, so it's almost like taking a private tour.
"Especially with summer coming up, that tour will be a lot cooler than any other. It's a different perspective of Fossil Rim than what you see in the daytime."
Among Fossil Rim's specialty tours – or any tours, for that matter – no experience holds more potential than an Adventure Tour. It is available daily from 9 a.m. to 3 p.m., but flexible hours can be arranged.
"It's an all-day tour, and only a few of our tour guides are qualified to give that one," Longinotti said. "We usually take those guests out in the Jeep, which is a lot of fun. They get to have lunch with some of the animal care staff, plus they get to go see some animals up close and speak with animal care people at that point also. They receive a gift, as well.
"The guide will go some places regular tours won't. You can see every species we have – sometimes even the Grevy's zebra. If the guests have a request to focus the tour on some specific animals, they have that option."
A Feed Run Tour is available on Saturday and Sunday mornings beginning at 8:30 a.m.
"That tour can last over three hours and is for one or two adults only," she said. "You ride around with the animal care staff members while they feed the animals, plus you can ask questions along the way. That one is a lot of fun because the animals surround that vehicle and you see nearly all species."
Photography Tours are available in all months except November through February. The next one is scheduled for April 23 from 3-7 p.m.
"That tour goes to some places the normal tours don't," Longinotti said. "For example, you might get to see the Grevy's zebra. The guide for that tour is always a trained photographer, so they can teach and also position the vehicle for the best animal photos. Guests can arrange a private photo tour and pick their start time."
One of the options less frequently available is the Animal Keeper Tour and Dinner. The next one is April 30 from 3-7 p.m., and it will feature Kelley Snodgrass, Fossil Rim's chief operating officer who has been with the facility since it opened in 1984.
"Kelley is the guide for this one coming up, and he'll drive guests around and tell them all about what he knows regarding Fossil Rim," Longinotti said. "He'll take them everywhere in the park, and that's one of the tours where you are able to get out of the vehicle at times."
The Mother's Day Sunset Safari Dinner and Tour is May 7 from 6-10 p.m., while the Father's Day Sunset Safari Dinner and Tour is June 18 from 6-10 p.m. These events have the same details other than the guests of honor. They begin with dinner at the Foothills Safari Camp overlooking an animal watering hole.
From there, eventgoers head out on a sunset tour of Fossil Rim. A special gift for mom or dad is included.
Other events with similar details include the Sweetheart Safari Dinner and Tour scheduled for February 13 from 6-9 p.m. and the Sweetest Day Safari Dinner and Tour slated for October 15 from 6-9 p.m. Each evening begins with a three-course candlelight dinner at the Foothills Safari Camp overlooking an animal watering hole, plus chocolate for your sweetheart.
During dinner, our live performer Michael Cote will sing for guests. Afterwards, everyone heads outside for an evening tour through Fossil Rim.
Joining the Sweetheart Safari event as a wintertime tour is the Holiday Around the Rim Sunset Safari Dinner and Tour, scheduled for December 3 from 5-9 p.m. It includes a holiday dinner in front of a glowing fireplace, as well as snacks, appetizers and champagne. During the evening tour, guests stop off at the Nature Store for a bit.
"That tour is kind of like Discovery After Dark in that a filtered spotlight is used to point out animals," Longinotti said.
For groups of 10-104 people, unless it is Spring Break at Fossil Rim there are guided Group Tours and Private Step-On Tours available, as well.
"People get a discounted rate for those Group Tours," Longinotti said. "The Group Tour is given on one of our own buses, while the Step-On Tours involve our tour guide boarding a guest bus, such as a school bus."
For more information on any tours, email info@fossilrim.org. For tour registration or further information, call 254.897.2960.
-Tye Chandler, Marketing Associate